What do an eighteen-year-old Canadian political activist, an altruistic seventeen-year-old Parisian, and a vivacious, first-generation American teen have in common? They were all crowned winners of CTeen's inaugural Eight Under Eighteen award.
In 2020, CTeen, the Chabad Teen Network and the world's fastest growing Jewish teen network, announced the establishment of the Eight Under Eighteen: Yisroel Fund Leadership Award. The award seeks to spotlight "teens who have demonstrated remarkable dedication, engagement, and leadership," in their communities.
Nominations flooded in from around the world, with high school principals, community youth leaders, and the teens' peers penning letters of recommendation in support of their nominees. By early 2021, the field was narrowed to thirty-six finalists. After a grueling final selection process that included interviews and trans-national conference calls, the eight winners were chosen.
In March of last year, after hearing of the terrible isolation elderly members of his Grandpa's community were suffering under lockdown, Michael Mandel, 17, of Toronto, Canada, discovered a federal grant program that supports youth in bettering their communities. He successfully applied for a grant, and with the money he purchased tablets and accessories, loaded them with games and communication apps, and delivered them to ten lonely seniors. Michael taught each one how to use their device and recruited peers to hold a monthly program dubbed Senior Pals, at which teens and seniors play games, chat, and watch entertainers.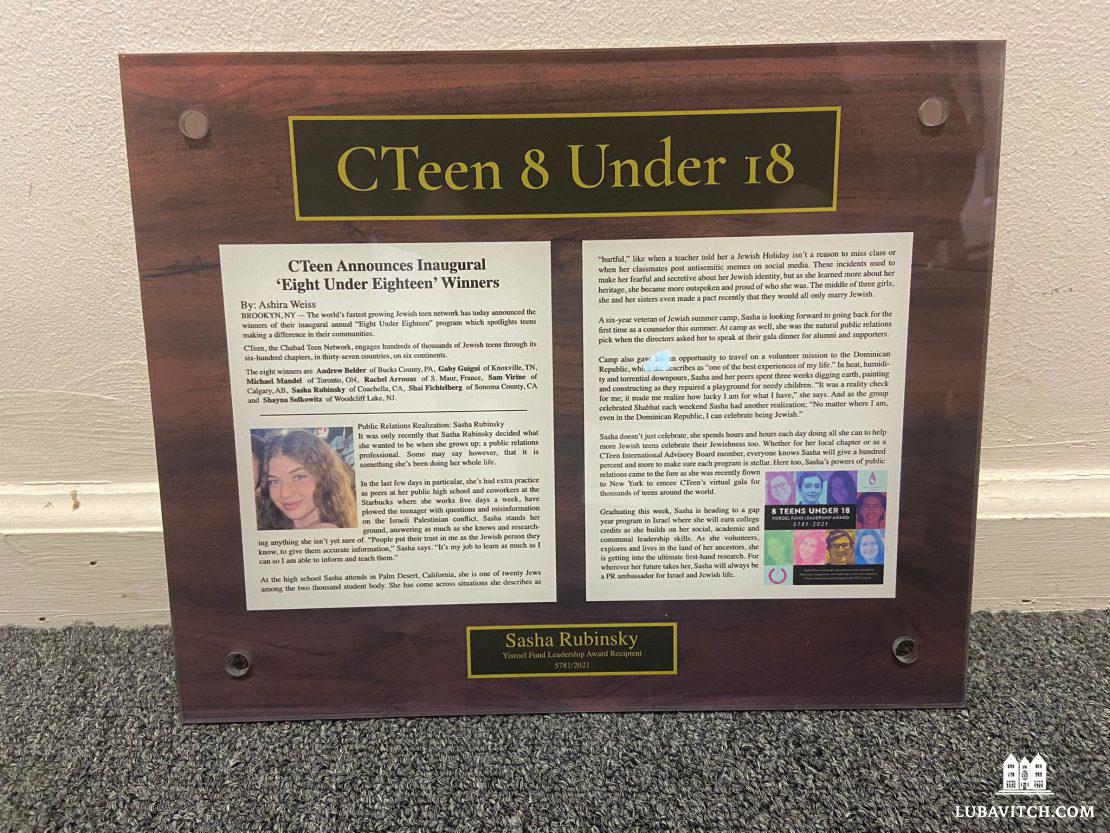 Gaby Guigui, 18, a Sephardic Jew growing up in Knoxville, Tennessee at the buckle of the Bible Belt, felt lonely as she declined invitations to church and Friday night football games and parties, and excused herself from school on Jewish holidays. So, along with her Rabbi and Rebbetzin, Gaby founded a CTeen club and helped connect thirty of her peers to their Jewish heritage. "I never shied away from being a proud Jew, Gaby says, "But now I have a family of fellow Jews who share my experience and give me strength to share my Judaism with others."
Based in Bucks County, PA, Andrew Belder, 17, is a runner and swimmer who found his cross-country running career in limbo during COVID lockdowns. So he decided to arrange his own marathon. He mapped out a 13.1 kilometer course, and despite the twenty two degree weather on the day he had chosen, ran the course to complete a marathon. In doing so, he raised thousands of dollars for the Travis Manion Foundation, which supports military veterans and their families. In addition, Andrew, who began to wear tefillin daily two years ago, formed a weekly tefillin breakfast together with two of his best friends, at which they gather seven to ten guys to put on tefillin and bond over their Judaism.
Shayna Solkowitz of Woodcliff Lake, NJ, began to show up at her high school in modest dress as she educated herself about Jewish law, and found that answering the Judaism-related questions it elicited from teachers and peers wasn't enough for her. So she started baking fresh challah every Thursday and seeking out Jewish peers and faculty to whom to give the traditional treats. This spawned the creation of a Jewish club that had twenty participants at its first meeting.
Sam Virine, 17, is a first generation Canadian, as the child of Russian immigrant parents who chose Calgary, Alberta as home. He attends a large public high school where there are just tens of Jewish students. "I thought it was too bad that they had nothing Jewish going on in their lives," he says of his peers. Sam cold-called members of Calgary's small Jewish community until he raised enough money to bring JText to town. JText sends out a weekly trivia question to Jewish teens via text message and offers prizes for those who answer correctly. Hundreds of teens participate each week.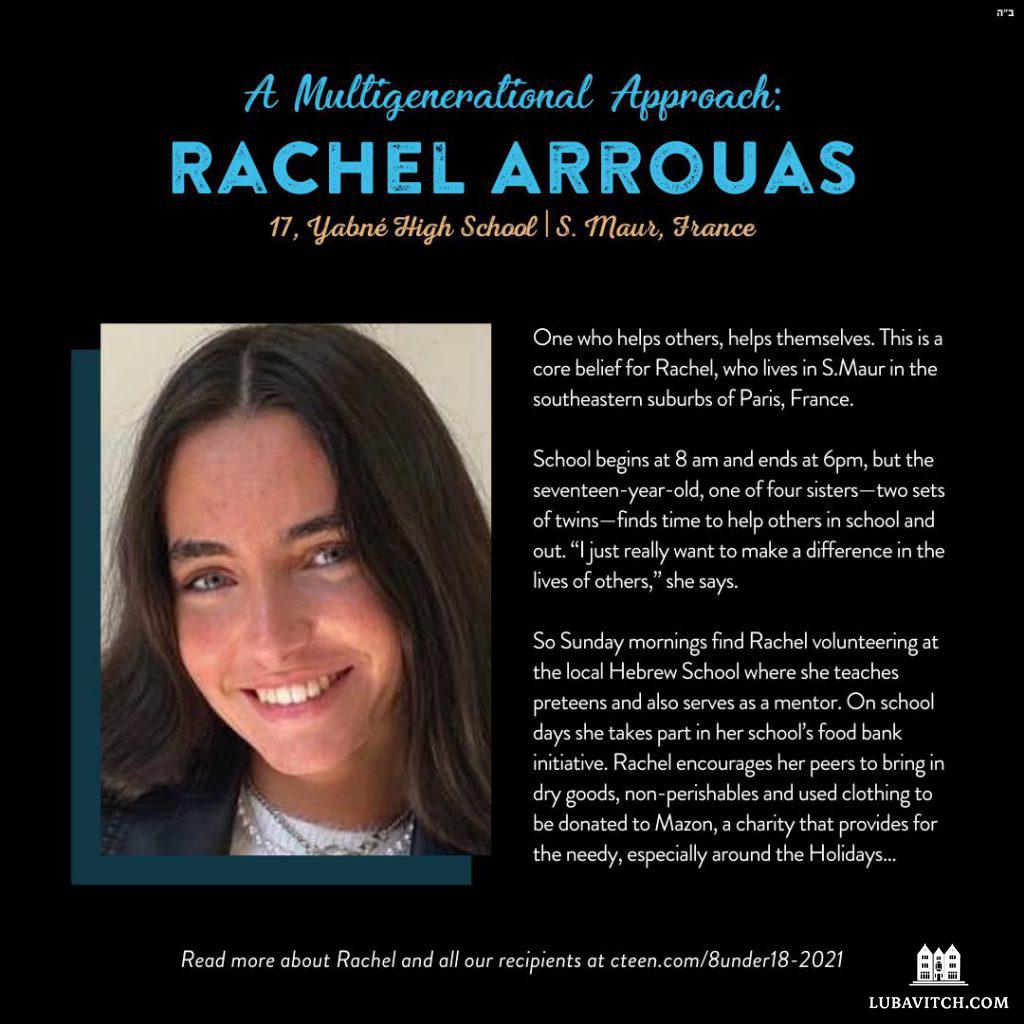 A first generation American, Shai Fichtelberg is one of six Jewish kids in a Sonoma County, California, school of two-thousand. When the making of Holocaust jokes became a trend at her school and on social media, she started a Jewish Heritage Club, which has become a forum for educating Jewish and non-Jewish peers and faculty about Judaism, Jewish history, and antisemitism.
The other award-winners included Sasha Rubinsky, who responds to misinformation and accusations against Israel at her Coachella, California, high school and her job as a Starbucks barista, and Rachel Arrouas of S. Maur, France, who instituted an SOS Grandpa campaign that motivated hundreds of teens to call their grandparents each week.
These eight teen winners were awarded a plaque commemorating their win, a book of daily thoughts gleaned from the wisdom of the Lubavitcher Rebbe, and a partial scholarship to a CTeen-approved gap-year program in Israel of their choice.
Since the announcement of the winners, many of the teens have been featured in their local newspapers and interviewed on NBC, NPR, and other local stations.