The bombs are exploding in residential cities all over Ukraine. Children in our orphanages are trembling in fear, hiding under their beds. Families have lost their homes, exposed without shelter. Food supplies have been cut short. Medical supplies are urgently needed. This is our opportunity–yours and ours–to prove that we will not stand idly by the blood of our brethren. We must step up to the plate. Open your heart. Give now. Donate here. Every tax-deductible donation goes entirely to bring emergency relief to people in the crisis of their lives.
Donate Now
Use this form to make a secure, tax-deductible donation.
My donation is in support of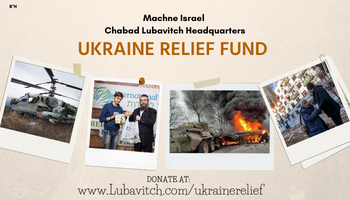 Please select a Donate amount.
Other Ways to Give
Donate By Phone
To donate by phone simply call us at Chabad-Lubavitch World headquarters
718-774-4000
Donate By Mail
To donate by check (payable to Chabad-Lubavitch) please mail to:
Lubavitch World Headquarters
770 Eastern Parkway
Brooklyn, NY 11213
Donate Stock
Electronic delivery of stock shares is the most secure and expedient delivery process available and provides efficient internal control as well as cost savings. You may also transfer certificates directly.
Please contact info@lubavitch.com for information and forms to facilitate your gift of stock.
Products or Services
We accept gifts of all kinds. Please call our offices regarding your donation:
info@lubavitch.com or 718-774-4000
Legacy Gifts
Bequests, Life Income Gifts, Gifts of Life Insurance, Charitable Lead Trusts, Gifts of Retirement Plans - all these and more can be tailored to your specific situation. Our specialist volunteers will work with you to design a plan that maximizes benefits to you and your family while helping Chabad-Lubavitch.
info@lubavitch.com or 718-774-4000

Get Inspiration to your inbox!
Join our weekly newsletter for inspiration and updates