The Ata Horeisa Fund
"The verses of Ata Horeisa are "sold" on Simchas Torah day, the proceeds go to the institutions of Machne Israel and Merkos L'Inyonei Chinuch" (Sefer Haminhagim-Chabad p.69).

Merkos L'Inyonei Chinuch, is the agency through which the Rebbe established the Batei Chabad-Lubavitch around the world. In addition, Machne Israel and Merkos maintain the entire infrastructure established by the Rebbe at Lubavitch headquarters.
Donate Now
Use this form to make a secure, tax-deductible donation.
My donation is in support of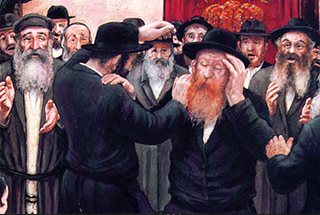 Select your donation amount
Other Ways to Give
Donate By Phone
To donate by phone simply call us at Chabad-Lubavitch World headquarters
718-774-4000
Donate By Mail
To donate by check (payable to Chabad-Lubavitch) please mail to:
Lubavitch World Headquarters
770 Eastern Parkway
Brooklyn, NY 11213
Donate Stock
Electronic delivery of stock shares is the most secure and expedient delivery process available and provides efficient internal control as well as cost savings. You may also transfer certificates directly.
Please contact info@lubavitch.com for information and forms to facilitate your gift of stock.
Products or Services
We accept gifts of all kinds. Please call our offices regarding your donation:
info@lubavitch.com or 718-774-4000
Legacy Gifts
Bequests, Life Income Gifts, Gifts of Life Insurance, Charitable Lead Trusts, Gifts of Retirement Plans - all these and more can be tailored to your specific situation. Our specialist volunteers will work with you to design a plan that maximizes benefits to you and your family while helping Chabad-Lubavitch.
info@lubavitch.com or 718-774-4000

Get Inspiration to your inbox!
Join our weekly newsletter for inspiration and updates