After walking into a beautifully set dining room, with the scent of freshly baked teriyaki salmon coming from the commercial kitchen and live music setting a cheerful atmosphere, you'd be forgiven for thinking Dan's Place is an ordinary pop-up restaurant. Only when you meet the staff do you notice the difference between this food establishment and others in Poway, California. A program by the Friendship Circle of San Diego and directed by Elisheva Green, the restaurant is entirely hosted by adults with special needs.
The kosher restaurant, which is open for dinner once a month at Chabad of Poway, is an opportunity for individuals with special needs to learn life skills. Through being responsible for its management, the hosts are taught skills for greeting, serving, cooking,and clearing. Green heads up a staff of volunteers, including executive chef Amy Nisen, who are paired up with each host to help guide and train them.
Volunteer creative director Dawne Ellison helped bring the program to life. Among her other duties, she matches the hosts with the task that suits them. "We work with the whole person," she says. "They each have unique abilities, and they use their strengths to do the job that they can do best." Ellison sees their skills improve with each event.
"We give out comment cards to the patrons at the end of dinner," Green says, "And the overwhelming majority says the staff was their favorite part of the experience." Compared to waiters in other restaurants, the diners find the staff to be more attentive, courteous, and eager to please. "They create such a warm atmosphere." Ellison says you'd be hard pressed to find more dedicated workers. "They actually want to be there. Where else do you see the wait staff excited to work?"
One of the servers is Hillel Rissman, a member of Friendship Circle since 2006. He does "anything that needs to be done," like serving the food or washing the dishes. "I enjoy it. Bringing people together feels meaningful and rewarding."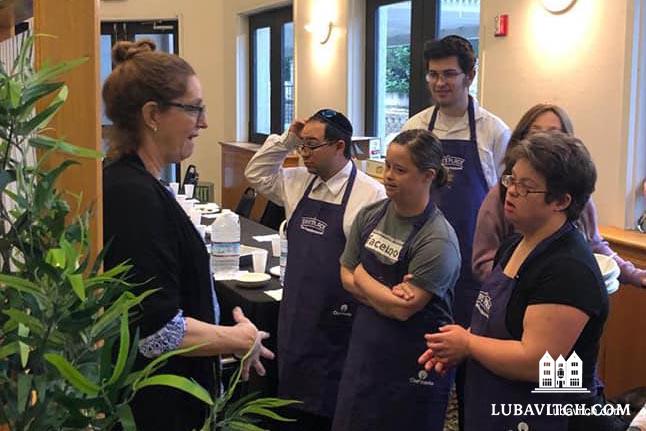 Each month features a different international theme. Most recently, sixty people enjoyed three courses of Asian cuisine at the restaurant's fifth dinner. Seats were sold out, at an $18 flat fee each, just days after reservations opened, and they were forced to turn away hopeful hosts. "There were just not enough jobs for the amount of individuals with special needs who wished to participate," says Green. "We're too limited in what we can do right now. We really have to expand," she adds.
That's the one complaint the restaurant's patrons have, Green says. "They all want more." By next year, she aims to open the restaurant twice a month to many more diners, trainers, and hosts and create partnerships with other local organizations. "Perhaps even a weekly challah bakery that can sell loaves at groceries or delivered to your door."
The project is named after Green's eldest son, Dan, who had partial Trisomy 18 and was the motivation for opening the Friendship Circle fourteen years ago. When he tragically passed away while visiting his sister in Belgium, the Friendship Circle brought in a psychologist to help his friends, some of whom had no other friends, deal with the feelings of grief. "But they told us they didn't want that," remembers Green. "They said they'd rather do something to continuously remember him by." Green and the members of Friendship Circle brainstormed about the way they could honor Dan's forty-six years of life and came up with the idea of the restaurant.
"Dan loved people. He was happy and loved making others happy," his mother says. "He'd stand by the door at every event to greet everyone who came in." She aims to continue his passion for joy and community by bringing people together for an enjoyable and delicious experience at the restaurant. "It's about having fun. Because that's what Dan was about. And when people have fun, they'll come back."
Rissman, a close friend of Dan, says the restaurant is a fitting way to honor his memory. "I feel like it brings him back, doing something he would be proud of."