South Carolina passed a historic bill into law that will make businesses think twice before boycotting Israel. Although the law, signed by the state's Governor Nikki Haley, does not mention Israel as the recent one passed by the state of Illinois does, it will in fact make the state sever ties with companies that boycott Israel.
Representative Alan Clemmons, Chairman of the South Carolina House Rules Committee, pioneered the bill, giving credit to Rabbi Doron Aizenman for inspiring him to have it pass as law.
"Discriminatory boycotts have historically been used as a form of economic warfare to forward the purposes of hatred and bigotry," Clemmons stated after the signing by the governor last week.
"The tactics employed by the Nazis serve as a poignant example. In this day and age, no group better demonstrates this fact than the Boycott, Divestment and Sanctions (BDS) movement in its effort to harm our great ally, Israel."
Aizenman, the Chabad representative to Myrtle Beach, South Carolina, says that the relationship with Clemmons has been a blessing for him and the Jewish community. "The representative is always there at our side, he is a dear friend of the Jewish community and Israel," the rabbi said.
Clemmons frequently calls the rabbi to discuss Biblical narratives and the lessons that can be learned from them. "He is energetic, intelligent, outspoken for what he believes in and always has good questions," Aizenman said.
After they first met at a benefit for Chabad of Myrtle Beach, Clemmons was encouraged by the rabbi to further strengthen his connections with the State of Israel.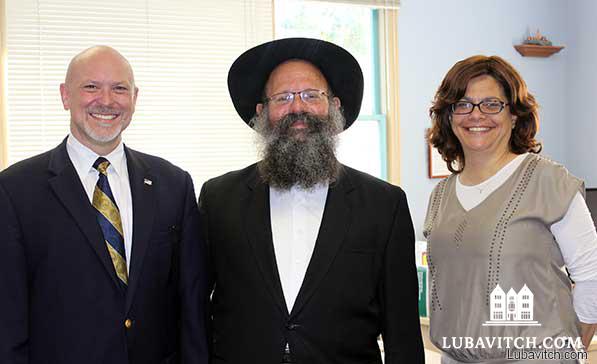 "Rabbi Aizenman has been a good friend and teacher as I've pushed further ahead in supporting Israel," Clemmons told lubavitch.com. "Through years of observation of Rabbi Aizenman's work, I have learned that Chabad is much more than a wonderful faith-outreach organization, it is also one of the most important pro-Israel organizations anywhere."
The representative noted that Aizenman was inspired by the Lubavitcher Rebbe, Rabbi Menachem Mendel Schneerson, "[who] was one of Israel's most important spiritual supporters."
In his constant quest to support Israel, Clemmons had a bill passed last year–the first such in the country–giving people the option to have auto license plates bear the statement: "South Carolina Stands With Israel."
According to Clemmons, the people of South Carolina are thrilled with the new bill. "South [Carolina] has great love for Israel from a biblical perspective as well as from a standpoint of American patriotism."
The law is the latest development by opponents of the pervasive BDS campaigns seeking to isolate Israel. Illinois has also passed a similar law, and according to the New York Times, another 18 states will follow with similar laws to stop states from engaging with businesses that practice BDS.