It's a case of Bubby's Boarding House come to life.
Rabbi Dovid and Goldie Tiechtel of Illini Chabad Center, which serves students at the University of Illinois, Urbana-Champaign, recently worked with businessman Eric Schames and his wife Debbie to open a hospitality house dedicated to providing students and their families with resources they would expect to find at home.
The house, which is near the Chabad house and is located in the center of Campustown, includes sleeping space, kosher food, internet, and other home amenities. Urbana-Champaign counts a Jewish student population of 4,000, (at least 2,000 are affiliated with Chabad), and an overall population of nearly 45,000.
"After being here for many years, we noticed that oftentimes students need a place to go not just for Jewish life, but a place to go in times of need," notes Rabbi Tiechtel. "Even if they're in a fraternity or sorority, sometimes students need a place to step away where it's quieter, maybe to stay overnight." Additionally, explains the rabbi, the hospitality house is open to parents who want to stay near Chabad when they come to visit their kids. "It's a space where people can sleep, live, or just hang out."
"When the opportunity arose to participate in funding the Hospitality House at Illini Chabad, I jumped at it," Schames says. "Rabbi Dovid and I realized that students sometimes need a "safe-zone" from all the "noise" on campus. We wanted to provide this space for them. Furthermore, we also wanted to provide a "free" lodging option for parents and families spending Shabbat on campus." Bubby Bevy's Hospitality House, as the home is aptly called, is dedicated to the memory of Schames' grandmother.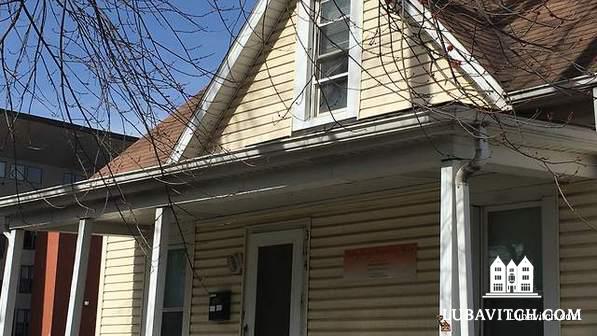 Schames, who first met the Tiechtels through his wife Debbie, an alumnus of the University of Illinois, made a commitment to "partner with Illini Chabad and financially support them whenever I could." What is so rewarding, he explains, is that "each dollar donated to Illiini Chabad has a direct impact on helping Jewish students and the community."
Since it opened, notes Tiechtel, students and parents have been making use of the hospitality house.
The hospitality house is a really great idea and a very unique opportunity that many students would not get to experience without Chabad," says Chabad student president Lisa Goldsman. "I think it will encourage the Jewish student body to get more involved in Chabad, as well as be more open about their religion."
The idea for the hospitality house takes the notion of Chabad providing students with a home away from home to a whole new level. "I'm not sure if Illini Chabad's Hospitality House is the first Chabad-on-Campus led student hospitality house," Schames says, "but I honestly believe that many more universities can tremendously benefit from this concept."
To learn more about Illini Chabad, visit www.jewishillini.org.