Almost 15 years ago, when Esther Winner invited the first public school to the matzah bakery at Chabad of West Brighton, she had no idea it would grow to what it's become today. "We realized there was a need for hands-on holiday education," explains the veteran Chabad representative. "We had this vision, to reach out to a Jewish community of over 50,000 families."
Fast forward to 2016, when a visit from Senator Ted Cruz meant the streets of Chabad Neshama center needed to be blocked off. A week after the presidential candidates visit, Good Morning New York asked Mrs. Winner to give a matzah-baking demo on live TV. "The attention we got was overwhelming," shares Leah Winner, who became the director of educational programs for Chabad Neshama in 2012.
As soon as Purim costumes are stored away, the matzah bakery kicks into high gear with three to five shows a day, six days a week. In the weeks leading up to Pesach, over 2,000 kids will walk through the doors of the Chabad center. Groups from schools across New York learn about how matzah is made in an interactive workshop.
"The first part of the workshop is like any other matzah bakery," explains Zeesy Gurevitch. She is one of the "master bakers" who leads the program, keeping participants engaged with her playful enthusiasm. "We start by introducing the holiday, discussing what matzah is all about. Then we grind wheat into flour, knead the dough, roll it out, and slide the finished product into our brick oven."
How the kids spend their time while the matzah bakes is what sets the experience apart. "The workshop is completely interactive," says Andrew Berger from P. S. 100. "My kids don't get bored for a minute—I rarely see them this interested in something so educational." Children gather around a stage where the story of Exodus is acted out, complete with a throne, time machine, and ten-plague "magic tricks." The kids finish by walking through a sea-splitting reenactment. That's when their matzahs are ready to go, presented along with Ckids magazine, a colorful guide to Passover.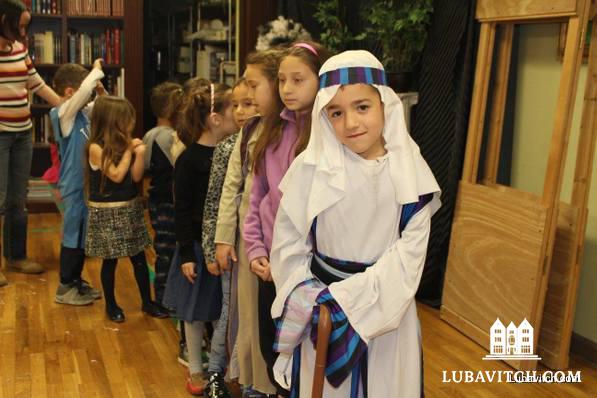 "It's a whirlwind," says Zeesy. "We leave Crown Heights at 7:00 am every day, and then we're pretty much on our feet for the next six hours." Despite the immense amount of energy that goes into each show, Zeesy says it's all worth it. "The reward is seeing kids walking out excited about Pesach."
And while the majority of groups that visit are from local Russian private schools, there are also others— adults with developmental disabilities, even Holocaust survivors. "Most of [the survivors] come in wheelchairs," Leah Winner says, "and at the end of the show we sing Jewish songs and dance with them. For them it's so much more than just a matzah bakery … it's about the continuation of the Jewish people."
Carrying on the ancient traditions of Pesach is exactly why programs like the matzah bakery are so vital to the success of a Chabad couse. "Local kids will come with their parents, ones who aren't part of summer camp or Hebrew school. After an hour of learning about Pesach, they'll ask about signing up for the community seder," Leah says. Sunday is open-house time at the bakery, a chance for the Chabad representative to connect to her community. "Ultimately, this is the purpose of our workshops: to bring Jews closer to Judaism."
To learn more about Chabad Neshama, visit www.ChabadNeshama.com.