The thought that she would never get to stand with her son under the chuppah broke Elisheva (Irene) Solovey's heart. The single mom mourned the untimely passing of her son Eliezer (Leonard) at age 23. She needed solace.
She found it in the creation of a Torah scroll in his memory. On a Sunday in May, Eliezer's Torah was carried under the chuppah in a festive event along the streets of Brooklyn's Brighton Beach. Friends, families and locals came out to celebrate, to wish Irene "mazel tov!" as she walked her Eliezer's Torah to the FREE (Friends of Refugees of Eastern Europe) synagogue of Brighton Beach.
"This Torah is now my son's home," she told Rabbi Okonov, Chabad emissary to Brighton Beach. "Every time it is read, he continues to bring light to the world through it, connecting the physical and spiritual worlds together."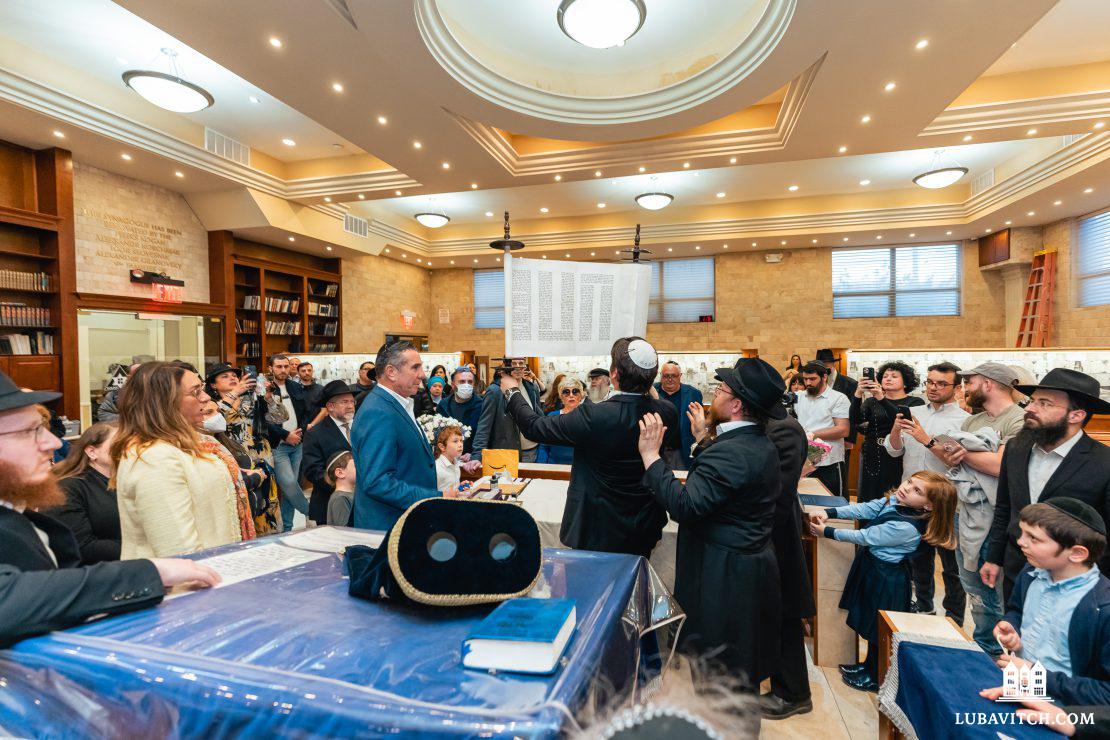 The month of May was busy for Brighton Beach's Jewish community, and a few days later another Torah was dedicated by a member of FREE. This one, by Akiva Aguvayev, in honor of his parents' good health. People often wait to do this in memory of a loved one, the 56 year-old businessman explained. "But I want my parents to enjoy it in their lifetime. Watching my father write the last letter in the Torah was very special for me."
The final letters were inscribed in The New Brighton Jewish Center, where Akiva met Rabbi Faivel Rimler when he first moved to Brighton Beach. "Rabbi Rimler has a special place in my heart, and inscribing the final letters in his synagogue was very meaningful to me." The Torah was then carried to FREE, where Akiva davens, under the leadership of Rabbi Hershel Okonov.
Mr. Isaac Liberman, president of FREE of Brighton Beach, marveled at the unity of the shuls of Brighton Beach. "Throughout the year," he said, "members of the various communities help each other out, especially during these challenging times. It is very heartwarming to witness the Jewish unity and pride of Brighton Beach, and to be able to dance and celebrate together."