On February 29, 2016, IDF sargeant Shimon Yifrach and his comrades were called to rescue two soldiers who had mistakenly entered the Qalandiya refugee camp, on the outskirts of Jerusalem. They were forced to abandon their vehicle, which was set on fire by Palestinians, and escape the crowd's call for their lynching.
Yifrach, a career soldier in the army's Border Patrol unit for eight years, worked frantically with his comrades to reach the soldiers, who had lost contact with their commander. The soldiers were finally located and evacuated under heavy fire, but Yifrach took a hit. He suffered severe wounds from the gunfire and shrapnel that penetrated his body. After several life saving surgeries, Yifrach began an arduous course of rehabilitation.
Ten months later, December 2017, on the seventh night of Chanukah, Yifrach, supported by crutches, shared his story with 500 guests at Chabad Israel Center's dinner in the Capitale Banquet Hall in New York City. He was one of twelve wounded Israeli veterans being honored at the dinner as part of an all-expenses-paid trip to New York, courtesy of B'Lev Echad. Still in rehab, Yifrach used the opportunity to cross a major milestone. In the presence of a visibly moved audience, he turned to his girlfriend, Anat, who was at his side through his long ordeal, and asked for her hand in marriage.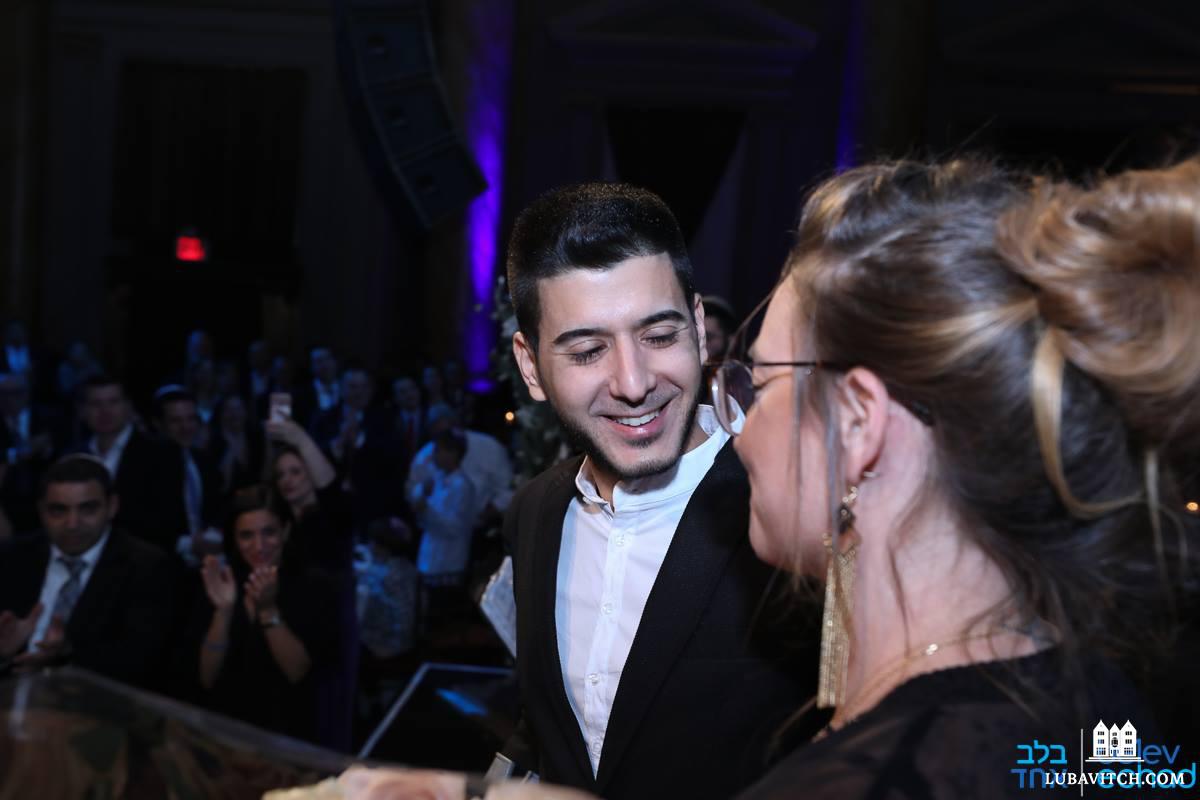 Shimon Yifrach proposes to his girlfriend, Anat, in front of a crowd of 500 at B'Lev Echad's dinner this December (2017).
B'Lev Echad (translated as "with one heart") was founded by Rabbi Uriel and Shevy Vigler of Chabad Israel Center of the Upper East Side in 2009. Many members of the Chabad Israel Center community served in the IDF, inspiring the rabbi and rebbetzin to honor the wounded veterans for their sacrifice and service.
B'lev Echad brings groups of wounded IDF veterans for a ten-day trip to New York. The itinerary is packed with adventure, healing, and meaning. Along the way, lasting friendships are formed.
IDF war hero Ido Kahlon joined the March 2016 trip to New York, where he met Sarah Morgan, one of the volunteers. At one of the events, Sarah heard him speak about the challenges he faces due to his 2003 injury. Captivated by his strength and optimism, Sarah made aliyah, and in November 2017, Rabbi Vigler officiated at Ido and Sarah's wedding ceremony in Israel.
Once the veterans are back in Israel, B'Lev Echad is on the ground helping the soldiers resume life. The organization provides legal assistance to soldiers struggling with the bureaucratic red tape surrounding official recognition of their injuries and the accompanying financial assistance. B'Lev Echad has provided academic scholarships to soldiers of limited financial means and works to support soldiers facing depression and PTSD.
"After spending years in hospital wards surrounded by other injured soldiers, these young individuals often believe that they are no longer capable, that they can never be successful. They are afraid of further disappointment . . . of being rejected. We are there for the soldiers as they take the steps to further their education and enter the job market," Sharon Shtrachman explains.
Sharon, and her husband Miki, head B'Lev Echad's operations in Israel. Their daughter was injured in a car ramming attack while serving as Border Patrol officer in Jerusalem, and participated in one of the B'Lev Echad trips to New York City. After seeing the impact that the trip had on her own daughter, Sharon was moved to join the organization, helping soldiers find employment, gain academic training, and connect with professionals in various disciplines who volunteer their time to support the soldiers in their respective areas of interest.
"The soldiers have the capability to reach their dreams and goals, we only serve as a ladder to get them there. In the end they see themselves for the champions that they are," Sharon emphasizes.
To date, 177 soldiers were honored by B'Lev Echad with the royal treatment. They are wined and dined with attention to their comfort. It's a small gesture, says Vigler, to show gratitude for their sacrifice.
B'Lev Echad will be holding a Bike-a-Thon in New York City in April 2018. More information is available at www.belevechad.nyc.