On their first wedding anniversary, next month, Rabbi Mendy and Menucha Blank will be moving to the S. Francisco Bay area to open Chabad of Emeryville. It's an up-and-coming commercial city, headquarters to companies like Pixar and LeapFrog, nestled between Oakland and Berkeley and directly across the Golden Gate Bridge. The couple was recruited by Chabad's California headquarters under the auspices of Rabbi Shlomo Cunin.
It's not a big move for Menucha. The dynamic 22-year-old was raised in next-door Berkeley where her parents, Rabbi Yehuda and Miriam Ferris are emissaries. But not so for the rabbi: though the ocean scenery is similar to Mendy's hometown in Miami, the Jewish demographics are not. "I grew up three blocks away from a yeshivah," he explains. "Moving to a city with no Jewish infrastructure will be different."
According to a recent Bay Area study, the East Bay area of Northern California is home to the fourth largest Jewish community in the United States, but Chabad will be Emeryville's first Jewish establishment. The couple will service approximately 1,000 Jewish residents as well as professionals who commute from the bigger cities. They plan to open with High Holiday services and child-focused programming catered to young families.
Emeryville is small—measuring just over 2.25 square miles—and already three other Chabad centers have recently opened within a half hour's drive away. Is there a need for another center in the Bay Area? "There's a Peet's coffee on every corner around here," Mendy says. The specialty coffee roaster and retailer is based in Emeryville.
"Chabad should be on every corner too. We want to be just as easily accessible so we can reach and service every Jew. We're offering soul coffee."
Partner with Chabad of Emeryville by visiting www.chabademeryville.com.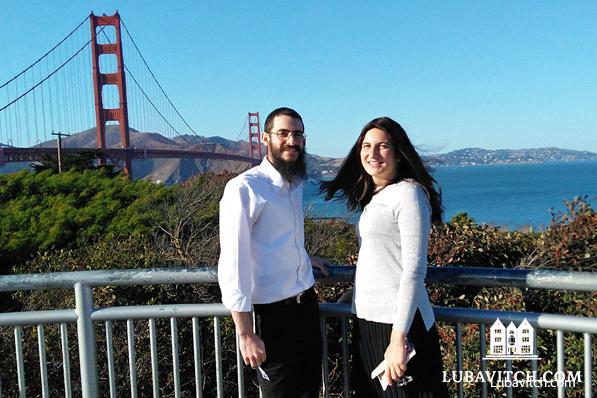 Rabbi Mendy and Menucha Blank stand before San Fransisco's Golden Gate, mere miles from their new home in Emeryville.