It's the "wettest spot on earth," but last week, Kauai received more precipitation than even it could handle. Rainfall soaked Hawaii's fourth-largest island for two days straight, overwhelming local infrastructure and devastating entire communities. Torrents of water flooded into the major Hanalei River, causing an overflow onto highways and bridges and sending homes, livestock and cars out to sea. Landslides from the weakened ground are blocking entrances to towns on the island's north side.
Governor David Ige declared a state of emergency and the National Guard marched in to assist.
Though locals were grateful for the national response, there's still much to be done and in the Hawaiian spirit of community, they are doing just that.
Rabbi Michoel and Zisel Goldman coordinate Jewish life on Kauai where they have been living with their family for the past five years. Since the flooding began last weekend, they have been in touch with Jewish residents in isolated areas, fielding calls for help and support. They are also providing something to all northern residents that no one else is.
"I found a niche that wasn't being addressed," says Rabbi Goldman. "Canned goods and basic supplies were being sent to stranded towns, but nothing fresh." Goldman borrowed a large white truck and drove it to Costco where he filled it with $1,000 worth of crisp, fresh produce. A stop at Safeway provided another crunchy treat: matzah. The enterprising rabbi asked the store to donate its unsold Passover foodstuffs and a pallet piled ten-feet high with matzah was soon on its way to a community that had never before tasted this holiday food.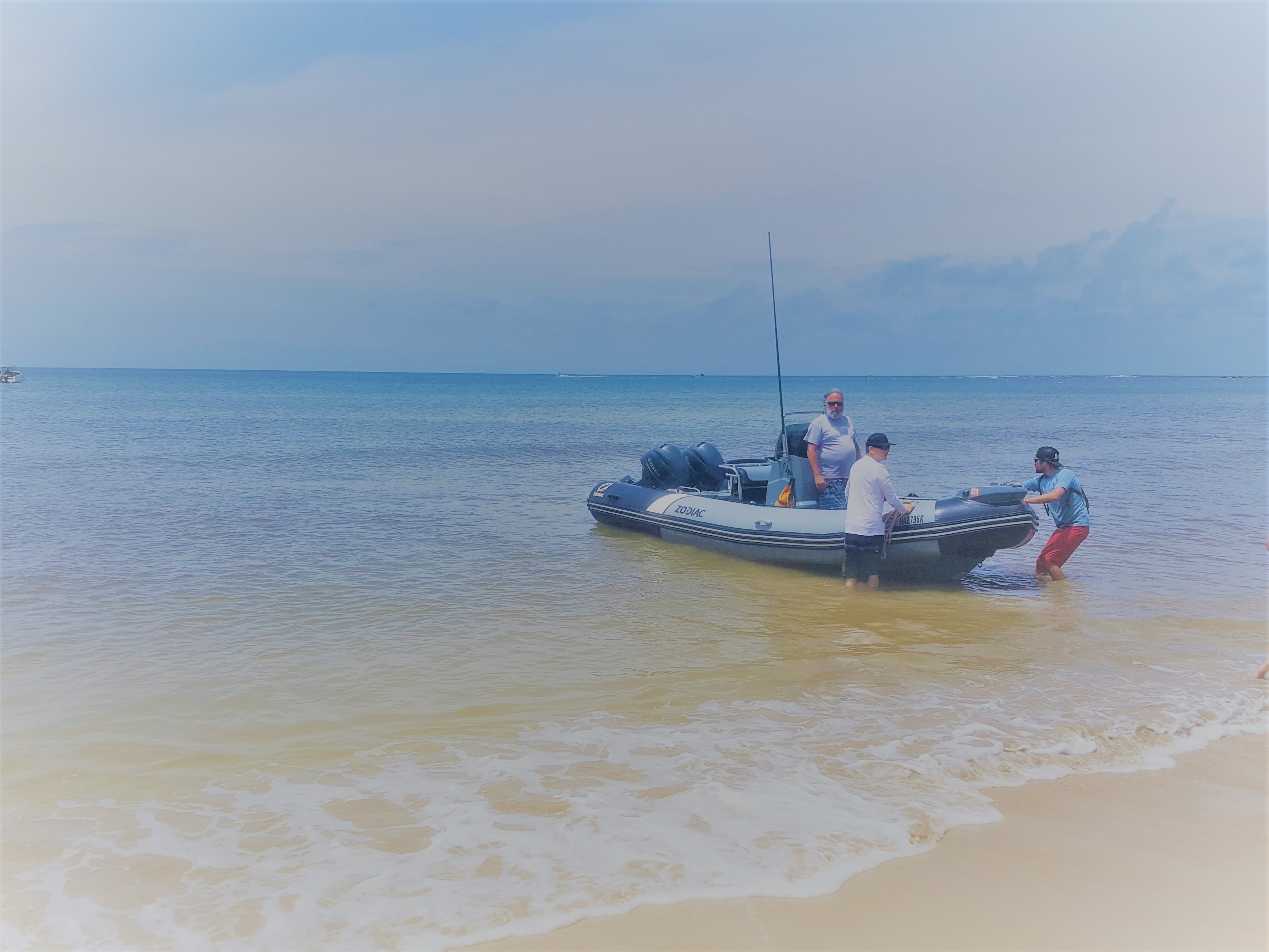 Lee Ulansey's fishing boat has made fifty trips across the river to get fresh food to stranded residents.

But how to get it there? With the roads closed, the only way to transport the victuals was by boat. Now Goldman called in another favor, from his friend, Lee.
Lee Ulansey came to Kauai from California to check on his home following news of the deluge. His house sustained damage and still has two feet of water covering its bottom level. But he's ignoring the personal destruction for now. "There are people who are a lot more affected, whose lives were devastated," Ulansey says. "They're the ones who need our help." In the last few days, Ulansey and his Zodiac fishing boat have made fifty trips across the river to the shores of Wainia. Goldman and his volunteer crew shop truck the eatables forty-five minutes to the beach, and unload the cases. Then Ulansey takes over.
"First we looked at our own homes," the professional woodworker says, "then we looked to see what our neighbors needed, and the people on our block. It soon transitioned into a full-fledged effort to help everyone."
The grassroots effort, Ulansey and Goldman agree, has brought their on community together.
Kauai is home home to 1,000 Jewish residents. At any given time, says Goldman, there are at least 100 more visiting the island. Some are regulars, who visit annually to timeshares and vacation homes, while others island-hop. Many locals and tourists join Chabad for Shabbat meals and celebrate major holidays with the Goldmans. "But this humanitarian cause has struck a chord in many secular Jews," the rabbi comments. "I think it's because it's not uniquely Jewish, it's just human. So the mental block people may have against religion is not there. They can participate without feeling like they are practicing religion."
Islanders have been dropping off food and supplies at Chabad's doors to add to the staples traveling on Ulansey's boats. Others, inspired by the selfless efforts of the rabbi, have contributed funds to support the effort. People have told Goldman that they appreciate the immediacy of his work: there is no bureaucracy or red tape slowing this endeavor.
But the need is still great. While doing his boat runs, Goldman is fielding calls from people who need more steady help. One man lost his tent home to the ocean. Another lost his business as he watched all his rental kayaks and paddleboards wash away. The rabbi wants to give them, and all the others who have lost homes and livelihoods, tangible support.
In the midst of the devastation, Goldman finds hope and applicable lessons."Although it's hard to emphasize this to people who are still focusing on survival and recovery, I think that there are similarities in this flood to the Great Flood in Noah's times," muses Goldman. "Chasidut teaches that the Great Flood was a cleansing of the world, bringing a deeper purity, a tranquility.
"Environmentalists are reminding people that this is a wake-up call for humanity to plan for a future of climate change. So we should be talking about how this is a spiritual wake-up call too, to cleanse and rebuild our spiritual lives."
To help with flood relief efforts, please visit kauaifloodrelief.com.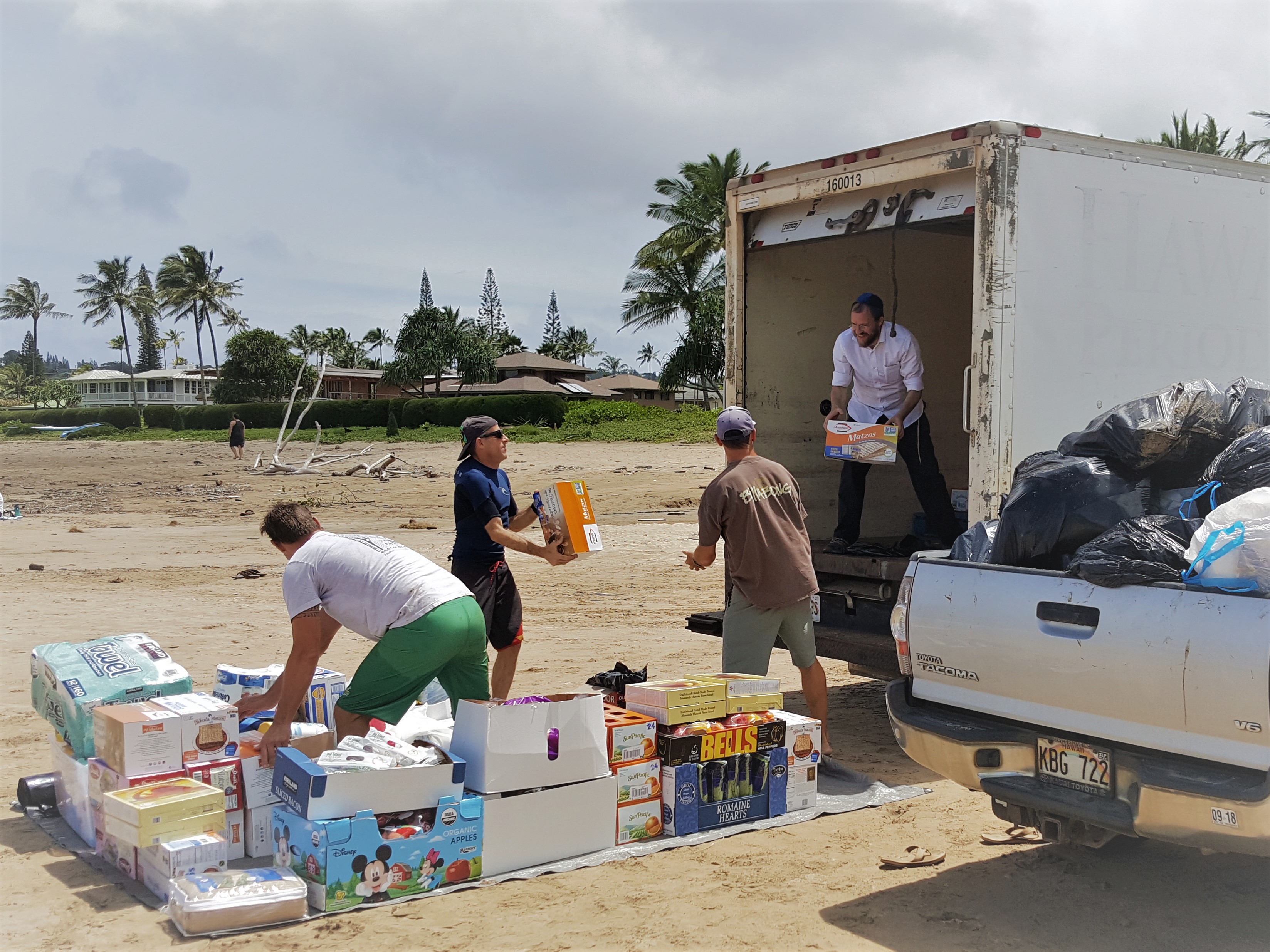 Rabbi Michoel Goldman arranged a food rescue truck. Kauai residents help unload. Food will be transported to the other side of the island using local Lee Ulansey's fishing boat.