Number 37 Zirkusgasse looks like many of the other nondescript buildings in Vienna's second district. But the apartment house holds particular pathos for Fritz Bittman who was born in its cellar in 1944.
Fritz often walks past the address where his parents, Josef and Sidonie Bittman bribed the janitor to shelter them from the Nazis. Nearby stands another apartment building where his mother hid until the janitor noticed her swollen belly and turned her out.
Fritz's daily routine through the city's second district is dotted with signposts recalling the terrifying years of the Anschluss: a basement here, another one there; the building where his father was interrogated by the Nazis; the attic where his mother hid her newborn son.
I met Fritz while visiting Vienna this summer. Riveted by the city's baroque streetscapes, its imperial palaces and cosmopolitan vibe, I needed context for this historic metropolis on the Danube, and the 77-year-old retired physician is one of few remaining Austrian-born Jews.
Fritz and his parents were among the handful who survived in a city that had been emptied of its Jews. Chillingly indifferent to the fate of their Jewish landsmen, local Austrians carried on unrepentantly until 1986, when world public opinion turned against Austria for its presidential election of Kurt Waldheim, a former Wehrmacht officer.
Some 200,000 Jews lived and worked in the "City of Dreams" during Vienna's Jewish golden age. Thanks to Jewish talent that figured in outsize proportion in every sphere of its vibrant culture, touting notables like Freud, Mahler, Schoenberg, Zweig, Schnitzler and others, Vienna was in the vanguard, a world leader in the arts and sciences.
But anti-Semitism was pervasive here well before 1938, and the country was ripe for the Nazis who took Austria—in the words of some Holocaust scholars, a "perpetrator society"—first. A fortunate 140,000 Jews got out before it was too late. Sixty-five thousand were sent to their deaths. And some 800 solitary souls like Josef and Sidonie went underground to escape the extermination camps.
The jaundiced detachment toward Austria's surviving Jews gave Fritz's parents, who had died in the 1970s—well before Austria was forced to confront its history—no chance of redress. For them, only the city's brick and mortar (most had remained intact), stood sentinel to the ghosts of Vienna's missing inhabitants.
"It was a dead house," says Fritz of the yet anti-Semitic Vienna he grew up in the decades following the war. The Jews who returned after the Holocaust, and those who came up for air—still haunted after months and years of hiding—kept a low profile. Some, like Fritz's father, were devoutly observant. But it would be many decades before Vienna's Jews would wear their identity comfortably.
There's lively singing at long, elegantly set tables at the Chabad House on Taborstrasse 20a. At peak times more than 100 join, but this is early June and tourist season has not yet begun. The feeling is pleasantly intimate inside the sleek, newly renovated three-story Chabad House where a handful of local Jewish families are enjoying Shabbat lunch.
A magnet for Vienna's young Jews, weeknights bring students from the area's various colleges and universities to KSpace on the basement level. Discovered during renovations that it served as a Jewish youth club before the war, it is now smartly outfitted with a pool table, bar, and lounge. The building's second floor, colorfully decorated with child-centric themes, is dedicated to social and educational programming where Vienna's young set comes to celebrate Jewish holidays and traditional life-cycle events.
It might be like a hundred other Chabad Houses around the world but for the tell-tale wall that has been left exposed in the student lounge from its pre-war Jewish youth club days, and the brass plaque on the building's polished exterior. Here you can read the names of the men and women who lived at this address until they and their children were sent to the death camps.
Lauder Chabad Campus
On the other side of town, Jewish children preK-12 at the Lauder Chabad Campus spend their school days in a pastoral setting. Tucked inside the edge of a leafy park (see sidebar page 17), the complex's modern, spacious classrooms and hallways are awash in sunshine.
I step into the fifth-floor science lab where several high school students are working independently on an experiment. The large picture windows look out over a verdant expanse interrupted by a concrete fortress. A flak tower, I am told, it was constructed by the Nazis to defend against Allied air raids. Useless now but for the pigeons that nest there, the WWII eyesore remains standing.
The high school girls are busy with their experiment. I ask them what their plans are. Some will go to Israel for a year of study after graduation. Others are going on to university. The students own their Jewish identity comfortably. They have plans. The flak tower is history.
With the support of Mr. Ronald Lauder, the school has grown to become one of the city's largest Jewish educational systems. "We founded it as an afternoon school in 1982 with 52 children," recalls Mrs. Edla Biderman, director of Jewish studies. As Vienna saw an influx of Jews in the 1990s, the school added new divisions. Today, she points out, it includes a kindergarten (one of seven Chabad kindergartens now serving the Vienna's Jewish children), an elementary school, middle school, high school with academic and vocational tracks, and an immersive Cheder yeshiva.
A student enrollment of 465 and a faculty of 80, gives the Lauder Chabad Campus students the benefit of a high teacher-student ratio. Rabbi Dov Gruzman, formerly director of middle studies in the Jewish division, now leads an active network of 500 alumni who meet several times a year at reunions and annual meetings. Many of the students came from unaffiliated homes. "Now they are strongly identifying and feel indebted to the school," says the rabbi who continues to maintain close ties with them.
Across the road, on a triangular street in a desirable part of town that has been renamed Rabbiner Schneerson Platz, is Beit HaLevi, another impeccably designed Chabad Center from which emanates programs serving every demographic of Vienna's sizable Bukharan community. A youth organization counts 300 members, including a CTeen chapter, an afterschool program, a woman's club and Beit Midrash classes for adults, providing 1,200 of Vienna's Bukharan Jews with a rich community life.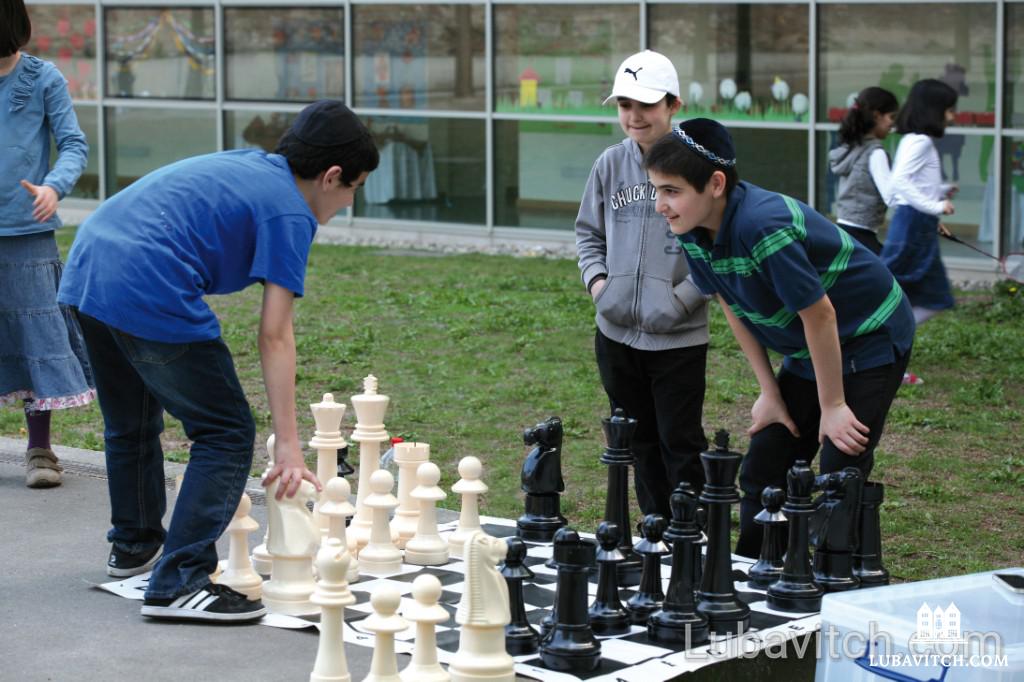 The Lauder Business School
Jewish music reverberates from the open palladian windows of what once was a summer residence of Empress Maria Theresa. There's a bar-mitzvah party going on. Guests of honor are five business and finance majors, members of a Jewish fraternity at the Lauder Business School (LBS) who've completed a seven-week stint exploring Judaic electives in their off-school hours. They are now ready for their Jewish rite-of-passage.
Peter Vandor, from Hungary, a second-year student of international business administration, felt his way around his Jewish identity thoughtfully before deciding to have a bar-mitzvah. "At 21, I wanted to explore Judaism and decide for myself." His fellow bar-mitzvah mate, Yvgeney Sholudchenko grew up in Germany and was attracted to LBS's international student body and its competitive business program. It was only after he arrived at the campus, skepticism in tow, that the banking major began to seek explanations for the philosophical underpinnings of a tradition he knew little about.
"I wasn't interested in doing anything by rote." So over long Shabbat dinners he plied the campus rabbi, Baruch Sabach with questions. Challenging debates and discussions ensued. Eventually, says Yvgeney, adjusting the tefillin on his forehead, "I came to my own conclusions."
The "boutique university" situated in one of Vienna's best districts offers strong undergraduate and graduate programs in banking, finance, international management and leadership. It is sought out by students from a melange of countries eager to experience life in proximity to one of Europe's important business hubs. Many of its graduates, observes Vienna's head Chabad representative, Rabbi Jacob Biderman, have gone on to careers with major banking and consultancy firms, among them Uni-Credit, Deloitte, Price Waterhouse and other international companies such as Microsoft, Google, IBM and HP.
Underwritten by Mr. Lauder, President of the World Jewish Congress, and established by Rabbi Biderman, LBS has a small student body of about 360 but is particularly appealing to Jewish students because of its unique campus setting provided by the city's Jewish Heritage Center. Many find the "family" feeling of the place, with only 170 students living on campus, nurturing and conducive to their general well-being and the development of their spiritual life.
"The access they have here to Jewish educational and social opportunities and to a Jewish community experience is an unusual and fascinating feature that makes LBS different from any other university," says Rabbi Sabach. And the intimacy of the LBS environment, says his wife, Chaya, as she greets parents and students who've come to the bar mitzvah, "allows us to connect with all the students."
Lisa Shchapova, 19, from a small village in Germany, had "mixed feelings about who I am." The daughter of a Christian father and a Jewish mother, she chose LBS for unrelated reasons after hearing about it from another student who had completed his master's degree there. That classes are conducted in English was another benefit for the student anticipating a career in mergers-and-acquisitions.
In her first year at LBS, recalls Rabbi Sabach, "Lisa never attended any Jewish activities." With a non-Jewish boyfriend and an interest in the Christian traditions of her father, she'd been making frequent visits to the Russian Orthodox Church, considering a formal conversion. Towards the end of her first year, she dipped into some of the Jewish events on campus.
Shabbat with the Sabach family and Chabad's Sinai Scholars study program were eye-openers. Eventually, she said, "I started to identify as Jewish." Now she's taking a lead role launching the school's first Jewish sorority. Lisa says sees her own story "repeated among many of the students who come here struggling to find out who they are." The vibe on the LBS campus makes it an ideal place to explore personal identity. "There is a strong community here and we try to help each other. No one feels that they are alone here."
Proud of the school's graduates and the positions they secure in high powered firms, Rabbi Biderman is keen to see that they come away from LBS not only with a competitive advantage in business but with a deepened Jewish identity and the feeling that "they have a stake in Jewish life and the Jewish community wherever their careers will take them."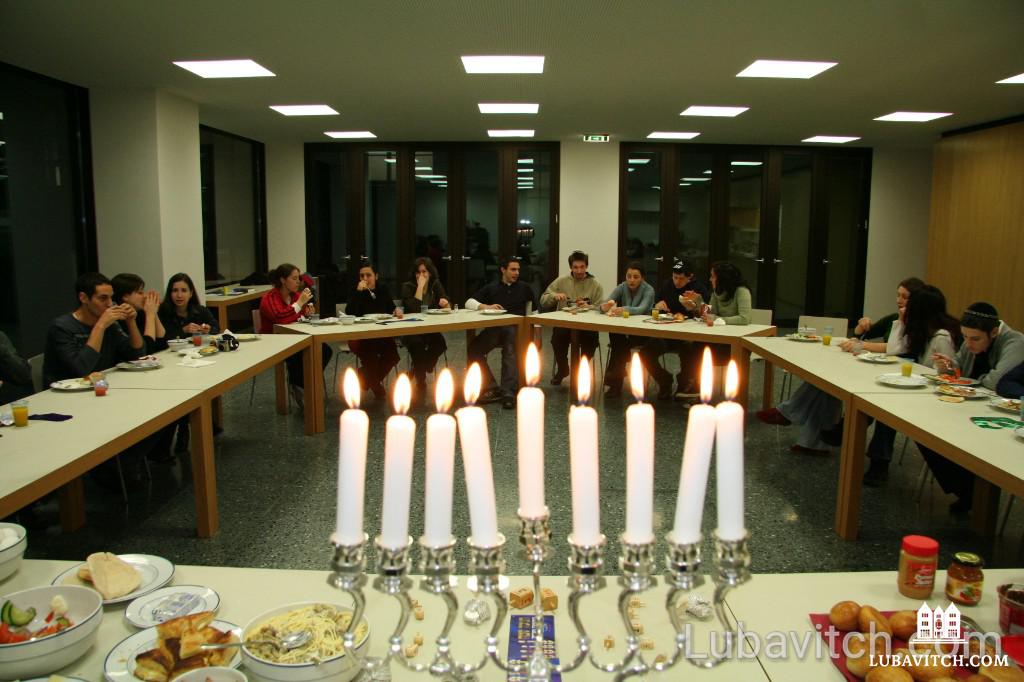 A Jewish Revival
Voted the most livable city in the world for the eighth year in a row by Mercer, the international consulting firm, Vienna is enjoying a Jewish revival. Today, the city counts 10,000 registered Jews, but according to some estimates, as many as 40,000 who don't identify, live in Vienna.
In October, the conservative People's Party (ÖVP), headed by Sebastian Kurz, won the most votes but came up short of a majority, leaving many concerned that his party will have to form a coalition with an extreme faction. But, Daniel Kapp, a political consultant working for Austrian and international businesses, maintains that in a Europe where certain Jewish rituals are often threatened, Austria has a stable legal framework and recently reaffirmed shechita (kosher animal slaughter). "It's a country where you can walk the streets freely with a kippa. Anti-semitism no longer plays a relevant role in day to day life here."
The sense of security has encouraged the development of the community's infrastructure. Kapp credits the Chabad emissaries under the leadership of Rabbi Biderman for having "contributed greatly to the Jewish renaissance we now enjoy in Austria."
Eight Chabad centers in four of Vienna's districts, and 22 Chabad representatives serve the city's Jewish population. Seven Chabad preschools, headed by Chani Edelman, one of them in Vienna's beautiful Prater Park, are Montessori based, providing Jewish children an idyllic educational experience. Its Lauder Chabad Campus produces graduates who are giving back to the community, teaching in its schools, leading community centers, opening kosher supermarkets, restaurants and local Jewish businesses.
Once a year, some 450 of Vienna's Jewish women convene to celebrate Jewish Woman's Day. Mrs. Sterna Gruzman, a longtime teacher at the Lauder Chabad Campus, says Jewish women of every affiliation, among them Mizrachi, Junior and Senior WIZO, Aguda, and the Jewish Family Center, are part of this collaborative event. Many of them are graduates of the Lauder Chabad Campus. "They came here as immigrants with little Jewish knowledge. Through the school and Chabad's adult education classes in the community, they've transformed the Jewish profile of the city."
The revival is arresting. Fritz Bittman, one of few remaining Jews born in the shadows of the Holocaust, offers a rarefied perspective. He considers the arc of change from the post-Holocaust years when young Jews had only negative associations with their Jewish heritage.
"Without the work of Chabad in Vienna, a lot of youngsters here would not know what Judaism is. The Lubavitcher Rebbe has released a lot of sparks."