When Sara Covelli walked across the stage at Union College last spring and accepted a rolled parchment proclaiming that she had earned her bachelor's degree in Environmental Policy and Climate Change, her parents, Robin Laveman and Irwin Krasnow, sat in the audience, poised to give a graduation gift of a different rolled parchment of great significance.
In honor of Sara's hard-earned graduation, her parents donated a sefer Torah to Chabad at Union.
Sara, who graduated summa cum laude and received national recognition for her work with environmental causes, served as president of the Chabad student board for two years. She and her parents are extremely grateful to Rabbi Shmuly and Laiky Rubin, directors of Chabad and Religious and Spiritual Life Advisors at Union, for being an invaluable support system to Sara, who faced medical challenges during college and needed to take a year-long leave of absence. "The Rubins became Sara's second family," says Laveman.
Laveman and her husband first met the Rubins on Parents' Weekend during Sara's freshman year. As Sara became more involved in Chabad, the family learned that Chabad was using a borrowed Torah. As it happened, Sara's parents owned a Torah scroll that they had purchased from a Brooklyn congregation that was closing.
"It was a match made in heaven," said Laveman. "We had a Torah that wasn't being used, and Chabad clearly needed it to enhance Jewish life at Union. In honor of Sara's graduation, and in gratitude for all the Rubins did for her, we decided to donate the Torah."
Less than a year after Sara's graduation, on May 19, 2019, coinciding with Reunion Weekend, Union College experienced its first Torah dedication, as students, faculty, administrators, alumni, family and community members proudly joined the procession escorting the Torah across campus.
The Torah dedication was historic for Union, a small liberal arts college referred to as a "Hidden Ivy," with a Jewish enrollment of about 250, or 10% of the total student body. The significance of the event was underscored by its location at Nott Memorial, the college's sixteen-sided Victorian structure bearing Hebrew words excerpted from Pirkei Avot, Ethics of the Fathers, meaning, "The day is short, the work is great, the reward is much, the master is urgent."
"The decision to donate a Torah in Sara's honor snowballed into so much more," says Laiky.
As Laveman says, "It's fascinating how it grew, with people donating to build the Ark, dedicate the choshen (breastplate), and buy verses in the Torah."
Sara's 93-year-old grandmother, Rose Laveman, dedicated the Torah's silver crown, engraved with the Hebrew inscription, "L' dor va'dor, – from generation to generation," and the names of three generations of women: Sara, her mother, and her grandmother.
The 2019 graduating seniors active in Chabad continued the Torah's legacy by gifting Chabad with a silver yad, or pointer, for the Torah.
"The Torah dedication came about because of the warmth and caring of Laiky and Shmuly," says Laveman.
Or in another excerpt from Pirkei Avot, "Mitzvah goreret mitzvah – one mitzvah leads to another."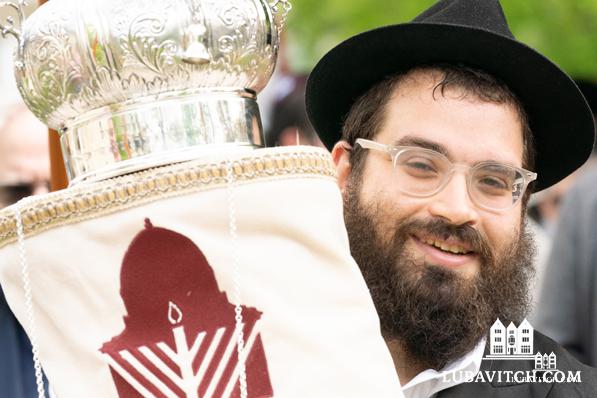 Rabbi Shmuly Rubin holds the new Torah (photo credit: Evan Lauber)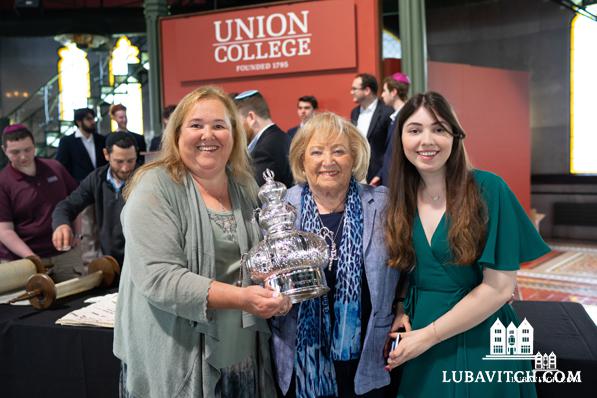 Rose Laveman poses with the silver crown she donated. Daughter, Robin Laveman is to her right and grandaughter, Sara Covelli to her left (photo credit: Evan Lauber)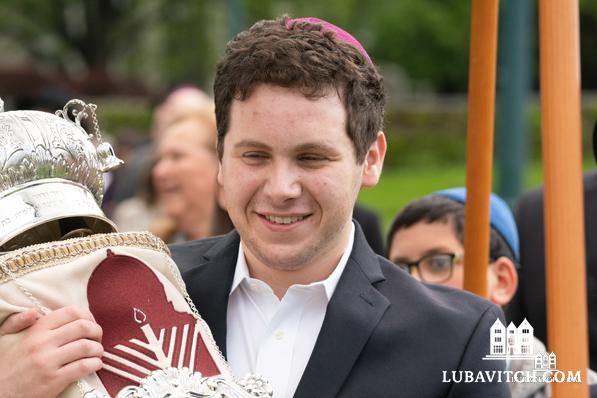 Chabad at Union student board member, Emerson Levy holds the new Torah (photo credit: Evan Lauber)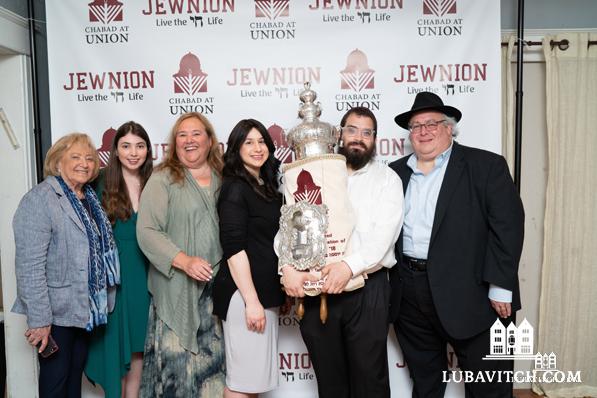 Left to right: Rose Laveman, Sara Covelli, Robin Laveman, Laiky Rubin, Rabbi Shmuly Rubin, Irwin Krasnow (photo credit: Evan Lauber)