It's not very common for teenagers to be the honorees at a gala event, but that's exactly what happened on May 22 at Chabad of SE Morris County in New Jersey. Oliver Simon and Sophia Smith, a high school junior and senior respectively, were awarded the first Teen Visionary Award at the annual Chabad Gala, alongside three adult leaders.
The duo, active members of Chabad's CTeen, were recognized for a program they created last year called Extra Helpings Delivered. At the close of each month, Oliver and Sophia deliver frozen food, leftovers from family meals, to seniors living in low-income housing complexes. The pair packed fifty meals their first month and now consistently package 70-100 meals monthly.
"It means a lot to us," one meal recipient, who requested anonymity, reported. "Especially in the wintertime when we can run out of money and food at the end of the month. We're able to rely on these frozen meals coming to help us."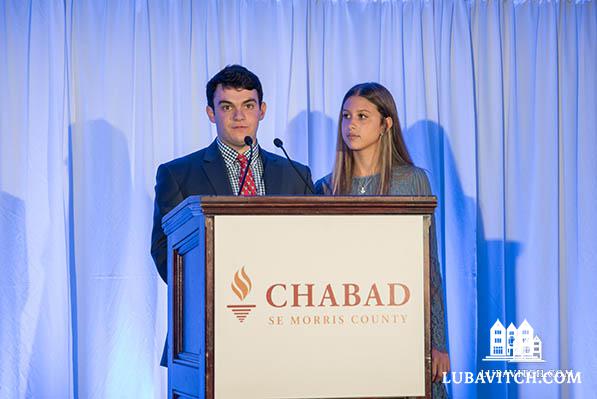 Oliver shares that they were inspired by CTeen's Dinners for the Homebound project, where teenage volunteers distribute meals during Thanksgiving. "The reaction from the grateful recipients was touching, and Sophia and I wanted to continue the idea throughout the year." Their rabbi, Shalom Lubin, who directs Chabad of SE Morris County with his wife, Aharona, put them in touch with one of the residents at a low-income housing complex, and now, they're delivering the food monthly. "Our program really solves two problems," Oliver explains. "We minimize food waste and give that food to people who could really use it."
Rabbi Lubin was emphatic about including Oliver and Sophia in the list of honorees. "In today's world, when teens are being pulled in so many different directions, it's heartwarming to see them spending time helping others and dedicating themselves to the Jewish value of being a 'light unto the nations.'" He says the audience and other honorees were touched by their accomplishments and inspired by their message.
"We really weren't expecting this honor," Oliver says. "But it was nice getting the recognition. Maybe others will follow our example and do something like it themselves. It's not even that hard to do and makes a real difference. I really enjoy it."