A surprise announcement concluded a fun-filled awards ceremony, marking the end of the academic year at Chabad Hebrew School of Orange County, New York. Beginning this fall season, enrollment will be tuition-free for all new students.
"Chabad's policy is that no one will be turned down due to lack of funds," Rabbi Pesach Burston, who directs the Hebrew School and local Chabad center with his wife Chana declared as he addressed the crowd. He thanked the generous sponsors, specifically the Gregg Wenzel Scholarship Fund, for giving more children access to a Jewish education.
Speaking on behalf of the parent body representing 70 students, Julie Drillings spoke of her appreciation for Chabad's creative programming. "Chabad has become much more to us than a Hebrew School, they have become our family," she shared.
The Hebrew School meets every Sunday morning for two hours of what Chana terms, "FUNdamental Jewish experience that will last a lifetime." Through hands-on activities and projects, 5-13 year old students are invited to engage in Jewish discovery.
Arlo Steir, 13, described how Hebrew School makes the Jewish holidays meaningful for himself and his family. "Chabad has given me a strong Jewish foundation and pride in my religion," he said. His remarks were followed by a speech from eight-year-old Morgan Reich titled "Top Ten Reasons I Love Chabad Hebrew School."
For more information about Orange County Chabad's Hebrew School visit https://www.chabadorange.com, or search for your local Chabad Hebrew School at lubavitch.com/centers.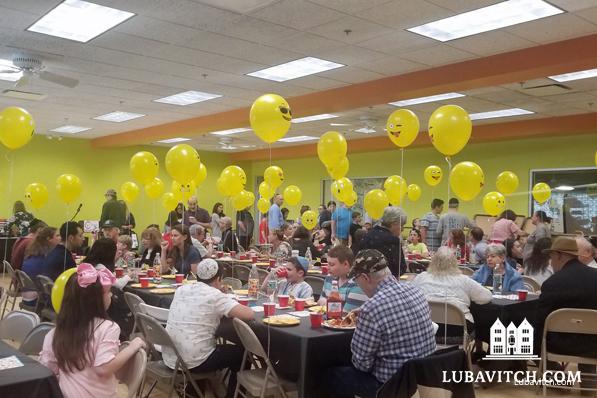 A fun-filled end-of-year awards ceremony for Hebrew School students and their families this past June