"We are each responsible for the atmosphere around us," said Mrs. Altie Wolvovsky to the group of twenty 5- to 11-year-olds gathered around her during a Hebrew School class at the Sonoma County Chabad Jewish Center in California. A lively discussion about the environment and their impact on it ensued, and with some prompting, the children began to consider what they can do — not only for the environment — but to brighten the world for the people around them.
Altie is director of The Chabad Hebrew School of the Arts — one of 150 children's programs in the CKids (Chabad Kids) network. Approximately 5,000 children will participate in similar conversations over the next week as the "Goodness Grows" unit of CKids' annual curriculum is implemented in celebration of Tu BiSh'vat, the New Year for Trees.
The unit looks at similarities between humans and trees, like the importance of strong roots so as to allow for healthy growth. "The kids walk away with a message that we are responsible for putting goodness into our environment, and when we do one kindness, it plants a seed of kindness for others to follow." Altie shared with Lubavitch International.
CKids International creates the curricula and provides networking and educational support to promote children's programming for Chabad centers. Zalmy Loewenthal, director of CKids International, said, "People often underestimate the innate power kids have to positively impact the people around them. We want to nurture this and empower them to take the lead in their world."
At the Network's inception two years ago, sixty Chabad centers from around the US participated. It has since grown to include international cities and in a first this year, program guides and materials are translated into Spanish. Kids in the Mexican cities of Cancun and Guadalajara and Spain's Valencia now join their counterparts in the USA, Hong Kong, England, and Australia.
The curriculum includes eight units, each developed to create a holistic learning experience based on a timely theme that fuses Jewish education with social responsibility. In Sonoma County, kids proudly sported "Goodness Ambassador" name tags as they made seed bombs that will sprout colorful flowers when planted.They pledged to do an act of goodness and kindness to uplift the world. At the finale of the meeting, each child hung a decorated wooden leaf, inscribed with his or her pledge, onto a large tree decal. This "Tree of Giving" with its "leaves of positivity" will hang in the Chabad center. The children's pledges of goodness, expects Altie, "will encourage their elders to do their part too."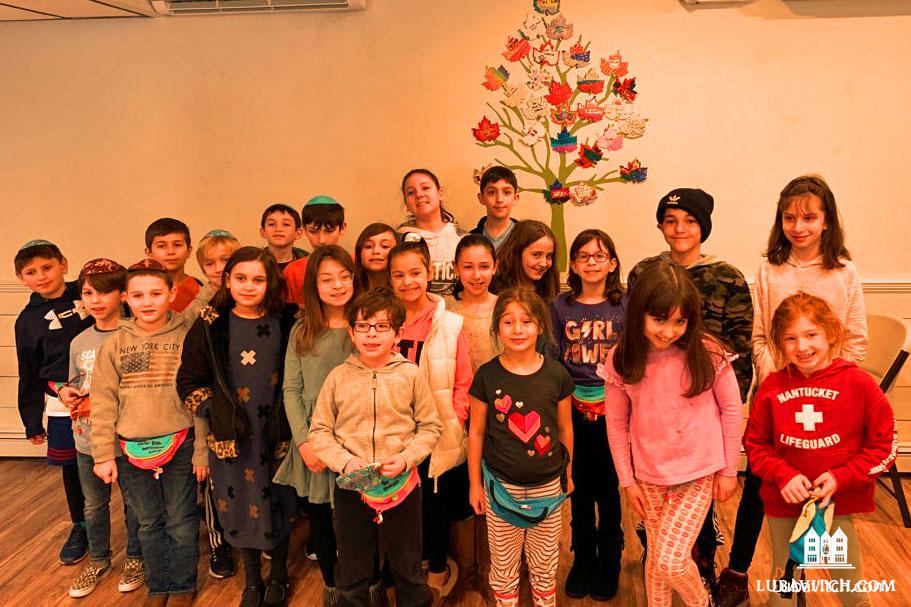 CKids pose in front of their 'Tree of Giving' at Chabad Hebrew School in Fairfield, CT
Mrs. Leah Brook leads a CKids club at Chabad Hebrew School in Fairfield, CT