"When I saw the swastika and the infamous Nazi slogan 'Arbeit macht frei' (work sets one free), I was shocked and hurt," Rabbi Benjy Brackman wrote in an email to his congregants at Chabad of NW Metro Denver. The anti-semitic graffiti had been found on a byway near his home and synagogue in June of 2017. Though authorities quickly had the hateful message removed, Rabbi Benjy began to consider an appropriate response.
He toyed with the idea of erecting some kind of Holocaust memorial, but it occurred to him that "instead of a memorial made of stone, we could write a Torah, which we call the Tree of Life."
Chabad community members Stuart and Maureen Phillips had made plans to donate the funds for a new Torah scroll to the Chabad center. When Rabbi Benjy suggested dedicating it to the memory of those who perished in the Holocaust they readily agreed. "What better way to remember those souls than with writing a Torah scroll?" Maureen said.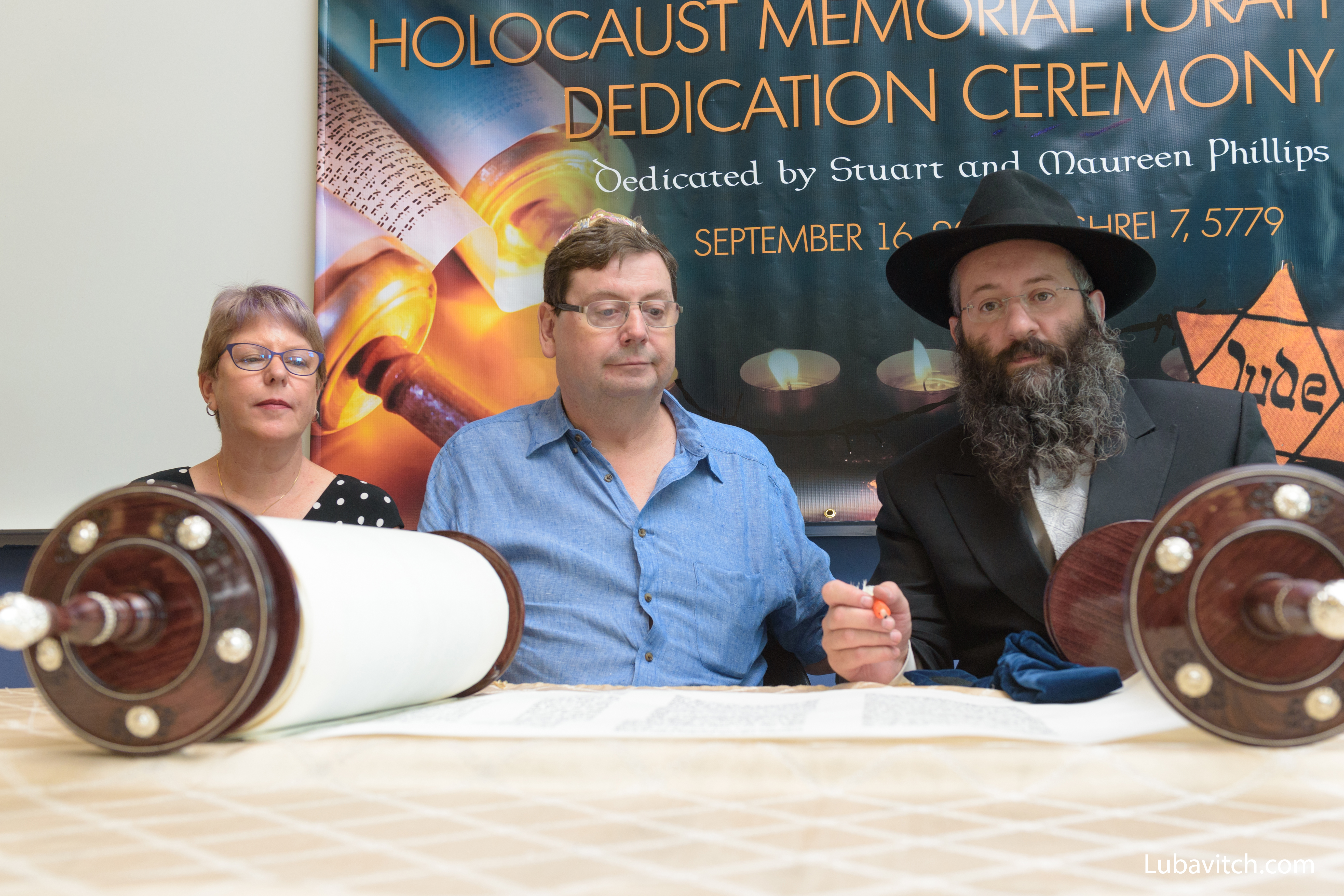 Stuart and Maureen Phillips inscribe a letter in the Torah scroll they have donated in memory of victims of the Holocaust

A Torah scroll contains hundreds of thousands of letters. Each letter must be meticulously formed using quill and ink on a parchment made from the hide of a kosher animal, a process that can take up to twelve months. On September 25, three months after the graffitti was discovered, Rabbi Nissan Mangel, a Holocaust survivor, was honored with inscribing the first letters of the Torah.
The idea of the Torah scroll as a positive response to a symbol of hate generated excitement. Eager for the opportunity to participate, community members started a gold and silver drive, contributing gold and silver objects they were no longer using. The metals were melted down and used to create an ornate silver crown to adorn the scroll.
By late September 2018, the writing was nearly completed. At a ceremony held in a Westminster public library, with help from Moshe Liberow, scribe, and rabbi at Chabad of Colorado Springs, 100 community members took turns filling out the last letters. Some were survivors themselves, and others had family members who didn't survive Hitler's genocide.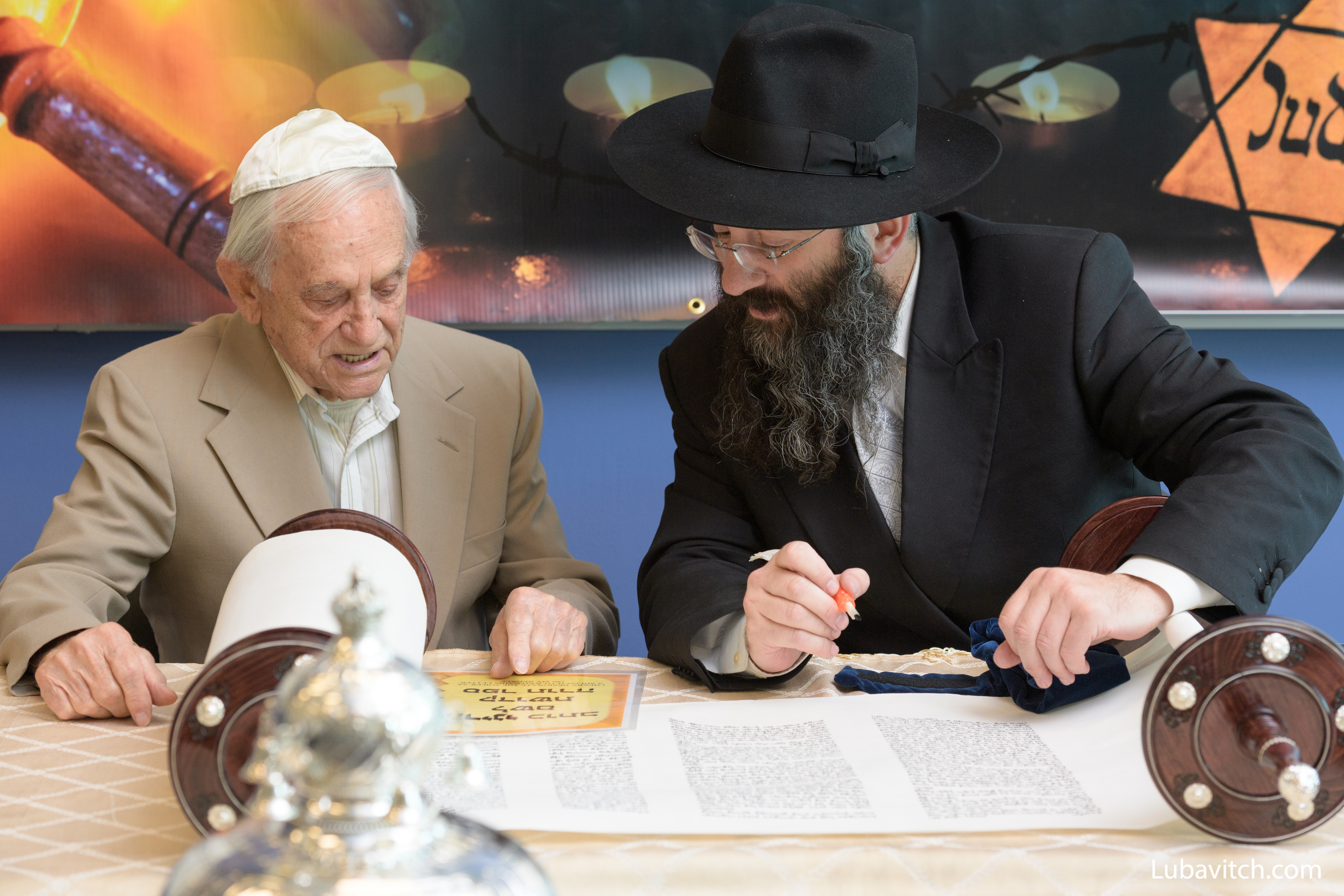 Survivor, Arthur Helmer writes a letter in the Torah scroll dedicated in memory of Holocaust victims

Once the ink had dried on the last letter, the Torah was rolled and covered, crowned, and hoisted aloft to be paraded through the streets to the synagogue where it would reside. As the procession walked toward the bridge where the graffitti was found, the crowd sang songs of joy and Jewish pride.
"As they made their way, the gold lettering on the Torah cover caught the sun, adding a light to the world," Elise Schmeltzer wrote in the Denver Post. Rabbi Benjy echoed her sentiment. "Our best tool for fighting anti-semitism is the spreading of goodness and light."
For more information and to support Chabad of Northwest Metro Denver, visit TheChabadHouse.com.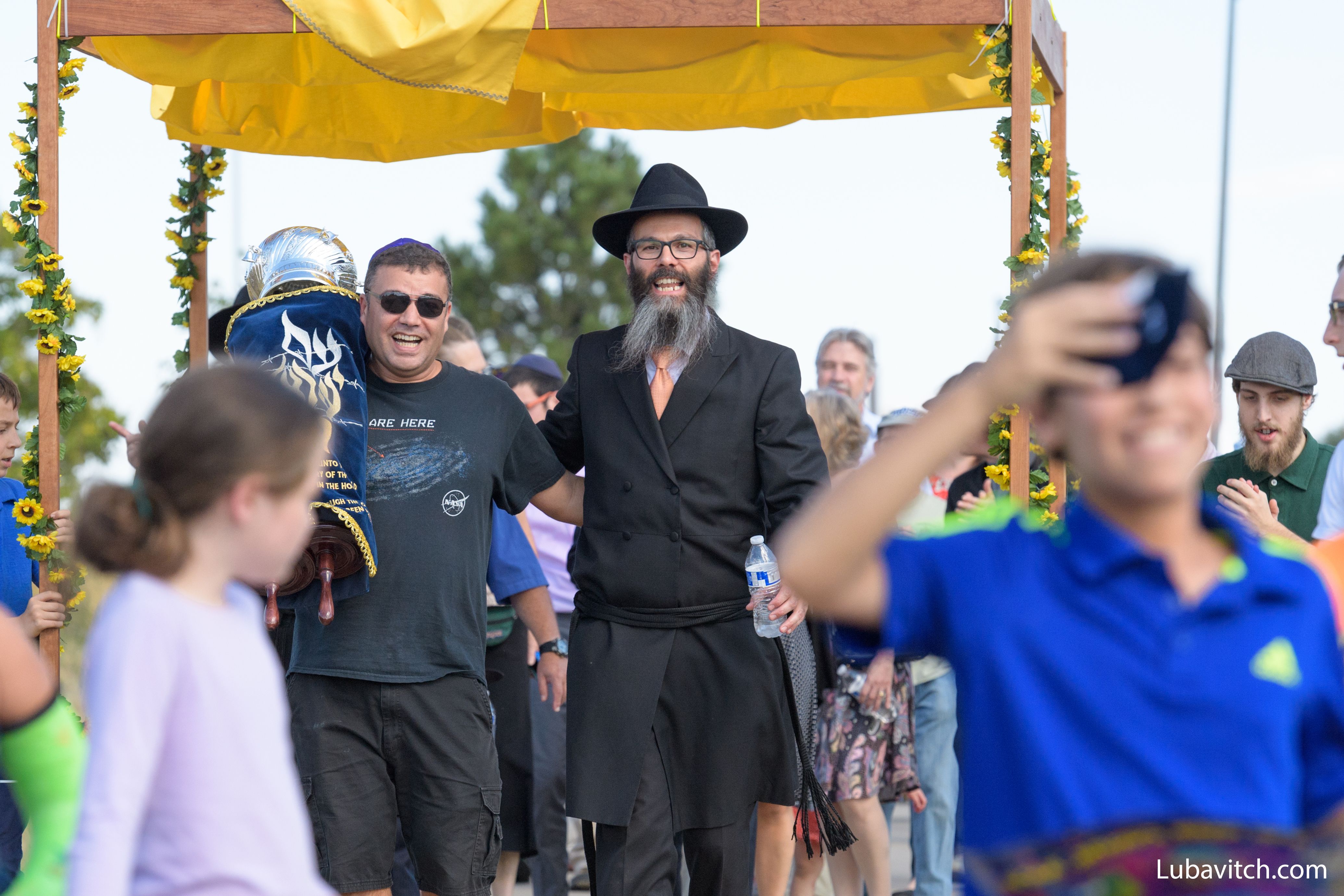 Rabbi Benjy Brackman rejoices as a community member holds a Torah scroll dedicated to victims of the Holocaust