Adam Armush, an Israeli Arab, donned a kippah last week to prove to a Jewish friend that their tony Berlin neighborhood was safe for Jews. What he found instead, and captured on shaky cellphone video, was the exact opposite. Armush was beaten by a Syrian refugee with a belt in front of passerby on their way home from work.
The worst part, the teen shared the next day in a television interview, was that only one of dozens of bystanders stopped to help. Berlin may have let him down that evening but a week later the city stood in solidarity with the entire Jewish community.
Over 2,500 Berliners put on kippahs and marched to the Jewish Community Center Wednesday joining fellow Germans around the country in "kippah marches." The rally featured local politicians and supporters of all nationalities and religions. Topped with kippahs of all stripes, materials, and styles, Berlin stood to attention, loudly demonstrating, "Never again."
Chabad emissary to Berlin, Rabbi Yehuda Teichtal stood on the dais during the event. As he always does, Teichtal, who has lived here since 1996, was wearing his black kippah with pride. Removing or hiding the signature Jewish look, as some in the community have suggested, is anathema to him. "To hide and cover our Jewish identity is not the solution," Teichtal insists. "We must continue to walk and live as proud Jews while simultaneously doing everything possible to combat anti-semitism."
Anti-semitism is a growing concern in this country that has, as national policy, pledged support of Israel and the Jewish people since the close of the Second World War. An estimated 947 anti-semitic incidents occurred here in 2017, a 60 percent rise over previous years. And that's only the ones that were reported.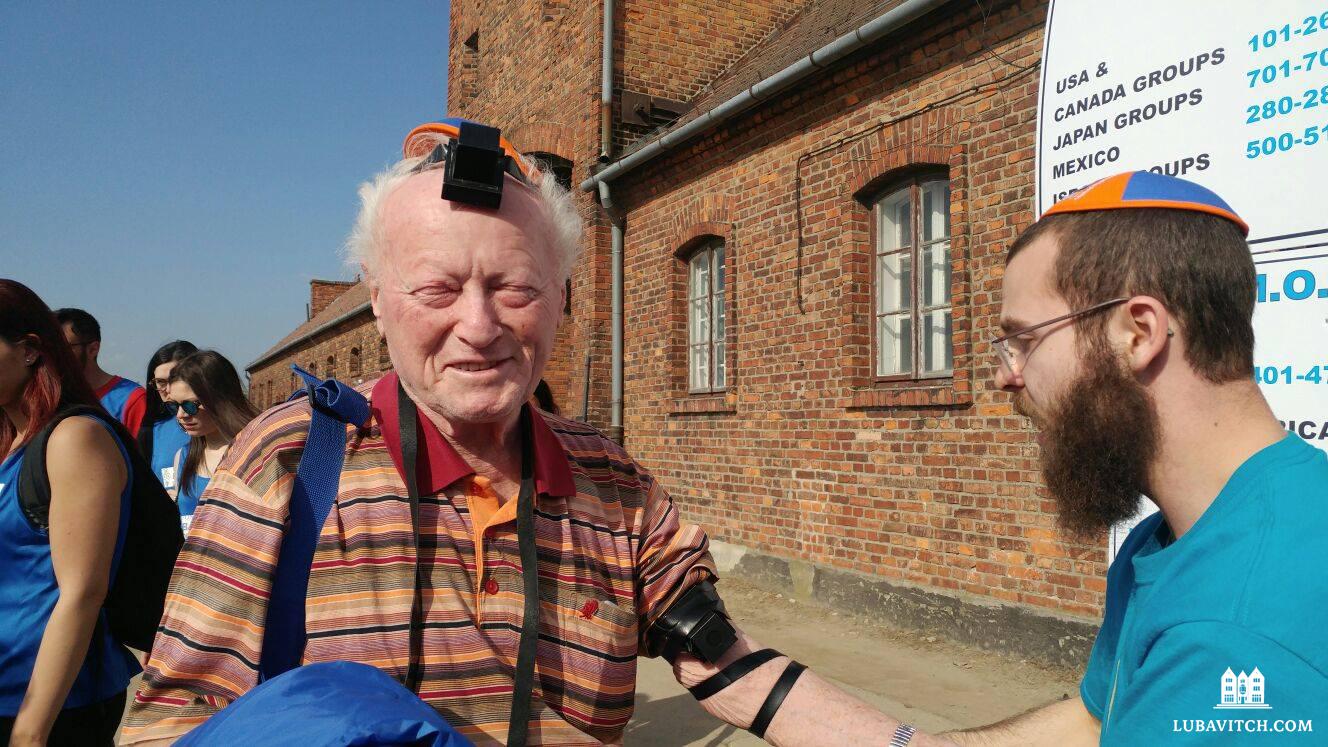 Two Jews proudly wear kippot (pl. kippah) at March of the Living, Poland (2018).
German Chancellor Angela Merkel acknowledged the alarming spike in a recent interview. "The fight against such anti-Semitic acts must be won," she declared: "the reputation of our state is at stake, and we are committed to it with all our strength." The recent swell of incidents is blamed on the influx of Muslim immigrants to Germany and the concurrent rise of far-right parties in the country.
Native German, Rabbi Yitzchak Mendel Wagner, who lectures internationally about anti-semitism, agrees about the general cause. Wagner was born in Krefeld, 350 miles from Berlin, where he serves today as rabbi. "My personal experience is high respect for the Jewish people," he says. On a national scale, he recognizes the rise in hatred since 2015. But, like Teichtal, he says that, "taking away the kippah won't solve the problem." In fact, says Wagner, nine times out of ten, he is approached positively when dressed in traditional Jewish garb.
The first time Wagner wore a kippah in public was when he was in his late 20s. His parents were concerned with his safety and encouraged him to always cover his head with a cap. "I made the decision one day to take off my cap," he recalls. "Exactly on that first day, someone tapped me on the shoulder when I was out shopping. He looked at me like I was a ghost and said, 'I'm a Russian Jew and I have been thinking about circumcision, but I'm scared. I told G-d today that if He wants me to have a circumcision, He should send me a sign."
His sign was on a stranger's head. That day, that man chose to have a kosher brit milah. And that day "was the start of wearing a kippah," for Wagner.
Today, he tells his own children that dressing like Jews, and being noticed for that choice, is something to be proud of.
Since moving to Germany in 1988, Rabbi Yisroel Diskin has proudly walked through Munich's streets dressed in kippah and black fedora. "Everyone in my city knows me like this," says Germany's top Chabad emissary. While he acknowledges that Munich is not indicative of the entire country, and that Muslim immigrants have settled in certain areas in his city as well, "I have never had any problems. I have always told my children to wear their yarmulkes with pride, never with a cap on top. This is our 'yiddishe kleider' (Jewish attire).''