Alan Vaytsman was born a preemie. His vision, language development and other milestones were delayed. "We were told that he's probably not going to make it," recalls his mom, Inna. She and her husband Igor were determined to give their son his best shot. When they noticed him singing even as he couldn't speak, they knew they'd find a way.
At two years old, Alan was playing piano. He began formal lessons at eight and is now a gifted member of the jazz band at Brady Middle School, where he attends a mainstream classroom. "He has an IEP (Individual Education Plan) which entitles him to accommodations like access to enlarged texts," says Inna.
For the last eight years, Alan has been attending programs at Friendship Circle of Cleveland. In 2014, he had his first solo stage debut at the Friendship Circle ten year gala dinner, and has since played at two more Friendship Circle dinners. When he turned 12, his parents reached out to Rabbi Yossi and Estie Marozov, the organization's directors, for help preparing Alan for his Bar-Mitzvah.
After the conventional route didn't work very well, Rabbi Marozov had to reconsider. "His eyesight made it difficult for him to read the Torah's small letters, and the Torah must be read from the original scroll—we couldn't enlarge it." With three months to go before the big day, Alan's parents and the Marozovs went back to the drawing board.
Inna was hoping the ceremony would be meaningful for her son. Incorporating Alan's musical gift seemed like a plan. Soon Alan's preparations for his Bar-Mitzvah included Tefillin and a piano. Rabbi Marozov chose 13 parts of the prayer that Alan could lead by learning to play them on the piano. Instead of sheet music, Marosov sang the prayers for him and Alan belted them out on the piano. To allow for musical instruments, the service would be held on a weekday instead of Shabbat.
The Bar-Mitzvah lessons became a transformative experience for Alan. "Alan was having the best time. I needed to contain him, because he wanted to spice up the tunes, while I was focused on keeping to the traditional tunes so that the guests could sing along," says Marozov.
When community members heard about Alan's special Bar Mitzva, they came together to make it "a Bar-Mitzvah to remember."
"I don't know a lot of people, so I had been planning a very small family event," shares Inna. "But Alan has touched a lot of people through his music. A lot of people know him, and they all came together to make it into something very special."
One community member did the graphic design for the invitation. Another did the printing, the party décor, the catering. "It really became a community simcha," Marozov recalls.
On the day of the Bar-Mitzvah, 200 community members came to celebrate with Alan. Wrapped in a tallit (prayer shawl) and tefillin, he lead the prayer as his fingers danced elegantly across the piano keys. "Alan found a way to express himself and his deep love of Judaism," Rabbi Marozov says.
"Playing at my Bar-Mitzvah was very different than my concerts. It took a lot more preparation, learning and growing for me to get ready for my Bar Mitzvah. Music was part of it, but this time it was not for just entertainment."
Looking back a year later, Alan would like to know that his Bar-Mitzvah drove a message home. "I hope my Bar-Mitzvah serves as a reminder that we are all part of the community, regardless of our differences."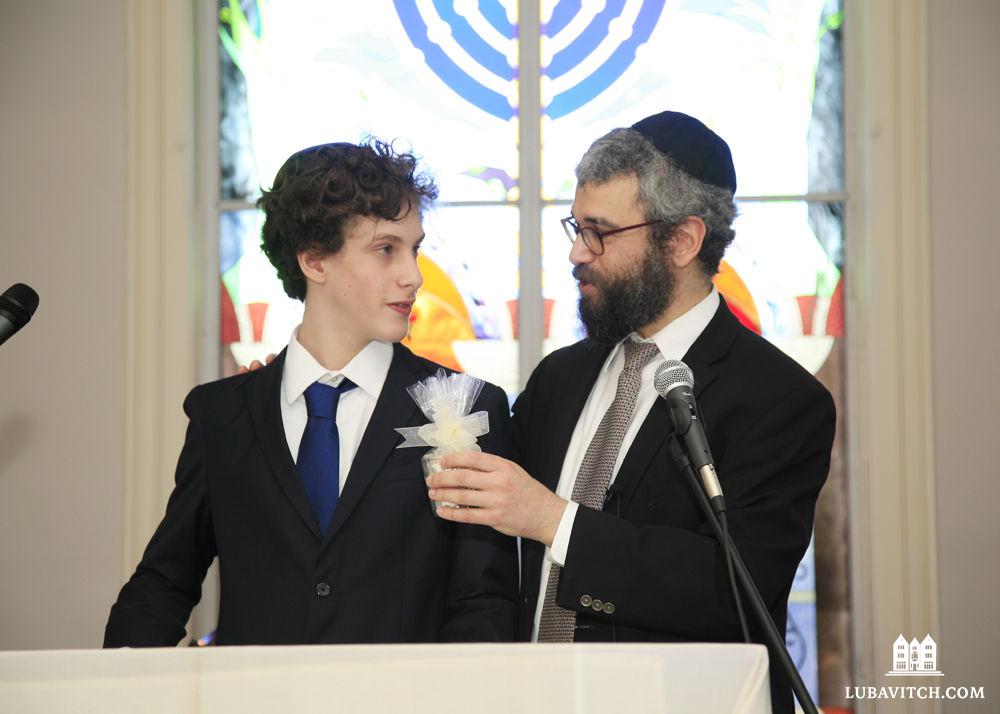 Rabbi Yossi Marosov with Alan at his Bar Mitzvah this year.