The semester may be over. But the work is never done.
Caps fly, students leave in a bustle of good wishes and stuffed laundry bags, and their rabbi and rebbetzin wave goodbye. It's been a good semester for Jewish Aggies, the 250 students who call Texas A&M University home for the scholastic year. And now it's time to reflect.
For the last thirteen years, Rabbi Yossi and Manya Lazaroff have offered all the perks typical of a campus Chabad center. But the campus is changing. "Our incoming students over the last three years have different challenges than those who previously entered as freshmen," shares Manya. "We are dealing with a very stressed-out generation, whether it stems from social, familial, or educational dynamics. We realized that we need to look out for these very basic needs."
When students are in crisis, the Lazaroffs are available to help when they can—and to direct students to professionals when they cannot. Manya is quick to insist that she and her husband are not trained mental health professionals. When the first student in need approached years ago, the Lazaroffs connected them to an excellent therapist. The rabbi and rebbetzin have since referred dozens of students to that therapist's office.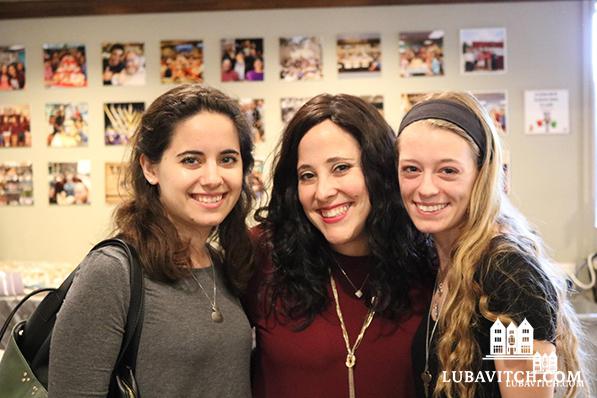 Like many campus representatives, Manya makes industrial-size pots of matzah ball soup to deliver to students. Several years ago, she spotted a post on her Facebook feed from a girl named Hannah who said she was under the weather. Manya heated up a serving and was at the girl's dorm room within the hour. While Hannah ate the hot soup, the two chatted. Ultimately, Manya set her up with a therapist. And that was that.
Or so she thought.
Four years later, Hannah, now a successful professional and happily-married mom, came back for a visit. "Remember that night?" Hannah asked Manya. Hannah revealed that she was on the brink of suicide. Her Facebook post was a last cry for help. "Only when you came and spent an hour talking did I realize that I wasn't alone in the world."
Hannah was right about that—in more ways than one. Nationally, eighty percent of students report feeling overwhelmed with stress. Seventy percent of college students take antidepressants or anxiety meds. More than thirty percent have been unable to function because of severe depression, and ten percent seriously contemplate suicide, which is the second leading cause of death on contemporary American campuses.
"Every college student that I know is completely stressed out at any given point," says A&M junior Talia Lewis. She believes that college culture is inherently challenging because of the late nights, stressful workload, social pressures, and poor dietary options. The accounting major says that she beats the tension "with the help, support, and guidance of Rabbi and Manya."
Rabbi and Manya have created a support network that empowers students to care for each other by training older students to help with younger peers. And the Lazaroffs themselves, Lewis says, "take the time out of their busy schedules to meet with students and calm them down.
With their parents hundreds or thousands of miles away, students turn to their campus Chabad representatives when they are in crisis. The Lazaroff's loving presence is an effective stopgap measure, but Yossi and Manya recognize that more is needed.
This past year, they rolled out an extensive campaign to promote mental health and fight the stigma of mental illness. Now that summer is here, they are tweaking "ReJOYvenation 360," their holistic, all-encompassing effort to provide students with the support, resources, and skills to achieve mental wellness.
ReJOYvenation becomes especially important during finals week, which is a particularly stressful time for any student. The Lazaroffs prepare care packages, serve midnight breakfast, and offer zumba classes. And six times a year, Manya leads a powerful evening of Girls' Dessert and Discussion, filled with unfiltered, meaningful dialogue. "There is no one there to impress," she says. "It's a safe, beautiful, feminine haven—a judgment-free zone." Over healthy snacks and elegant desserts, the students have discussed how to handle modern social pressures and family challenges.
A "Kabbalah of Stress Management" course will debut here next semester. "We are not the first generation of Jews to encounter stress," Manya explains. "The class explores the unique tools the Torah gave us to combat it."
This fall, Chabad will partner with Houston's Jewish Family Services to offer a comprehensive Mental Health First Aid Training Day. The eight-hour CPR-style course will cover topics such as depression, substance abuse, trauma, psychosis, and mood disorders. Trainees will learn how to identify and triage these issues in themselves and among their peers. "We see this as a tremendous opportunity to empower students to be givers," Manya says.
Dr. Liz Seitz is a marriage and family therapist in Houston. She is also the mother of a proud Jewish Aggie alumna. During the last semester, she presented a workshop on resilience. "It's not about denying what goes on in our lives," she says. "It's not about being stoic. It's about learning to bounce back when life knocks us down. Our greatest challenges can be our greatest teachers."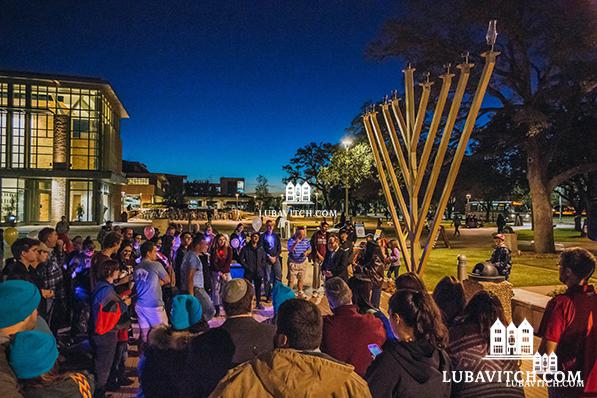 Seitz says that many of the messages she imparted are the same as those that she presents to her clients: the importance of self-care, the value of journaling and music, and the power of positive self-talk. "We did have stress back in my days of college," recalls Seitz, now fifty-four. "I do think, on some level though, that today's students are under more pressure. We never dealt with shootings or the fear of trauma on campus. Today, kids are dealing with identity issues which open them to discrimination and negative feedback. This generation is dealing with heavy stuff."
And that's even before discussing technology. "Social media involves body shaming, FOMO [fear of missing out], and insecurities," Seitz says. "I encouraged the students to disconnect from their gadgets to reconnect to themselves."
Shabbat plays naturally into that advice. Manya tells students that perhaps this generation needs Shabbat and its inherent tuning out more than in previous centuries. She and her husband host eighty students each Shabbat. It's a chance to disconnect from the week's stresses—even just for a few hours–and an opportunity to experience something even more essential: healthy family dynamics and rich, face-to-face, human connection. Several former students have credited the Lazaroffs with their ability to form positive marriages and build families, simply based on their example.
"Shabbat was one of the best times in Aggieland," says Sarah Guccione of her four years at Texas A&M. Guccione, who graduated in May with a bachelors and a masters in economics, never once shared a class with another Jew. It's precisely because Jewish students represent such a minority here, that Shabbat was so important to her. It was her only opportunity to connect with members of the tribe. "After the meal, we would just sit around and talk and make lifelong friendships," she says.
Guccione says that the tier-one research university was inherently stressful for students struggling to balance high academic standards with social and extracurricular interests. She, like many of her peers, turned to the Lazaroffs when feeling pressured. "Whether it was decisions about grad school or, for some, whether there was meaning to them being on this earth, Manya and Rabbi were always there, in any way."
Guccione helped develop ReJOYvenation 360 for this coming semester. She is eager to see future students picking up the torch. "It is a really important program," she says. "It is a really necessary program."
Statistics don't lie. The need is great. And when students come back in the Fall, the Lazaroffs will be ready.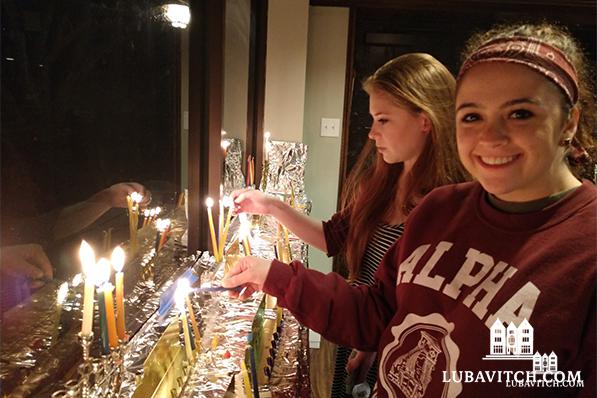 This article was featured in Lubavitch International, Summer 2019. To order your copy, visit www.lubavitch.com/subscription.