When Cupertino, California representativeRabbi Reuven Goldstein visited New York's Morgan Museum in 2010, he saw an original Mishneh Torah, written in Maimonides's own hand. The rabbi, who has always been interested in Jewish history, was inspired to start a collection of old Jewish books. His first piece was the Soncino Talmud from the year 1515, the first Talmud to be printed.
Soon, what began as a hobby began to morph into something more. "Once the collection started growing, I realized it was a great opportunity to share it with others," Goldstein says. Witness to History, a self-described "traveling museum" with a mission to preserve, inspire, and connect evolved into an eclectic Jewish exhibit including manuscripts coins, maps, tzitzit and more.
Divided into five collections, they are "The Dawn of Jewish Printing," which takes viewers on a journey that predates the very beginnings of the printing press; "The Talmud Takes Shape," showcases the five hundred-year evolution of the Talmud; "Jewish Life Through the Ages" features a wealth of Jewish artifacts such as antique tzitzit, tefillin, and illustrated Haggadot; "The Triumph of Survival" includes items from Middle Age ghettos and the Holocaust, bearing testament to years of Jewish oppression, and finally, "Charting the Holy Land" features Renaissance-era maps and engravings of biblical Israel.
In an attempt to share this slice of history with as many people as possible, Rabbi Goldstein travels widely, exhibiting to groups, schools, and communities.
To put such a collection together thirty years ago, the curator explains, you would've had to travel all over Europe, but the internet simplifies the process by connecting booksellers and auctioneers across the world. Goldstein says that because of their lack of knowledge in Jewish history, many booksellers don't understand the significance of their merchandise. One item was marketed as a picture from Constantinople, but upon examination, Goldstein realized it was a page from the Nuremberg Chronicles, with the reverse side featuring the famous image of "Elazar the Jew" and his family being burnt at the stake in Sternberg, Germany.
One of the most popular items in the collection is a Talmud from 1699, signed by a twelve-year-old typesetter named Ella. "It always amazes people to see how involved she was in the process," Goldstein shares. Another favorite is the Survivor's Talmud, which was printed by the U.S. Army at the end of World War Two. "Every piece tells a story from Jewish history." "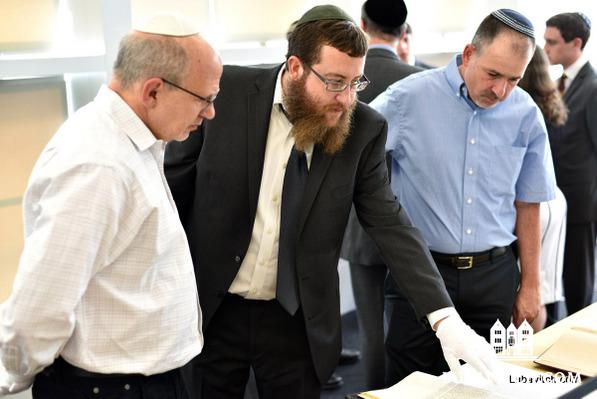 Goldstein's wife and co-curator Gitty Goldstein sees the exhibit as a powerful tool "connecting our generation and future generations to their rich Jewish past."
Community member and NVIDIA vice-president of corporate communications Bob Sherbin is testament to the fact. "This is a carefully curated, eye-opening exhibition that provides insights into history, printing, art, and Jewish life," Sherbin says. "It deepened my connection with our collective Jewish heritage."
The Goldsteins consider the exhibit to be an extension of their work as Chabad emissaries. "It's a different way to inspire people to get involved with Judaism. Sometimes, people don't connect with traditional services, but I find that the exhibit speaks to all Jews. When they realize how long we as a people have been studying these books, it sparks an interest in their own knowledge of Yiddishkeit."
Rabbi Zalman Marcus, shliach to Mission Viejo, California, visited the exhibit with an entourage of community members and says it was a hit. "It brought Jewish texts to life," he says. "This is great for any level of knowledge. It is non-threatening, yet very inspiring."
Although the collection is currently a personal one, the Goldsteins are hosting a fundraising campaign to pay for the preservation and storage of the books. "Naturally, the Californian climate is good for preserving the books, but we need to ensure that they are properly bound and stored," the rabbi says. The campaign is also largely due to the Goldstein's mission to subsidize the cost of bringing the exhibit to different communities.
Professor Lawrence Schiffman, a leading expert on the Dead Sea Scrolls, had an opportunity to peruse the collection while at the Jewish Learning Institute (JLI) retreat last summer. "Rabbi Goldstein's explanations bring to life the interrelation of these rare books with the ongoing Jewish experience and are an opportunity to learn both Jewish history and Torah by visiting this wonderful exhibit," he shared.
For more information, visit witnesshistory.org.