The University of Wyoming, a public land-grant university, sits 350 miles south of Jackson Hole, and is home to some 200 Jewish professors and faculty members and a sizable number of Jewish students.
With the opening this past spring of Chabad of Laramie, the campus town now has a Chabad House as well, and the Cowboy State's 1500 Jews have two Chabad centers to serve their spiritual needs.
A relatively small and isolated community, Laramie's Jewish residents punch above their weight. They formed a lay-led congregation that would gather in homes and rented spaces to observe Shabbat and Jewish holidays.
"This is a community that needed its own Chabad representatives," said Rabbi Zalman Mendelsohn. He and his wife, Raizy, had been making 12-hour round-trip visits from Jackson Hole, to serve the area's Jewish population ahead of Jewish holidays and whenever they were needed. "We did this for 15 years before we felt it was really time to open Chabad in Laramie," said Mendelsohn
The senior Chabad representative recruited Rabbi Yaakov and Malkie Raskin who visited the city several times, meeting with Jewish locals and getting to know the lay of the land. Steven Pollard, a professor of economics who moved from Long Beach to Laramie in 2018, met with the Raskins.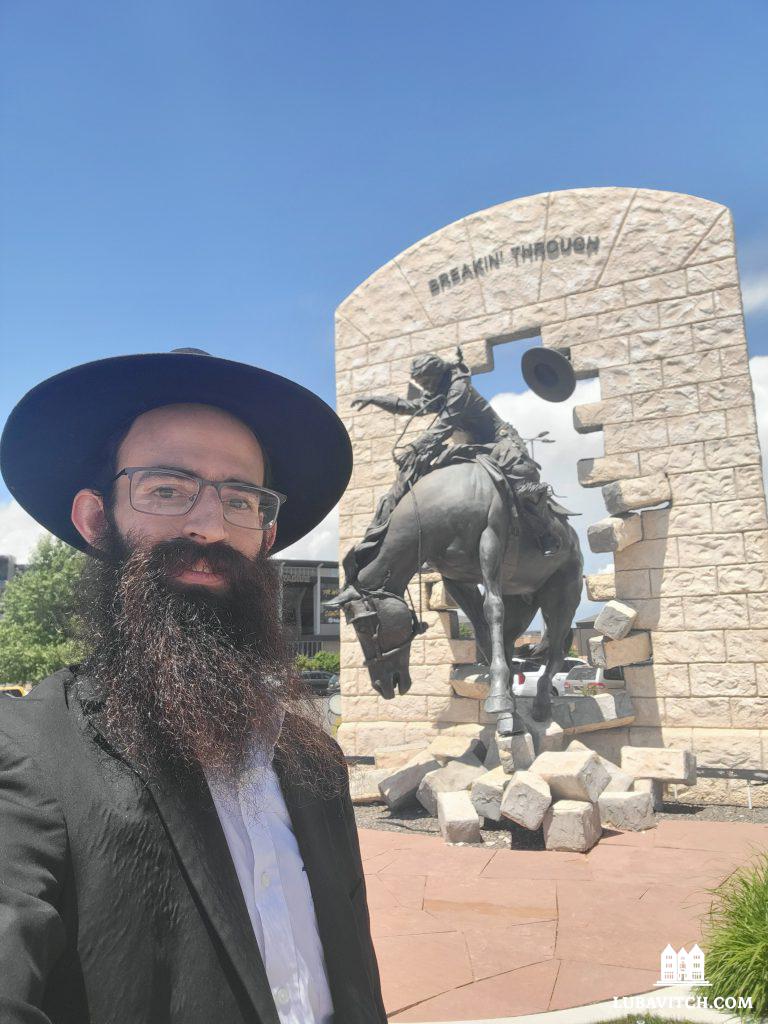 "The excitement I felt on Lag B'Omer last year during Rabbi and Rebbitzen Raskin's visit to Laramie was not comparable to the joy that was realized when they told me they were to be our shluchim," Pollard said.
The desire on the part of the people they met to have Chabad establish a center in Laramie, "really made the idea of setting roots down here quite appealing," says Malkie. "We saw there was a real interest to have Chabad establish itself here." They appreciated the city's natural beauty—nestled amid towering mountains—as a setting for building a spiritually-focused Jewish community.
A 70-Year Connection
The Raskins are building upon a connection between the frontier town and the Jewish pioneers of the Chabad-Lubavitch movement that spans more than seven decades. In the early 1950s, a young yeshiva student, Rabbi Binyomin Klein, from Jerusalem visited Laramie as part of the nascent Chabad Roving Rabbis initiative launched by the Rebbe. Wyoming may have felt very far indeed for that yeshiva student who went on to become one of the Lubavitcher Rebbe's aides. But the seeds he planted there are finally sprouting.
With his wispy beard and Chasidic garb, the rabbi gets noticed in Laramie. The other day, while on a recent grocery shopping trip he heard someone call out to him. "Hi Rabbi!" two women exclaimed. Excited about meeting a member of their tribe, they quickly accepted the rabbi's invitation to join him at Chabad for Shabbat dinner.
Raskin met another local Jew as he sought a washer and dryer on Facebook marketplace. The seller got a Shabbat invitation added to the cost of the appliances, and he offered to deliver them to the rabbi's home for free. And when an observant Jewish trucker broke down several hours out of town, Chabad got the call.
"Living in Laramie is a unique opportunity to meet and serve Jewish people from all walks of life," said Malkie Raskin. "We look forward to working with them to enrich Jewish life in America's wild west."