For Jewish parents and educators in the twenty first century, there is a constant need to find the balance between celebrating our history and living in the present. A small Torah scroll currently being taken to visit communities around the world is helping to fuse that gap.
On November 9, 1938, known as Kristallnacht, or the Night of Broken Glass, fourteen year-old Isaac Schwartz bolted into the smoldering ruins of the Main Synagogue in Hamburg, Germany and grabbed a still salvageable Torah scroll. He buried it in the backyard of his family home and having survived the war through escape to Venezuela, he returned to unearth it.
The Torah scroll, saved by this child has now been meticulously restored with help from businessman and philanthropist, Leonard Wien. Leonard has made it his mission to restore Torahs destroyed during the Holocaust as a way to honor the memory of family members killed by the Nazis. He hired two scribes who spent eighteen months repairing the scroll so that it was kosher for use. The restored scroll was debuted at a procession in Hebron, Israel before beginning its global tour. For Shavuot, the recent holiday marking the giving of the Torah, the Torah had a short sojourn at the Chabad Jewish Center of South Metro Denver, Colorado.
Rabbi Avraham Mintz, Director of the Center invited the area's Jewish community to come join as the ten commandments were read from this scroll on Shavuot. It is customary for men, women and even little children to hear the reading of the Ten Commandments each Shavuot.
"This Torah captures the essence of the history of our people," says Mintz.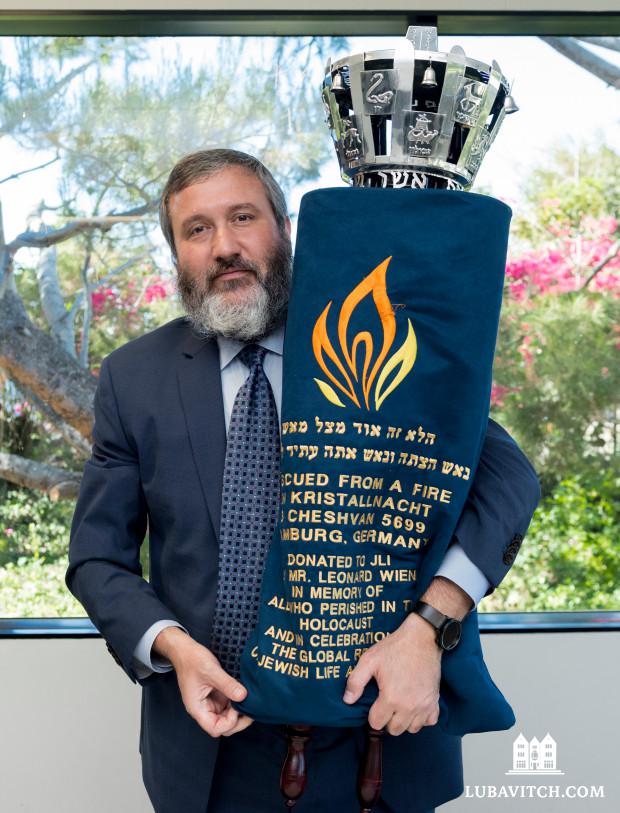 Rabbi Reuven Mintz holds the rescued and restored Torah. (Photo Credit: Leonard Ortiz)