You could be forgiven for thinking that the bans on circumcision, kosher slaughter, and religious education are coming from the governments of Soviet Russia or Germany of the 1930s. But you would be mistaken. As Jews worldwide celebrate the festival of freedom this year, some of Europe's most progressive, secular countries are challenging the fundamentals of Jewish faith and practice.
In February, a ban on the non-medical circumcision of minors, carrying a punishment of up to six years in prison, was introduced in Iceland's parliament. If it passes, Iceland will be the first European country to enact such a law, but not the last. A petition for a similar bill is gaining momentum in Denmark, and religious leaders across the region are watching closely. After all, the Nordic countries made their sentiments clear in a 2013 statement condemning the practice as a violation of children's rights.
In Sweden this month, the ruling Social Democratic Party proposed shuttering all publicly funded religious schools in order to prevent "segregation" of boys and girls. Kosher slaughter, deemed inhumane, has been illegal in most of Scandinavia since the 1930s.
The politicians proposing these laws may not intend to destroy Jewish life in the region. Indeed, the legislation appears to be aimed at a populace struggling to adjust to a wave of Muslim immigrants who do not speak their language nor share their worldview. Nevertheless, it poses a serious, and in some cases existential, threat to the Nordic Jewish communities, which range in size from Iceland's tiny handful to Sweden's 18,000.
"The Most Important Thing"
Two very different pieces of news highlighted Iceland's 250 Jews earlier this year. In February, Chabad representatives Rabbi Avi and Mushky Feldman announced that they will be moving to Reykjavik this May, becoming the island nation's first resident Jewish clergy. Around the same time, Jewish leaders from four Nordic countries released a letter stating that if the circumcision ban goes through, "no Jewish community will be established [in Iceland]."
The young couple hadn't anticipated that they would be stepping into a political firestorm in accepting the position, but they seem to be taking it in stride. Avi recently traveled to Washington, D.C., to meet with Iceland's ambassador to the United States. His main objective in addressing the proposed ban is to educate people about circumcision and why it plays such a fundamental role in Jewish life.
"It's the most important practice in Judaism," he says, pointing out that a brit milah can be performed on Shabbat and Yom Kippur, though it technically constitutes a violation of those holy days. "There's only one thing that overrides brit milah and that's the infant's health. If the baby is not healthy enough, we postpone it." He emphasizes that Judaism places the baby's well-being above all else.
If the ban in Iceland passes, says Rabbi Yitzchok Loewenthal, "Denmark will be next." A Chabad representative in Copenhagen for twenty-one years, he knows "one of the most secular countries in the world" up close. This push for a ban is the result of sustained effort by anti-circumcision groups, he says. "It's not just an anti-immigrant thing. It's more a lack of understanding of the importance of religion." Some 87 percent of Danes say they would support a ban.
The stigma around circumcision has real implications for Yitzchok's work in the community. "Young mothers call me and say, 'Convince me to do a brit. I'm being told by society that I'm a primitive child abuser.'" Denmark, which requires a physician to be present during the procedure, recently passed a law requiring doctors to make their participation public knowledge. As a result, the rabbi says, it has become extremely difficult to find a doctor willing to attend.
The Jewish community, 8,000 strong, has mobilized to prevent a circumcision ban from being introduced. Jewish leaders from across the spectrum are working together, and liaising with Denmark's large Muslim community, to educate the public. The best response to the current situation? At the moment, the community can only pray. "A chapter of Psalms," says Yitzchok.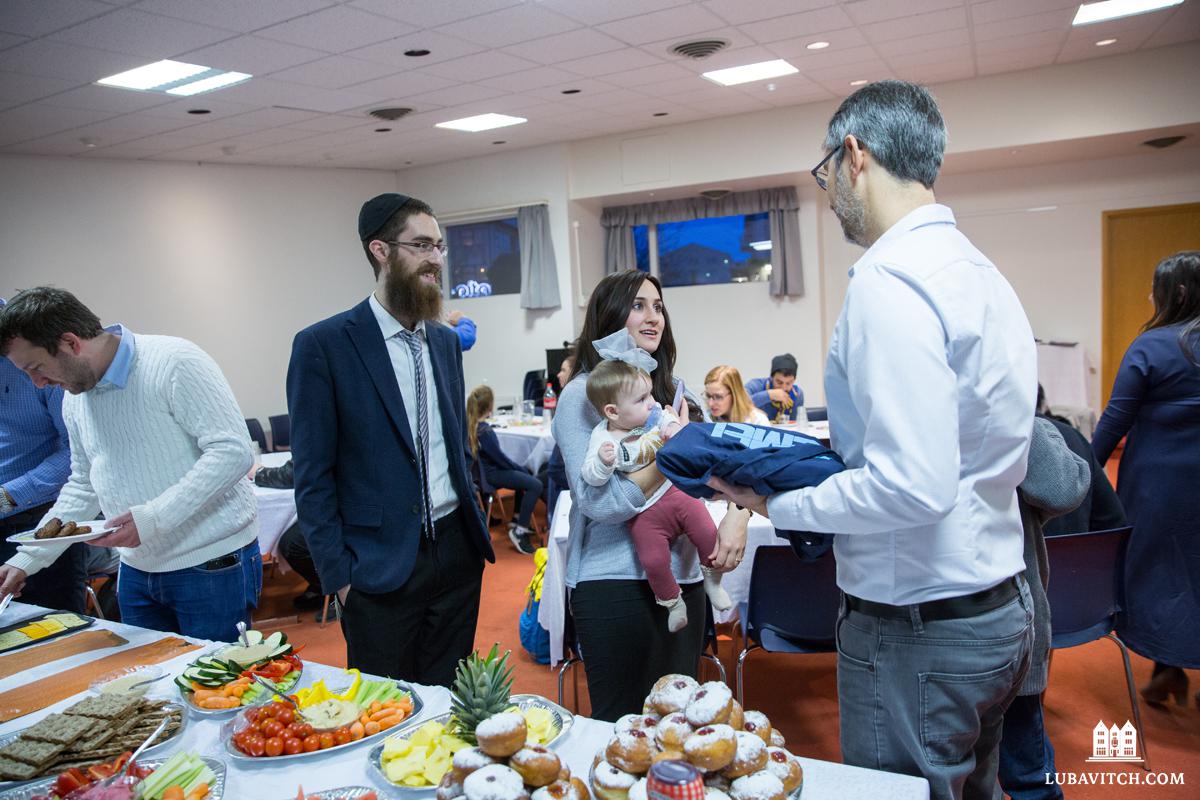 Rabbi Avi and Mushky Feldman at a Chanukah party in Reykjavik (2018).
An Awareness of G-d
On December 9, nine masked men attacked a synagogue in Gothenburg, Sweden, with Molotov cocktails. As the courtyard caught fire, members of the youth group that had been meeting inside hid in the basement. An unexpected downpour put out the fire almost immediately, and no one was injured. Of the three men arrested shortly afterward, one identified as Palestinian and the other two were recent immigrants from Syria.
Sweden, which has the highest per capita rate of immigration in Europe, has seen an uptick in anti-Semitic incidents recently. While government officials have strenuously denounced hate speech and violence, they have simultaneously pursued policies that have made life difficult for their Jewish citizens.
As in Denmark, circumcision is heavily regulated, and it can be difficult to find a doctor willing to participate. Religious education, even in nominally religious schools, is allowed only as a supplement to the state-mandated secular curriculum. Now, even these schools are seen as a threat.
Rabbi Alexander and Leah Namdar, Chabad representatives to Gothenburg since 1991, have waged a seven-year legal battle to give their children a Jewish education at home. Leah sees the problem as a lack of knowledge and sensitivity in a country where eight out of ten people identify as non-believers.
Suppressing religious practice is not the way to make society safer, she says. "Our government should be protecting the basic human right of freedom of religion, including the possibility of having a formal religious education, while at the same time granting protection from extremism that leads to violence."
"Education that teaches an awareness of G-d should be encouraged," she adds. The recognition "that every life is precious for having been created by G-d is what will make the world a place where people can live in harmony together, with their differences."