Two years ago, the fate of the Rohr Chabad House at University of Wisconsin hung in the balance as the local planning commission debated whether or not to allow the Chabad House to expand. In 2012, Rabbi Mendel and Henya Matusof, directors of Chabad at UW, had purchased an old house adjacent to their own, planning to demolish and replace it with an extension to their existing property. The planning board's concerns centered on the historic nature of the 1883 home, which was vacant and in a state of disrepair.
After hours of testimony on both sides, the board was persuaded by students who spoke of the Chabad House as an oasis of stability and positive values amidst a frenetic campus life. With an estimated Jewish student population of 4,000, Chabad at UW clearly fills an important need for students. The board voted in favor of the expansion plan, and two years later, the Chabad House celebrated its Grand Opening on Sunday, August 26.
The new construction gives students 10,000 sq. feet of space over the current 4,000, with an assembly hall large enough for 250, a commercial kitchen and other facilities. The $4 million project gained major support from the Irwin A. & Robert D. Goodman Foundation, the Rohr Family Foundation, and local donors.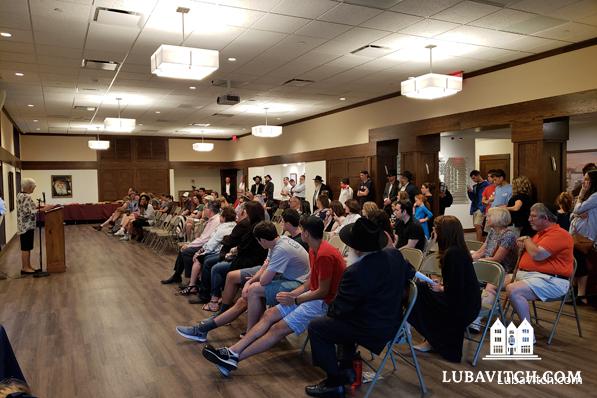 At the opening event this Sunday, August 26
Visit from "Baby Rabbis" Leads to Lasting Friendship
One of the lead gifts came from Madison area resident Eileen Bruskewitz in honor of her late parents, Albert and Vivian Edelman. Twelve years ago, when Vivian was gravely ill, Bruskewitz, who was then Dane County Supervisor, realized she needed to line up a rabbi in case funeral arrangements were needed. Before she made any connections, her doorbell rang, and to her amazement, "there stood two baby rabbis!" Young rabbinical students from Chabad's student visitation program had come to reach out and get to know the family.
The rabbis had no idea of her situation, and Vivian lived for another six years. But the providential encounter with the "baby rabbis" led to a warm and close relationship between Bruskewitz and the senior Chabad emissaries in Madison, Rabbi Yona and Faygie Matusof.
Bruskewitz also became a frequent guest at Chabad UW. Seeing their overflow crowd at Shabbat dinners and other events inspired her to help them expand. "They've got so many students crammed together, and they hate to turn anyone away. Every time they set up in advance, they still end up bringing in another table, another ten chairs, and then another table and ten chairs!"
Shira Forester, a UW senior majoring in Rehabilitation Psychology and vice-president of the Chabad student board, also lamented the occasions when the number of guests exceeded the amount of space. "It's going to be a huge change from last year, when Chabad events were held in temporary locations during construction," she said. "It will be amazing to have even the really big events like the Mega Challah Bake, Pesach Seder and High Holiday dinners in the new building." Now that there is more room at the table, the student board plans to launch a drive to involve upperclassmen as well as new freshman with Chabad.
Students away from home often crave the "family feeling" that Chabad House provides. Michael Jacob Cera, a senior majoring in finance and economics, and president of the student board says Chabad provides students with a place they can feel "safe and welcome in a family." The expansion will allow for more students to join and "deeper connections to be formed."