Some students brought mini-fridges or overstuffed armchairs to campus this fall.
Zach Freeling drove his 1971 Airstream to Vanderbilt. And parked it right at the center of the Tennessee campus.
The chrome trailer, retrofitted with grills, fryers, and refrigeration, and sporting a colorful lion on its side, is called Aryeh's Kitchen. Nashville's first kosher meat restaurant is also the university's only approved food truck. Customers can order the Naked Ox Burger, Bubby's Brisket, or Freeling's favorite, fried chicken and waffles, from the open deck bar in the rear.
"I'm being completely objective," insists the senior, "our food is amazing." A self-described foodie, Freeling manages the business and marketing sides of the operation. His father, Ken Freeling, provides the soul and support for the project. And Rabbi Shlomo Rothstein, Chabad representative here since 2008, gives it the official stamp of kosher.
"I've known the rabbi since I was a freshman," Freeling shares. "My brother passed away a month into school and for some reason, I said at the time, 'I want the rabbi. I want to talk to the rabbi on campus.' Since then, my father and I have become very close with him."
Rothstein has helped the Jewish experience flourish in his eight years here. When he came, he says, Jewish expression was minimal. Now, involvement and publicity has grown. The Rothsteins hosted a seder on Vanderbilt's main lawn last Passover attended by 250 students, or one quarter of the school's Jewish population.
The senior Freeling attended a seder on campus several years ago with "200 students and one dad," he recalls fondly. "The energy, the happiness, the joy of those students, it was like nothing I have ever seen at a seder." Freeling became close with Rabbi Shlomo and gradually became a supporter of Chabad's campus programming. The three men cooked up the idea of a kosher food truck, explains Freeling, as a way to help everyone. "My son was interested in starting a business. It's great for the kids on campus, and it seemed like a good way to help Shlomo with his mission."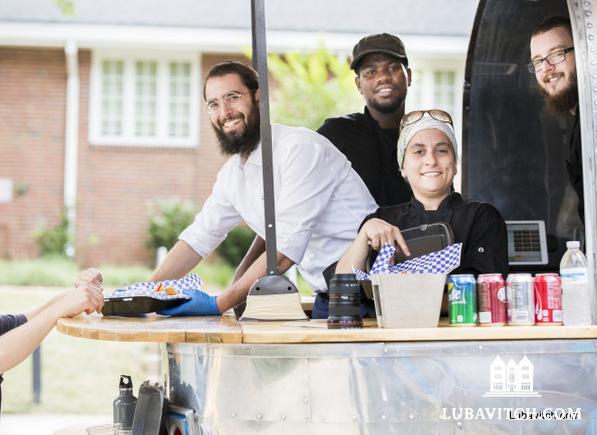 Rothstein has fielded dozens of call from prospective students and their parents about kosher on campus. "Until now, I had to tell them that there was only a vegan option," he explains. "Aryeh's Kitchen allows us to reassure people that you can live a Jewish life, you can keep kosher, even in Nashville. The message that a kosher life is doable, that's huge."
During its soft launch on campus last spring, and its stops throughout Music City USA this summer, the truck has attracted thousands of happy noshers, Jewish and non-Jewish alike. Its appeal, says Vanderbilt's Dean of Students Mark Bandas, reflects the school's goals for inclusion and diversity. As such, it is the only approved food truck to park on campus. "Aryeh's Kitchen provides new kosher food options for our campus, helps promote intercultural appreciation and understanding, and enables us to better serve our diverse student body," says Dean Bandas. "And, the food is delicious."
For Freeling, who does not eat kosher food exclusively, the truck is as much a business as it is a mission. "People come up to the truck and ask, 'is this Jewish food?' or 'what does kosher mean?' And we are teaching them the whats and whys of kosher. I tell them that when food is kosher, it ignites a Divine spark within. It's a very interesting concept."
Parked at the school's epicenter, alongside Greek Row and the student center, the truck already has a solid following. Students stream up for a wide variety of Southern favorites and college-friendly options. An entree, side and drink average around 10 dollars and food can be purchased through the school's meal plan. Its following extends beyond the school's gates as well. "Before this, Jews in Nashville couldn't go out for a kosher burger. They can now," concludes Freeling, "and I'm feeling very satisfied."
His dad is equally excited. "For a moment in time, people can think about the universe, about each other, about G-d, because of a wonderful meal prepared according to laws thousands of years old," says Ken Freeling. "People are learning about kosher and that kosher food is awesome. We've made it hip and relevant and I think we are getting enormously positive results."