Situated a half hour drive from downtown Seattle, Renton, borders Lake Washington and has become the go-to suburb for families looking to escape Seattle's rising housing prices and big-city environment, yet live close enough to commute for work. The city is also home to Boeing's core airplane manufacturing facility—making the company Renton's top employer—and the NFL's Seattle Seahawks' training grounds.
And now, it has its first Jewish establishment. In late August, Rabbi Yisroel and Shternie (née Shemtov) Treitel opened Chabad of Renton under the auspices of Rabbi Sholom Ber Levitin of Chabad Lubavitch of the Pacific Northwest.
Local residents Kevin and Lea Hanan were instrumental in facilitating and supporting its establishment in the city. They got to know Chabad centers throughout the country mostly through their sons' relationships with them on their college campuses, and have had positive experiences. "Words could never express the immense comfort I felt knowing my sons were with Chabad," Lea states, "and when I heard Chabad was coming to Renton, honestly I could hardly believe it!"
Lea and her family were so excited by the prospect that they connected with the Treitels before they even moved out. "We made it clear that we would help them transition in any way we can." And they did. They toured available homes on behalf of the couple, video-calling them to show them around each one and eventually helping them settle on their current home. When Yisroel and Shternie finally arrived in Washington right before Rosh Hashanah, Lea and her father were on hand, enthusiastically greeting them at the airport. Their generosity and warmth gave the Treitels an embracing welcome.
The couple is busy preparing events and activities for the year ahead and is looking forward to becoming part of the local scene. "I cannot think of better leaders for our community here in Renton," Lea asserts. "The Treitels are goal-oriented, incredibly kind, and have immense perseverance."
Shternie says she's raring to go: "It's an honor to actually do what I've always admired other people doing."
For more information and to support Chabad of Renton, visit https://www.Facebook.com/ChabadRenton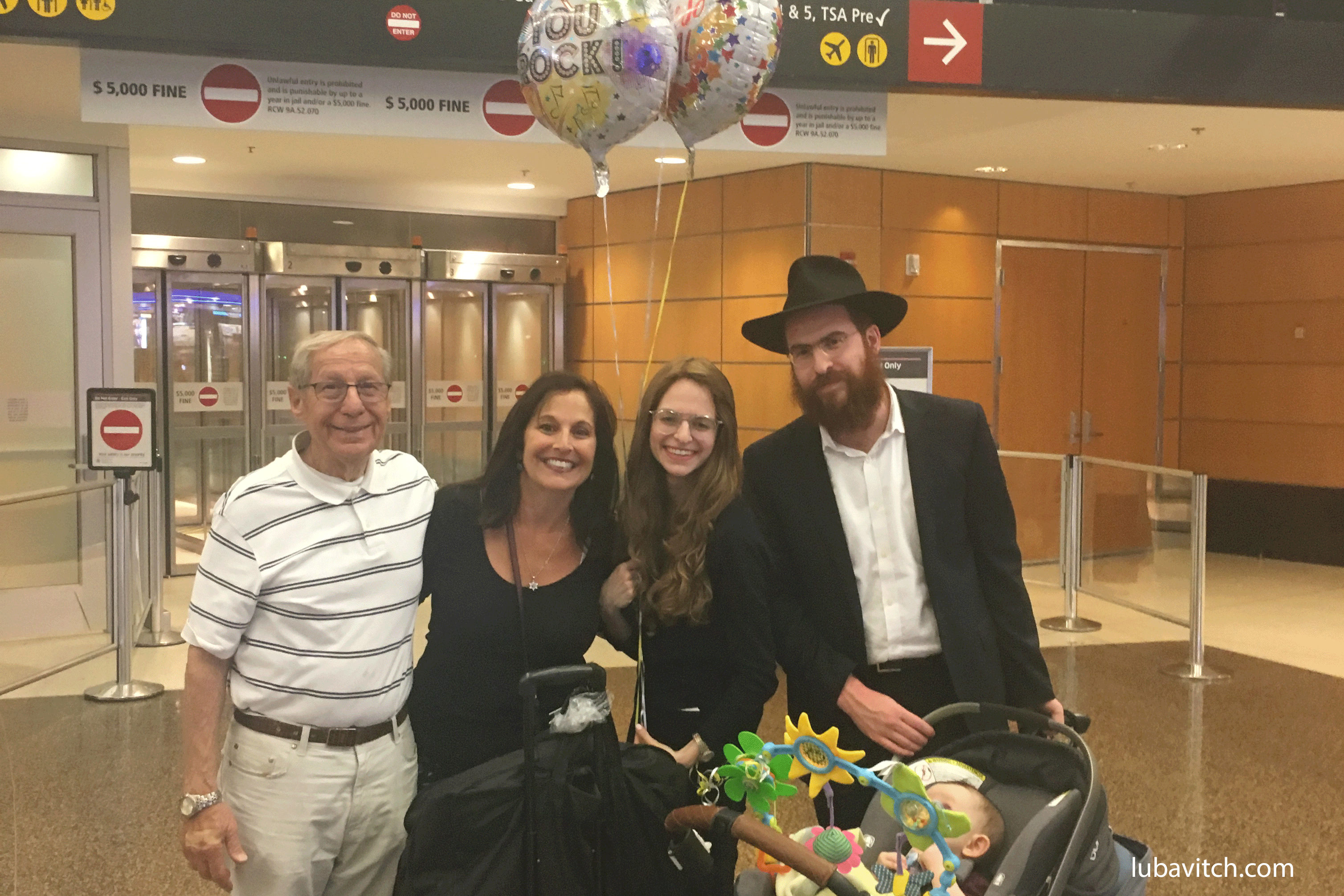 Warm greetings at the airport