What motivates young couples to pick up and move from their families and comfort zones to an unfamiliar place—without convenient access to Jewish resources—to build a community from scratch?
It's the Rebbe, they'll all tell you. They want to fulfill his vision of reaching every Jew, making Judaism accessible even in the far corners of the earth, and making the world a better place. Some emissaries were personally and directly sent to cities by the Rebbe himself. Some have established their centers after the Rebbe's passing in 1994 but remember the experience of living in his presence.
But now a new crop of emissaries who were born after 1994 are heading out to fill positions. The first couple among these are Rabbi Zalmy and Mushka Dubinsky.
Joining Chabad in Raleigh, North Carolina with their one-year-old daughter, they'll be developing a community for the capital city's young Jewish professionals. Without personal memories of the Rebbe, they are nevertheless inspired by his teachings and by what they've gleaned from an older generation. "Honestly, I feel connected to the Rebbe," says Mushka, "I've met him through his teachings."
Raleigh's at the opposite coast from Zalmy and Mushka's native California. The historic and up-and-coming city is known for its educational opportunities with Shaw University and North Carolina State University among the colleges calling the area home. The southern metropolis also boasts one of the world's greatest technological research parks where companies like Lenovo, Sony Ericsson, and IBM maintain headquarters. The couple plans on connecting with those studying and working in these places, and are partnering with the local Jewish Federation to reach the city's young professionals.
As one of the fastest growing cities in the United States, the Dubinskys say they meet new Jewish people every day, and there are sure to be even more moving in. They will be offering a wide range of social and spiritual events "so everyone can find something of interest to them," says Zalmy.
Mushka credits her parents, Rabbi Zalman and Bassie Marcus, Chabad emissaries in Mission Viejo, California for inspiring her to live this life. Interestingly, Bassie Marcus credits Raleigh's representatives Rabbi Pinny and Helena Herman, for inspiring her move to Mission Viejo. "I was a young teenaged counselor in their Gan Israel summer camp and it was there that I fell in love with the idea of shlichut," Marcus recounts. "It's amazing for me to see my own daughter moving back to the area!" Mushka's experiences in her home Chabad center, coupled with Zalmy's years of Jewish outreach experience in Los Angeles, Iowa, Maryland, Amsterdam and London, will serve them well as they lay new roots.
"We're passionate about connecting Jews to Judaism," the rabbi explains. "It's our life," Mushka agrees.
The couple is committed to perpetuating the Rebbe's legacy which they say is as relevant today as ever. Prior to leaving for their new home, Zalmy and Mushka visited the Rebbe's resting place to pray for his blessing.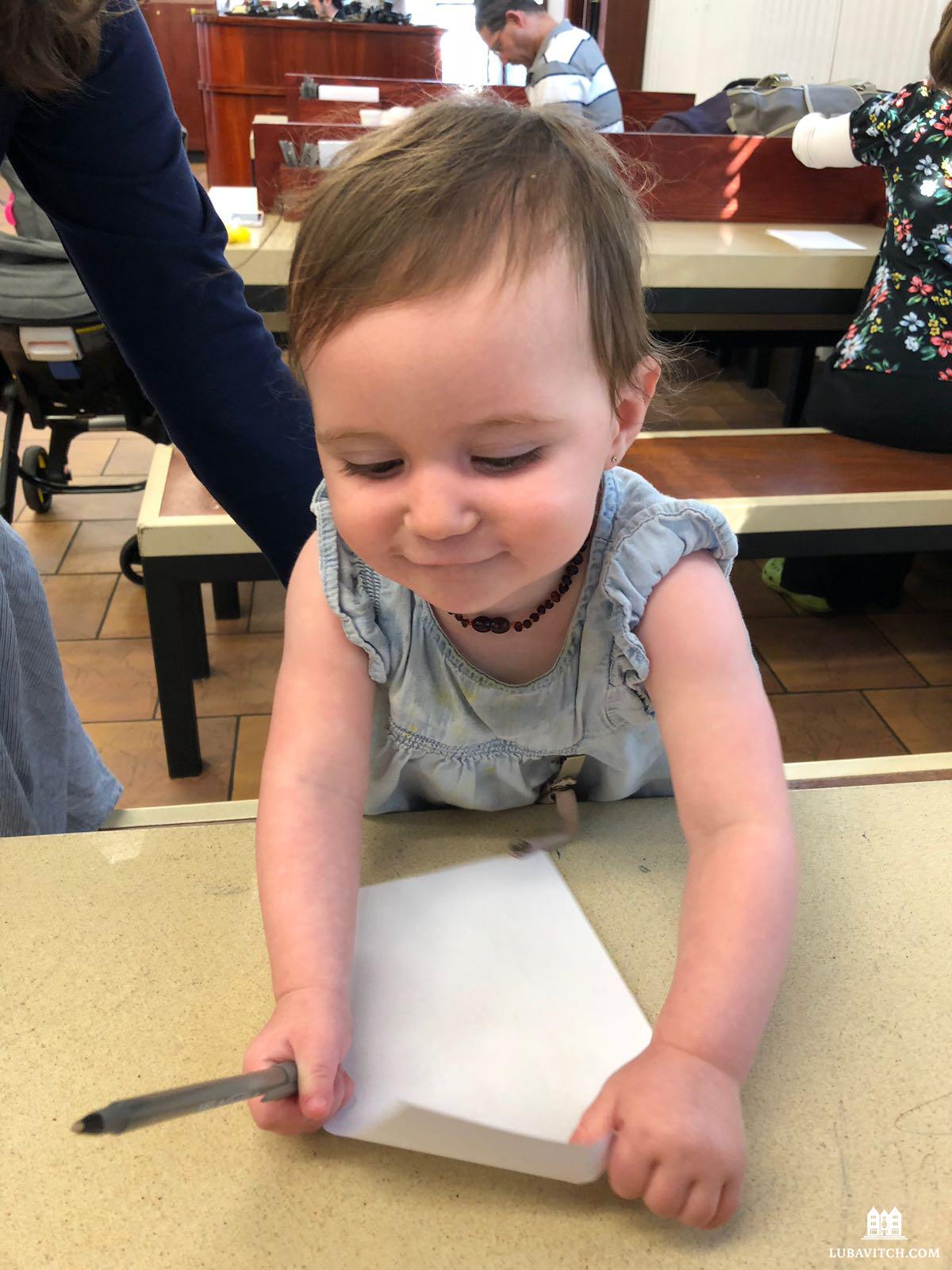 The Dubinsky's young daughter at the resting place of the Lubavitcher Rebbe before their departure for North Carolina