Ranked the second-fastest gentrifying city in the US by Realtor.com, the population growth in Asheville, North Carolina, is rapid and consistent. With an eye on this trend, the local Chabad community recently celebrated the opening of a new, permanent center prominently located in Central Asheville. "As people move in, we want them to know where to find us," says Rabbi Shaya Susskind of Chabad House of Asheville.
In 2006, when Rabbi Susskind and his wife Chana arrived in town, the area was popular with retirees who'd moved to the Blue Ridge Mountain city to enjoy a slower paced lifestyle. Noting this, their first focus was adult education. "We found that the retirees had more time to explore their Judaism, so the classes became very popular very quickly," said Rabbi Susskind. After a year they leased a storefront large enough to hold JLI adult education classes and their weekly Shabbat minyan, but they had to seek outside venues for larger events.
Following the 2008 recession, younger residents began settling in the Blue Ridge Mountain city. A new artist haven downtown attracted tourists, medical professionals arrived to join Asheville's flourishing medical community and affordable housing, and a quality public school system brought families. As the population changed, the Chabad House added a Hebrew School, teen clubs, and a Jewish Women's Circle with hundreds of participants. "The first thing we did when we moved to Asheville was seek out a Chabad Hebrew School," says Rhonda Diamond, an attorney and real estate broker who moved from Florida in 2010 to raise her children "in a more kind environment." With 150 people passing through each week, space became tighter. In 2013, the community raised funds to lease the neighboring storefront, and the Chabad House expanded to 3,000 square feet. In 2015, as the community celebrated their first decade, they resolved to put down permanent roots and began a search for a place of their own.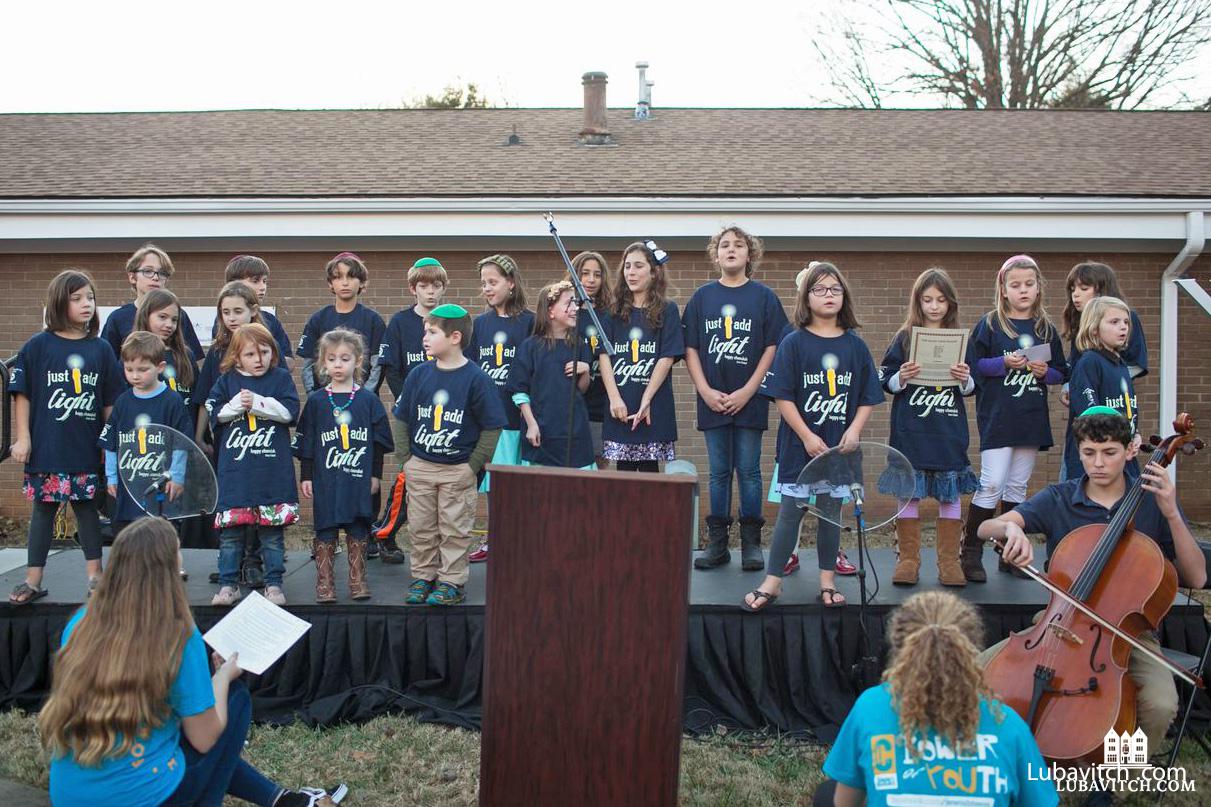 The Chabad Hebrew School of the Arts choir sings at the grand opening
This year, on the first night of Chanukah, Chabad House's annual Chanukah Live event doubled as the grand opening ceremony for their new center. The community is in the process of raising the two million dollars needed to cover the cost of the 5,000 square foot property and the modifications they have made to accomodate the needs of the Chabad House. An additional endowment campaign dubbed Chabad Tomorrow will cover running costs. The campaigns are being spearheaded by a team of community members, among them Scott Paly of Chabad's advisory board. "Having our own home, gives our community a platform from which we will further the tremendous growth we have already experienced," he said.
Rabbi Susskind noted the significance of the event's timing. "We began the holiday of Chanukah—which means dedication and celebrates the rededication of the Holy Temple in the time of the Maccabees—with the dedication of our own 'holy temple'- our new center."
The city's mayor, Esther Manheimer, and representatives from all of the area's Jewish organizations joined the celebration. Jack and Arlene Doloboff, residents of Asheville since 1957 helped found Chabad of Asheville. Jack shared with Lubavitch International that his highlight at the opening was when 40 Hebrew School children sang the blessings before a grand menorah lighting. "I know that our investment in Chabad is an eternal investment in the Jewish people."
Chabad House of Asheville now has a large synagogue and event space, dedicated classrooms for the Hebrew School, and a large outdoor area. The new building also houses Western North Carolina's first Glatt Kosher and Chalav Yisrael kitchen. The Susskinds and a team of volunteers provide tens of kosher meals for the hospitalized, homebound or imprisoned through their Chabad Cares program.
In subsequent phases Chabad House plans to expand to a full campus that will meet their growing needs, including Asheville's first women's mikvah and a social hall large enough to host bar and bat mitzvahs.
"Above all, we will continue to invest in the power of each individual, even as we see our community rapidly grow," Chana says. Her husband shares a similar focus. "A synagogue is sometimes seen as a hierarchy, and we want this to remain a home, where everyone knows they equally belong."
For more information and to support Chabad House of Asheville, visit www.ChabadAsheville.org.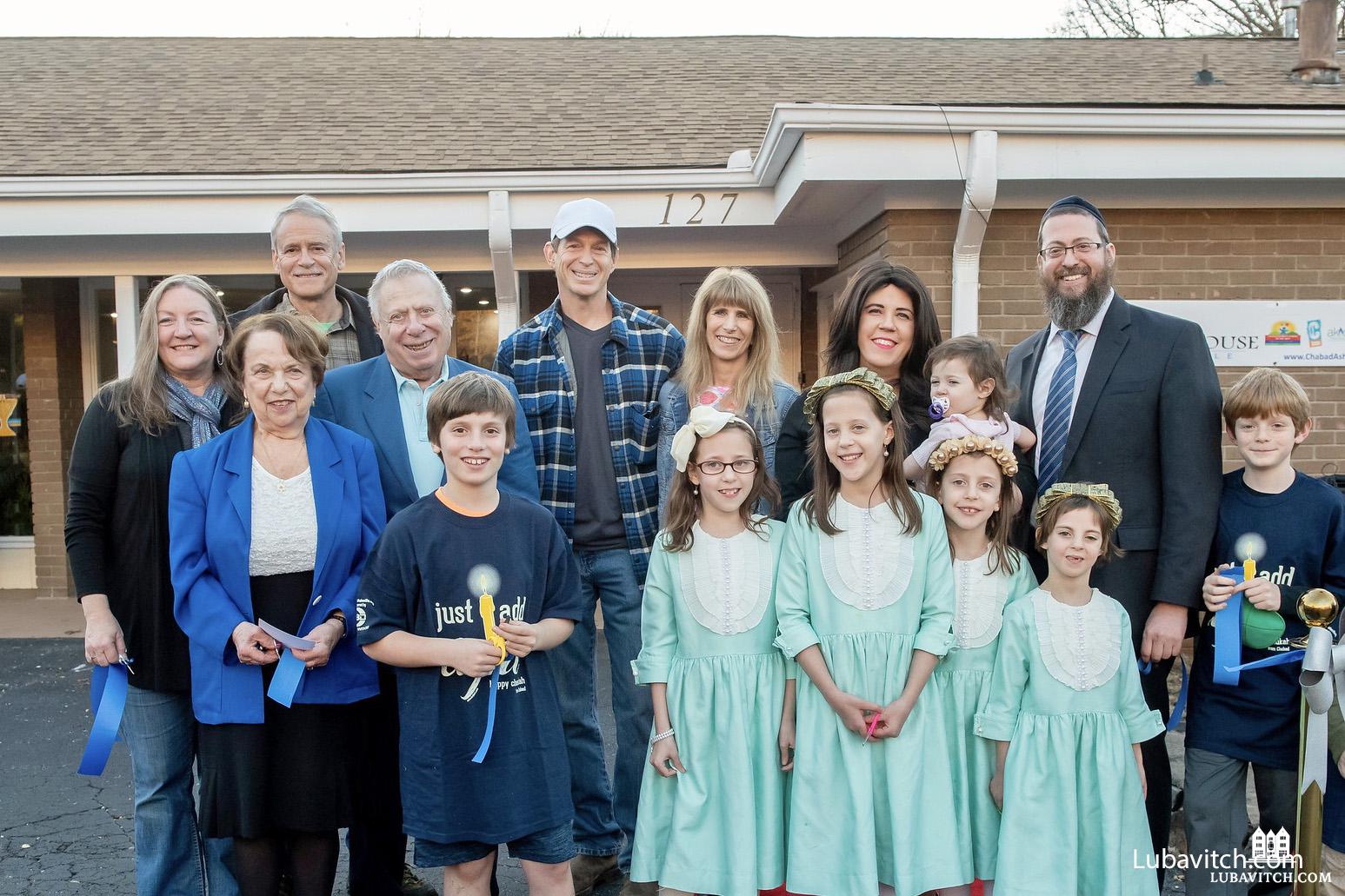 The Susskind family poses with dignitaries at the grand opening of Asheville's Chabad House