Looking to plan a kosher destination wedding in Montego Bay, Jamaica? Want to celebrate Shabbat in style on its sun-drenched coast? The colorful tourist hotspot renowned for its palm-fringed coastlines now has everything to make that possible.
The Caribbean island may seem an unlikely setting for a vibrant Jewish community. But in fact, its Jewish residents enjoy the benefits of a community infrastructure that makes life there especially appealing to them. The island's Chabad House is active with Torah study classes, Shabbat services, holiday programs and a host of spiritual services. And now, Chabad of Montego Bay even has its own mikvah.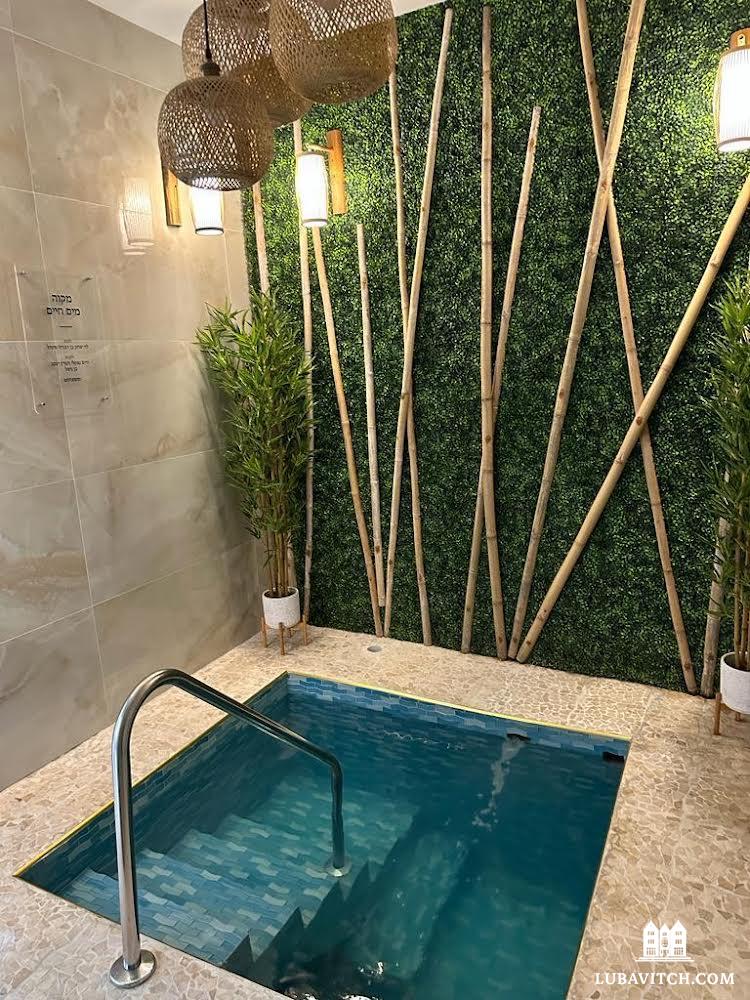 It wasn't always like this. When Chabad came to Montego Bay in 2014, there was no functioning synagogue. So every Friday, Rabbi Yaakov and Mushkee Raskin, Chabad representatives to Jamaica Bay, hauled boxes of prayer books and Shabbat staples to a hotel ballroom they'd rent for services that week. The constant setting up, dismantling and repacking, quips Yaakov, "felt like moving the mishkan!" (i.e., the Tabernacle, the mobile Jewish sanctuary in the desert).
Finally, in 2019, the Raskins acquired a villa. It was the perfect place to manifest their vision for Jewish life in Jamaica, with space to expand for the construction of a mikvah. In 2021, when Chabad launched a fundraising campaign with lead donations by founding supporters of Chabad in Jamaica, Michael and Debbie Flacks, support by locals poured in. "At least one thousand local Jews contributed to the mikvah project," says Mushkee. "There was grassroots support for what we were doing."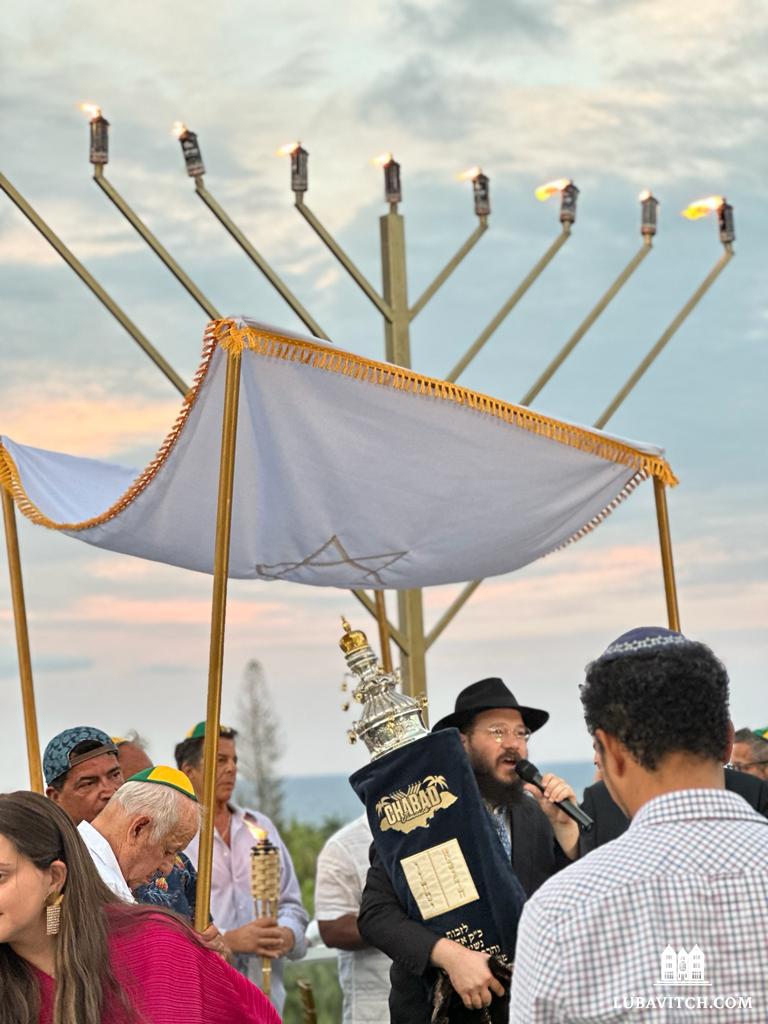 Jews and Jamaica
Evidence of a rich Jewish heritage can be found in the remnants of several synagogues (only one still intact), and twenty-one Jewish cemeteries. Jewish presence in Jamaica can be traced back to the 14th century, and to a group that sailed with Columbus on his famed voyage to the Americas. Over the centuries, Jews fled here seeking refuge from persecution.
Noach Holtz, a native who currently lives with his family in Jamaica's capital city of Kingston, is a direct descendant of Portuguese Sephardim who had fled to the island to escape the horrors of the Inquisition. Later, immigrants from Europe, the Middle East, and Asia (particularly Great Britain and India) found a safe home and opportunity in Jamaica during tumultuous times.
Today, over 3,000 Jews live in Jamaica. Many, like Holtz, have family roots on the island. Others have migrated from elsewhere to the financial hub of Kingston for business purposes.
And hundreds of thousands of Jewish tourists alight on the shores of the island each year. They find a warm reception at the Kosher Hot Spot, Chabad's welcome center. Located on Montego Bay's iconic Hip Strip, it serves as a one-stop shop for everything Jewish in Jamaica offering regular synagogue services, an Israeli-style falafel restaurant, and Jewish-themed souvenirs. Tourists can also order kosher local-flavor cuisine to be delivered to their hotels.
At the Chabad House, the Raskins will meet a diversity of Jews who hail from all parts of the world. Some weeks are packed, and other times, just one person may show up. The needs and interests vary, says Rabbi Raskin, "and we do our best to address each one."
Noach Holtz originally connected with Rabbi Raskin through social media when Chabad first established itself on the island, and the two have remained in contact ever since.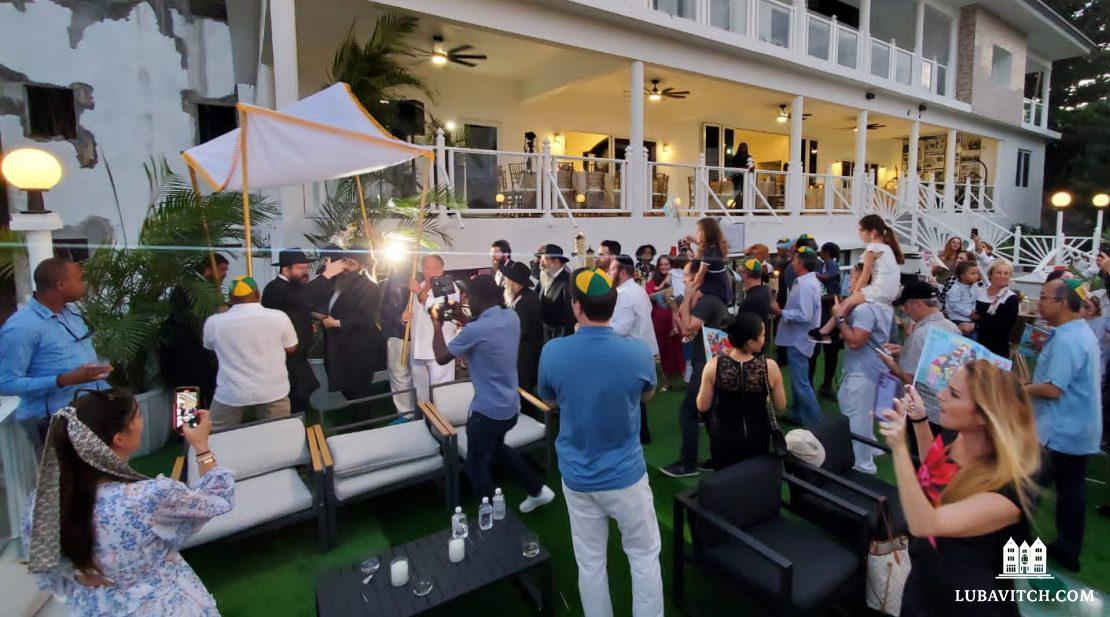 "Rabbi Raskin leads the community with respect to both the Sephardic and Ashkenazic traditions, creating an inclusive environment where everyone feels at home," Holtz observes.
Although he lives a hundred miles away from the Chabad House in Montego Bay and is only able to visit on occasion, Holtz is grateful for the Raskins' influence. He takes the inspiration from Chabad back to Kingston, sharing the beauty of Judaism with his three young sons, teaching them the Alef-Bet and about the sanctity and beauty of Shabbat and holidays.
"It's a tremendous blessing to have Rabbi Raskin and his family here in Jamaica," he says. "It's well worth the two hours each way to go and experience Shabbat or a holiday with them."
On the island, where it's easy to get carried away, he adds, "It brings your focus back to what really matters."