This afternoon, October 15, Senator John E. Brooks stopped by the Chabad Center for Jewish Life on Hewlett Avenue with a delivery for Rabbi Shimon and Chanie Kramer. The couple received a NYS Commendation Award in recognition of their contribution to the community.
"The honor is usually awarded to individuals," Rabbi Kramer says, "but I told them that my wife and I are a team." The award, inaugurated earlier this year, has been given on two other occasions each time to an individual. The Kramers are the first religious leaders to be recognized and the first to be honored as a team.
Senator Brooks chose the Kramers from a pool of nominees submitted by constituents in his district. "I anticipate that this honor will inspire others to regard the Kramers as role models to emulate," Senator Brooks told Lubavitch.com. He shared that he has "high regard" for Shimon and Chanie as they have worked together on some of the Chabad Center for Jewish Life's various projects.
When Shimon and Chanie married in 2000, they knew that they would work to educate and encourage others. Six years later, that commitment had them packing a moving truck and driving with their young son to a small town that was in need of a Rabbi: Merrick, Long Island. And for twelve years, the Kramers have been invested in the town's spiritual development. Their efforts are clearly seen in the center's rapid growth.
They began by opening an Early Learning Center. Four students enrolled in that first year, two of whom were the Kramers' own. In contrast, this past summer, the Chabad Center had to add two new classrooms to accommodate the demand from local families. With the new classrooms they were able to open twenty new spots and they now have sixty kids enrolled. Their bi-weekly Hebrew school, CTeen programs, Gan Israel summer camp, and holiday events have expanded dramatically as well.
Every week, Chanie and Shimon arrange for a van-load of groceries to be distributed to needy locals. No one is turned away because, as Chanie says, "Many of them wouldn't have food otherwise."
One of the most well-known programs housed in the Kramer's Chabad house is Circle of Hope, a center of awareness, emotional support, and hands-on help for those affected by cancer and other illnesses. The Circle began back in 2012 when Cindy Knoll and Lisa Fessler, two cancer survivors, approached the Kramers about their idea for a network to help families that were affected by illness by providing help of every kind – through weekly support groups, home cooked meals, a wig bank, and financial assistance (Cushioned With Kindness, LI, Feb/March 2018).
"These are just some examples of this couple's contributions that are typical of their generosity," Senator Brooks pointed out.
Rabbi Kramer hopes the honor will be more than just a plaque on their office mantlepiece. "I hope that because of the commendation, more people will know that they can stop by and learn about Judaism at our Chabad house."
To learn more about activities at the Chabad Center for Jewish Life, visit: https://www.chabadjewishlife.org/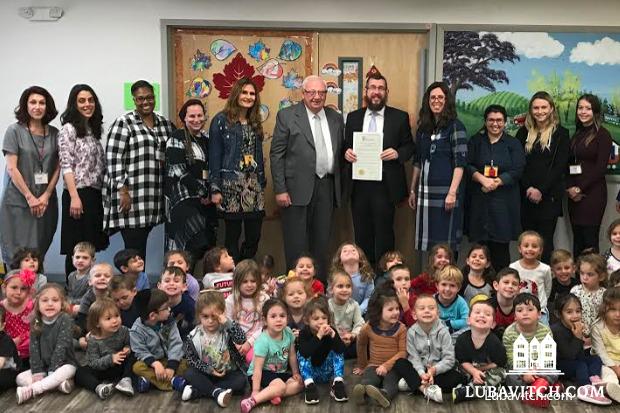 Senator John Brooks poses with Rabbi Shimon and Chanie Kramer, staff and students at Chabad's Jewish Early Learning Center in Merrick, New York