Jean-Michel Cabrera owns Le Hussard, Corsica's most exclusive catering company. For more than twenty-five years, Le Hussard has combined the finest of gourmet French cuisine with Corsica's gorgeous landscapes to produce thousands of exquisite personal and corporate events, many of them for clients from mainland France. In 2017, Chabad's representative to Corsica, Levi Pinson, approached Jean Michel about opening a kosher kitchen to serve the growing number of Jewish tourists, holiday home owners and destination weddings on the French island.
Birthplace of Napoleon, the island of around 300,000 people is famous for its spectacular beauty and climate. Nestled between the French Riviera and Italy's western shore, Corsica offers breathtaking views, rugged coastlines and more than 2,000 kilometres of scenic walking trails. Surrounded by picturesque hilltop villages, its ancient ruins and architecture left by centuries of rule by the Carthaginians, Romans, Vandals, Goths and Saracens make it a site of historical interest as well.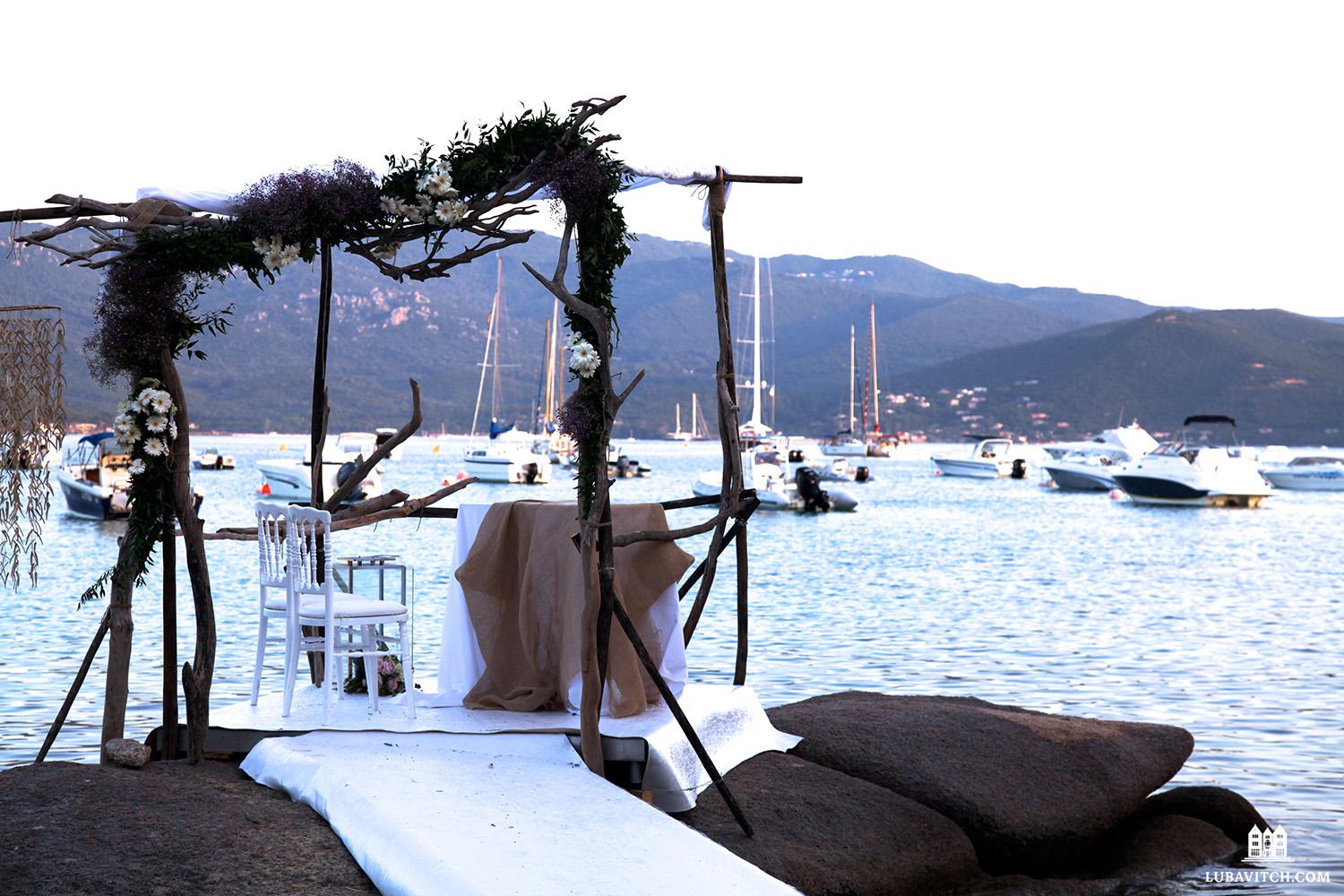 Pinson grew up in Nice. His dad, Rabbi Yosef Yitzchak Pinson, had been sending Chabad rabbinical students to visit the island's Jews since the early 2000s. Rabbi Levi had visited the island several times as part of Chabad's "Roving Rabbis" program, before returning as a newlywed with his wife Mushky to establish the island's first Chabad House in the capital city of Ajaccio, located on its western coast.
After Corsican nationalists declared an official end to its 38-year-old armed struggle for independence, tourism increased. A year after they arrived, the Pinsons opened a satellite Chabad House on the eastern coast's popular Porto Vecchio. In August, the Chabad center offers a daily minyan, Shabbat services and a popular communal Shabbat dinner.
The size of Corsica's permanent Jewish community has ebbed and flowed over the years. Corsica has been a haven for Jews for centuries. Lina Sallamy was born in 1935 to parents who fled Turkey in 1915. The eldest member of Ajaccio's Jewish community, she was there when Corsican authorities refused to cooperate with the Nazi collaborators in the Vichy government, thus saving the thousands of Jews who sought refuge on the island.
Like their fellow citizens, Corsican Jews have been averse to public displays of religion. And yet, after hearing about Chabad's worldwide public Chanukah celebrations, the community wanted one too. "I had mentioned the public menorah lightings as an anecdote, I never expected they'd encourage me to hold a public menorah lighting in Corsica!"
More than 100 participants joined representatives from the Muslim and Christian communities at the historic event in December. Many who had never attended any community events at the Chabad House were inspired by the participation of Ajaccio's mayor, Laurent Marcangeli, in this public Jewish celebration. He spoke warmly about the privilege of being the first mayor, of the first city in Corsica to permit the celebration of the Jewish holiday and its message of promoting tolerance. And Lina Sallamy, who saw her parents operate a synagogue for Allied Jewish servicemen from 1943-1947, and who represented the tiny Jewish community when Israeli dignitaries would visit, now spoke on behalf of Ajaccio in her remarks at Corsica's first public menorah lighting.
With Chabad on the island, Corsica has become an alluring vacation destination for the kosher consumer. Jean-Michel thought Pinson's proposal for a kosher catering service a wise investment and opened a second kitchen, certified kosher by Rabbi Pinson. Last summer, Le Hussard catered several kosher events, including a wedding and a bar mitzvah. Summer 2018, Le Hussard's kosher bookings include five destination weddings on the island.