For long time Caymanians and the Islands' newer Jewish immigrants, the recent opening of a new Jewish Community Center represents a noteworthy milestone.
Steve Cummins is a local Jewish businessman who grew up attending the Isaac M Wise Reform Temple in Cincinnati, Ohio. After years of hosting communal events and doing his best to keep Jewish life alive on the Cayman Islands, he knew he needed to bring in an expert. "We're just laymen and we'd taken it as far as we could," he explains. Steve made a deal with a friend and they set a budget and a deadline, within five years they would have a Rabbi.
In 2013, after interviewing rabbis from different Jewish backgrounds, they invited Rabbi Berel and Rikal Pewzner to lead the Cayman Islands Jewish Community.
The couple soon founded the Cayman Hebrew School, which has since seen its enrollment grow to sixteen–a significant number for this community. They've also started a playgroup for younger children and have formed relationships with many of the Islands' approximately five hundred Jewish residents. That number is growing, as in just this year they have celebrated five Jewish weddings and the birth of ten Jewish babies.
With the May opening of the new Chabad Cayman Jewish Community Center, they've moved the activities out of their home. Centrally situated near the Seven Mile Beach–popular with tourists and locals–the new center opened to great fanfare. A Jewish Visitors Center, the new Gan Eden Preschool set to open in the Fall, the Cayman Hebrew School and a CTeen Chapter will make their home in the new center.
Currently, due to a strong economy and low crime rates, even more young families are looking to the Islands as a safe place to raise their children. Rabbi Berel would like Jewish families to see that this is a viable option for them. "People don't realise that local Jewish life is thriving here," he says.
Rikal expects to develop additional children's programming. "We have to educate the kids while they are young." At the moment, sixty kids under the age of twelve are involved in one of Chabad's children's programs.
The Pewzners still run Shabbat and holiday services, adult education classes and a weekly minyan from their home, dubbed the Beit Hillel Chabad House. They have already received planning permission to build a mikva on the grounds of the Chabad House, and have recently dedicated the Islands' first Jewish Cemetery.
"Rabbi Berel and Rikal have been a blessing beyond a blessing and I can't express how positive their presence has been for our community" says Steve.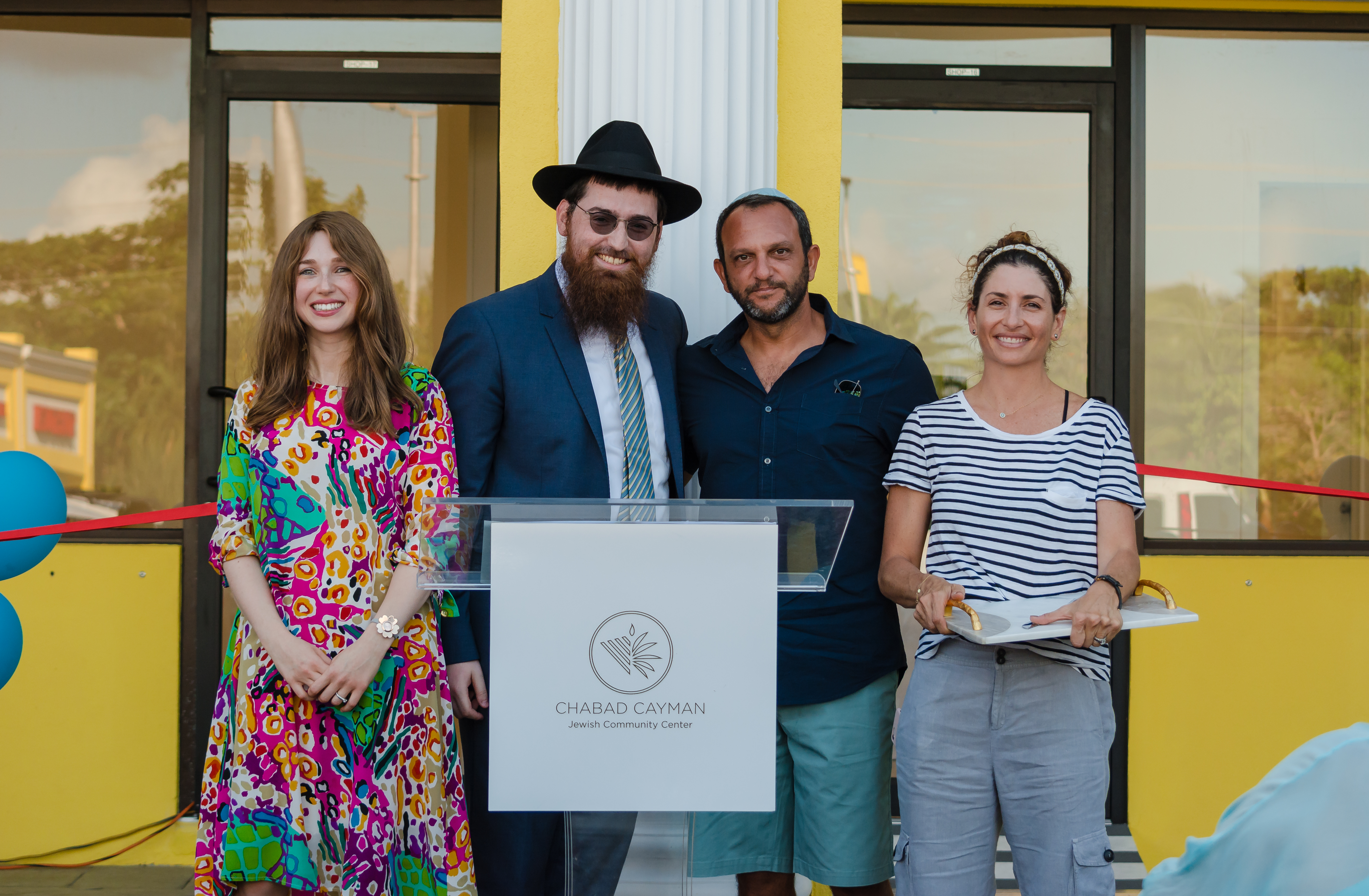 Rabbi Berel and Rikal Pewzner honor Mr. Mike Stroh of Trio Design, and Dr. Bella Beraha-Stroh for their dedication and contributions to the new Chabad Cayman Jewish Community Center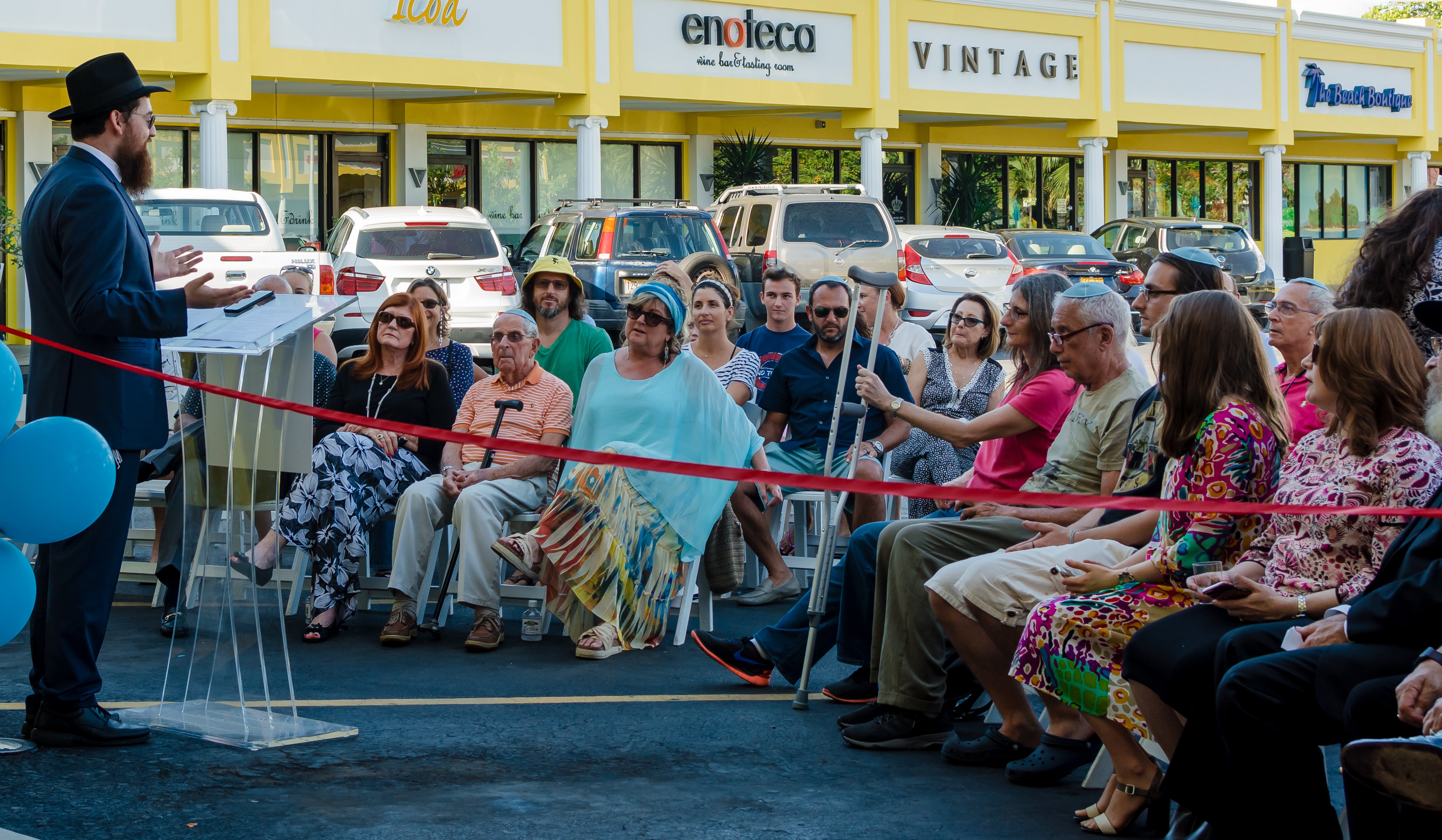 Some of the attendees at the opening of the Chabad Cayman Jewish Community Center