After being displaced from their campus Chabad House digs for some three years, hundreds of Jewish students who find a haven at Chabad of McGill University are finally settling back into their newly remodeled Chabad House. A former row house, the 100 year-old building underwent an intensive $2.2 million renovation and expansion and was finally rededicated in early April 2016.
An historic part of the local Chabad infrastructure established in 1973 to serve Jewish students at McGill University, the building took on various uses, at one time even headquartering all the activities of Chabad of Montreal until it fell into serious disrepair. When Rabbi Shmuly Weiss of Los Angeles and his wife, Rashi, a Montreal native, arrived at Chabad of McGill in 2007, the building was few years away from being condemned.
"We needed to gut the interior of the three-story structure and expand the building to meet our current needs," Weiss says, recalling the slow-going process and the many setbacks along the way. With the help of Mr. George Rohr, the project's primary benefactor, the Rohr Jewish Center at McGill University now boasts a modern and state-of-the-art facility conducive to the continued growth of Jewish student life on this campus.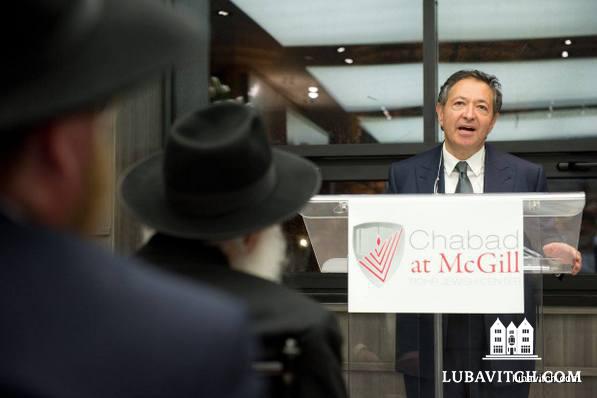 An International Crowd
If you drop into the dining room at Chabad of McGill on a Friday night, you'll be greeted by a cacophony of languages. Nearly 150 students from around the world are celebrating Shabbat, speaking English, French, Hebrew, Spanish, German, Russian and more. The students come from McGill and other downtown campuses.
McGill's large international student body is especially apparent among its 5,000 Jewish students, with roughly half from Canada and the rest from countries around the world. The Weisses—an American and Canadian duo, serve this diverse demographic skillfully, interfacing with students in English and French, and a few other languages.
Chabad's diverse activities on campus offer students different points of entry, engaging an average of 500 every week. Mitzvah McGill, a program that connects students with charitable pursuits around the city appeals to the humanitarian minded; Sinai Scholars, a text-based study of the 10 commandments, draws the intellectual student seeking additional learning opportunities.
A recent innovative program matched students with laypersons in the community to learn various Jewish subjects one-on-one. Kosher Cooking, hosted by Rashi Weiss, teaches first time cooks living on campus for the first year or two of university the basics of kosher observance. Special holiday events draw greater numbers. "Our goal," says Rabbi Weiss, "is to give every student a positive Jewish experience."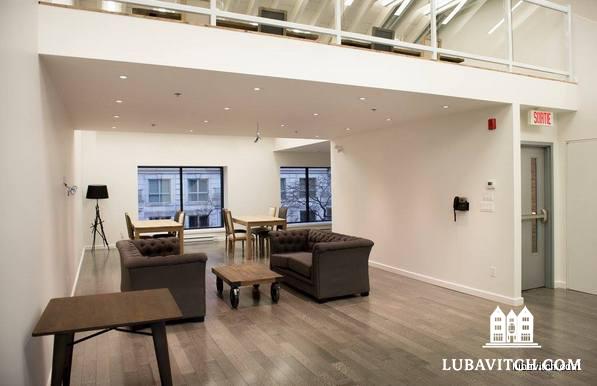 Room for Learning, Room for Growth
The large multi purpose social hall which doubles as the Chabad House Shul, a beautiful café/lounge, a hospitality suite and an extensive two-level library and study area for students, have been thoughtfully outfitted to meet the students needs. The commercial kitchen will also be linked to a kosher restaurant scheduled to open in September—a welcome development at this downtown Montreal campus that doesn't have a kosher meal plan.
Rebecca Dales, immediate past president of Chabad at McGill's student group, is looking forward to the new space and the new opportunities it presents. "There are so many exciting programs and classes going on, and with the new building we are really seeing them catch on," the Industrial Studies major continues.
Catering to the intellectually inclined McGill student is an important facet of Weiss's approach. "Students here are very serious and very focused on their studies. By offering a challenging class about Judaism we reach the student who wouldn't otherwise get involved but is interested in the learning, in the challenge of Judaism."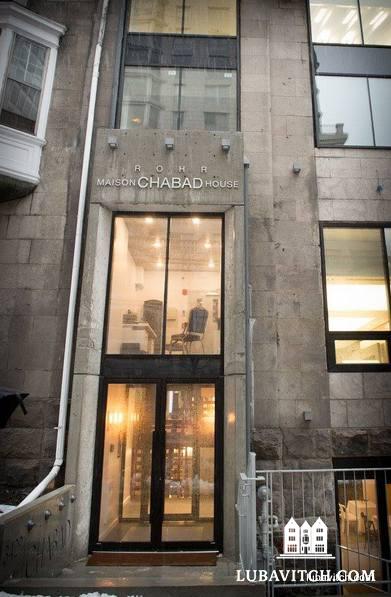 Dales agrees. "Rabbi Shmuly and Rashi always encouraged us to learn the subjects in Torah that most pertain to us." The recent one-on-one learning program, she says, allowed students to explore topics that interested them as they related to their studies. "A business major could learn business Torah law, or someone can learn Talmudic case studies."
Judaism 101 or advanced Talmud classes offer Jewish students at all levels the opportunity to study. Students also lead their own learning groups, create their own one-on-one study sessions, and regularly present on topics of study or even teach classes.
"When students participate in the classes, they are able to create their own curriculums and build their own leadership skills," says Jesse Tepperman, a McGill alumnus who graduated three years ago but maintains a close relationship with the Weiss family and Chabad of McGill.
Tepperman, who majored in Jewish studies with a double minor in education and communication, looks back fondly on his time at Chabad of McGill "an international Chabad house." He explains that the multicultural learning environment exposed him to Jews from all walks of life. "It instilled in me a value that [no matter our differences] we are all Jews and we all unite towards a common goal."