This November, the Bronx Jewish Historical Initiative, in conjunction with the Bronx Borough President's office, inducted its Hall of Fame class of 2018. One of in the six Jewish notables inducted was Rabbi Levi Shemtov who directs Chabad of the Bronx with his wife, Sarah, for the past twenty-seven years.
The fourth annual event, held at the Bronx Museum of Art, recognized Jewish Bronx residents for their lifetime achievements.
"Rabbi Shemtov is admired by everyone around," says Howard Teich, founder and co-chair of the Bronx Jewish Historical Initiative. "He truly deserves this honor. He does so much—not just for Jewish community but for the broader Bronx community as well."
Chabad of the Bronx was particularly commended on a new center that opened before the High Holidays in South Bronx, an area that, though at its peak in 1930 was 49 percent Jewish, saw a rapid decrease in Jewish life with a large-scale Jewish migration in the 60s. The area has recently been seeing a revival. "It's amazing to see Jewish life coming back to the South Bronx," says Shemtov. Chabad is the only Jewish organization in the area, "and people are coming out of the woodwork to participate in its activities." Teich points to the success of the new center's emissaries, Rabbi Choli and Chana Mushka Mishulovin, "They're doing extraordinary things."
Bronx Borough President Ruben Diaz Jr. awarded the honorees with a plaque. "It was a no-brainer to induct Rabbi Shemtov," he said in a statement to Lubavitch.com, "Whether it is organizing the lighting one of the largest menorahs in the world or standing on the steps of the courthouse to denounce hateful attacks like the one that occurred in Pittsburgh, Rabbi Shemtov has shown time and time again that he is one of the most significant leaders in the New York City Jewish community."
Shemtov feels honored. "Chabad of the Bronx will continue being there for the material and spiritual needs of every Jewish resident," he says.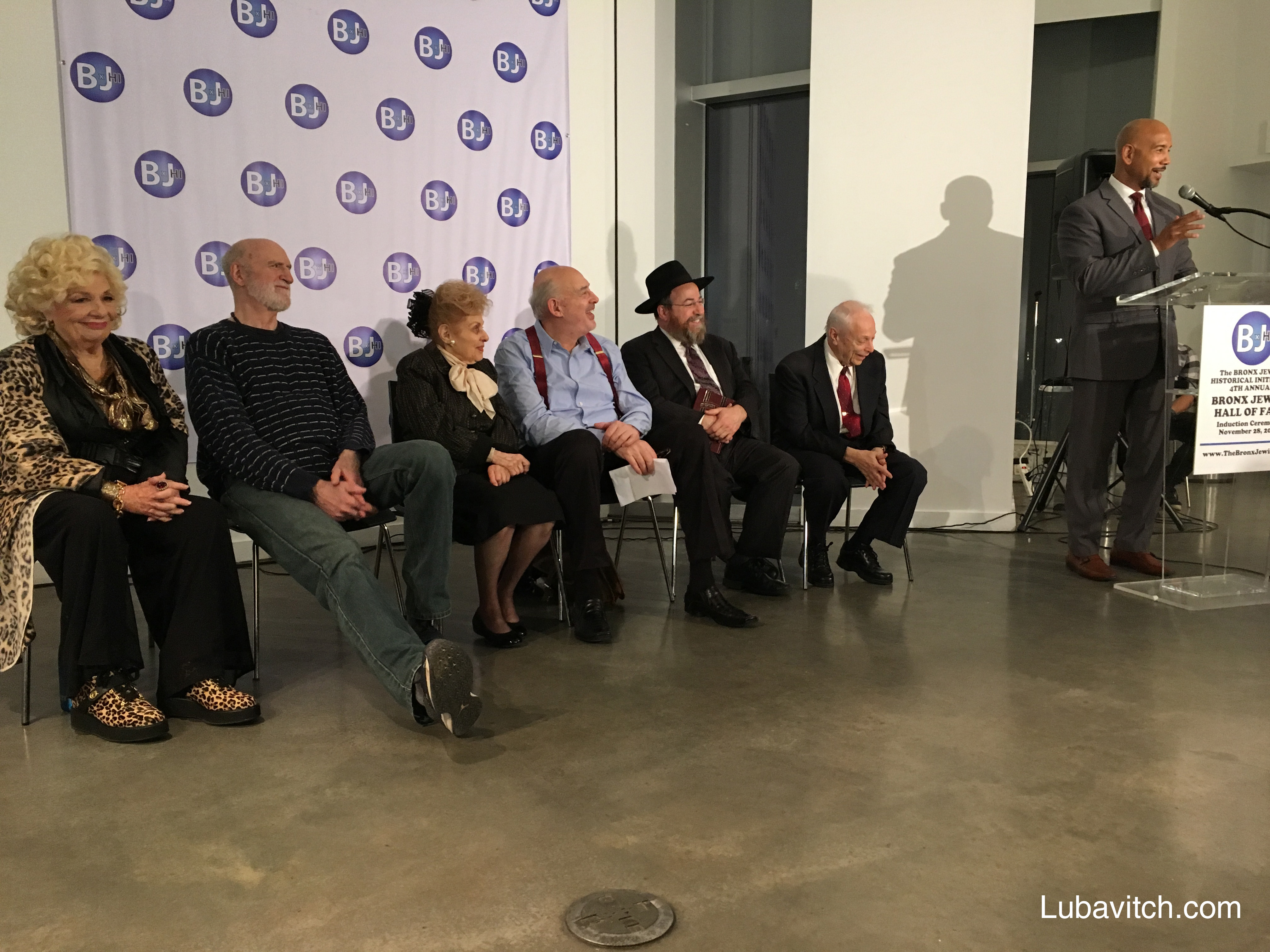 Bronx Borough President, Ruben Diaz Jr., speaks at the Jewish Hall of Fame Induction. Rabbi Levi Shemtov sits second from right. Photo by office of Ruben Diaz Jr.