Photos by Carey Goldberg
Ever since they moved to Vernon Hills nearly seven years ago, Rabbi Shimmy and Rochel Susskind have been renting spaces for the community programs and services they've organized. Hebrew school, synagogue services, adult classes and more were conducted in a nearby Montessori school, the Doubletree Hotel, and in the Susskind living room.
The recent approval by village trustees of a permit for the Chabad to lease 8000 square feet of office space means Chabad will finally have one central address. This development so delighted community members that they've been stepping forward to offer their services to outfit the new venue. Among them were Grant Wilcox, who took care of the electrical engineering, Nikolay Elgayev, who installed the drop ceiling, and Ross Heim, who acted as Chabad's attorney.
"It was an honor and privilege to help Chabad put our new facility together, creating a bigger community and closer bonds within our group. We feel like we're a part of something essential in keeping Judaism alive," said Teri Goldberg, whose husband, Carey, volunteered to do the general contracting for the new space.
The Goldbergs send their son to Chabad's Hebrew school. "When we first decided to send our son to Hebrew school at Chabad, we had no idea the kind of deep roots we were planting," Teri said. "Chabad of Vernon Hills has planted seeds of Jewish awareness that we believe will grow for generations to come."
Mayor Roger Byrne has put his support behind the new Chabad center. When documents indicated that the building would be short four parking spaces, he offered Chabad the use of the village's city hall parking lot, located across the street.
"I think it's great that they settled into Vernon Hills," Mayor Byrne told lubavitch.com. "A house of worship is always welcome here. Vernon Hills is a diverse town that has about 25,000 residents and a lot of practicing Jews. We as a town have a good deal of respect for Jewish residents, and feel that this is a positive addition to the community. Now, with the bigger building, they'll be able to accommodate more people and host children's classes, and I'm sure they will be very well received by the public."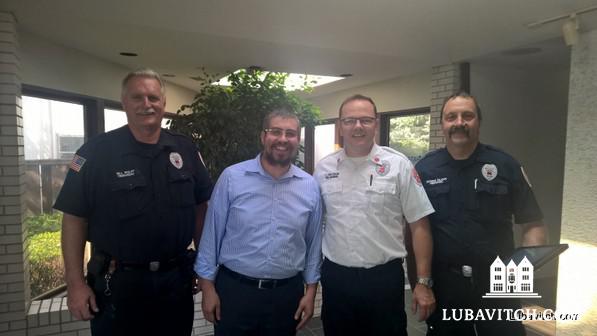 The new space will allow Chabad to operate at a much greater capacity. Last year, they had to cap admission to their Hebrew School at 70, for children between the ages of 6-13. This year, they'll satisfy many parents with the opening of a class for five-year olds. Instead of Shabbat meals once a month, they'll be hosting more regularly, and the Chabad center will finally have space for Bar and Bat Mitzvahs.
Community member Jane Marcus moved from Milwaukee to Vernon Hills last year to be near her grandchildren. "Meeting the Susskinds has been a true blessing for us. It's hard to adequately express how deeply they, as well as the rest of the Chabad rabbis, have forever impacted our lives," she shared.
With the larger space, Larry Zwirn and his wife Marilyn expect to see real growth in the congregation. "We're excited about the move to the new shul for many reasons. The larger space will allow for expansion of programs and events, and high holidays can be accommodated on site. With our new shul in Vernon Hills, our Chabad community now will have its own home."
Mr. Zwirn remembers how not that long ago, he was disinterested in Judaism, attending synagogue on high holidays only. But after his wife began attending Rabbi Susskind's Torah classes, she cajoled Larry into joining. He grudgingly agreed, but soon found himself taking an interest.
"Our rabbi's teaching and the overall message of Chabad captured my imagination and eventually penetrated my heart and soul," he shared. "Now, I put on Tefillin six days a week, and pray twice daily. Marilyn and I welcome Shabbos with candle lighting, the prayers over wine and bread, and Shabbat dinner with Challah. I have become a different and better person."
To learn more about Chabad of Vernon Hills, visit chabadvernonhills.org.