Waiting in line at a Walmart in Venice, Florida, Chaya Rivka Schmerling's three-year-old daughter turned to her with a question: "Are there any children in this city?"
It was an astute observation of the gulf-coast town where the family had recently arrived as Chabad representatives. With a median age of sixty-nine, Venice is, demographically, one of the oldest cities in the country. Only 1.6 percent of the population is under the age of five, and the hospital has no maternity ward. Retirees may flock to Sarasota, locals say, but their parents live in Venice.
Home to approximately 1,500 Jews, Venice had been passed over by some as too quiet to sustain a community. The Schmerlings arrived in 2005, and several years later, with a grant from the Tabacinic Family, they purchased a four-acre property on one of the city's main roads. Last September, they opened the 3,600-square-foot Dr. Judith Kestenberg Chabad Education Center. Plans for a much larger building, to include a social hall, library, mikvah, and deli, are in the works.
The community may not be young, but it's certainly growing. "People have a lot of time on their hands," says Rabbi Sholom Schmerling, "so we can spend a lot of time." Chaya Rivka's book club on Tuesday mornings regularly draws twenty-five women; "Journey of the Soul," JLI's course on the end of life and the afterlife, was wildly popular. The retirees are also actively involved as volunteers, setting up for events, cooking, and shuttling campers on field trips.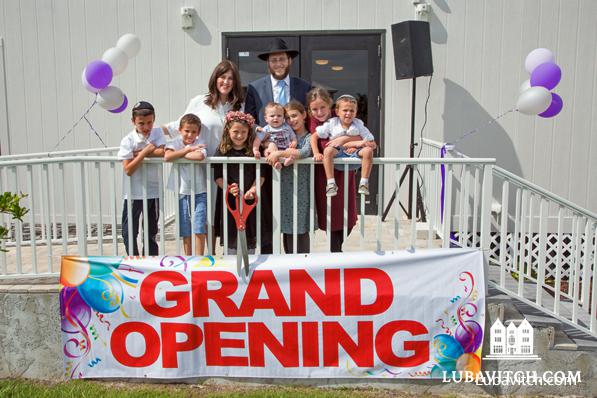 The Schmerling family are one among the youngest families in the city
"I don't see the age of the community as a challenge," Chaya Rivka says. "There are huge advantages." Life experience has given the seniors in Venice a deep appreciation for the Schmerlings' work, and they are committed to helping the couple build a Jewish future for the city.
At 60, Abbie Jo Davis is youthful by Venice standards. She and her husband moved to Venice eighteen years ago, attracted by the good quality public schools for their son. Originally from Louisville, Kentucky, she attended Reform synagogues on and off, considering herself spiritual, but not religious. When she met the Schmerlings, she immediately felt a connection. She started as a regular at the book club, began attending Shabbat services eight years ago, and now studies Torah every day. "At age 47, I was just ready to learn."
Abbie's also the volunteer coordinator. "There are so many people here who don't have family or whose family is up north," she says. "There's such a vacuum of need for connection." Volunteering provides that connection and the opportunity to be useful. For Chabad's biggest event of the year—a menorah lighting and concert on Venice Island that draws several hundred—volunteers do (almost) all the heavy lifting. "We have people come, set up, and cook and clean." She admits, though, that there are limits. "We need more young people to help us schlep."
If the abundance of eager volunteers was a pleasant surprise, some aspects of serving an older community are inevitably painful. The Schmerlings run a "Loaves of Love" program, delivering fresh challah and companionship to the homebound and hospitalized. Funerals are a regular occurrence, and the rabbi is in the process of securing land for a Jewish cemetery in the city.
The couple's seven children, who are beloved by the community, are no strangers to illness and death. Chaya Rivka recently took one of her daughters to visit a woman who was gravely ill. The young girl fed her soup, sang to her, and held her hand. "The kids are not overly sensitive or uncomfortable [around older people] like a lot of children in our society are," Abbie says. "They're compassionate and empathetic and joyful. They come in with their smiles and their laughter."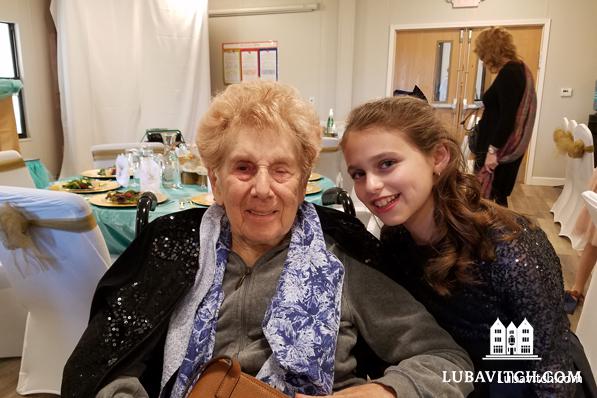 Mushka Schmerling with her friend Edith Goldstein
"Life and Legacy"
The Schmerlings' successes have been celebrated by the Jewish Federation of Sarasota-Manatee, which co-sponsors their events and programs on a regular basis. Kim Mullins, chief operating officer at the Jewish Federation, says the couple's drive and passion are incredible resources for the Venice community. "They offer creative programming for all ages, a welcoming home for Jews at all levels of observance and interest, and are amazing collaborative partners for our Federation."
This year, in cooperation with the Federation, Chabad of Venice participated in the Harold Grinspoon Foundation's "Life and Legacy" program, which encourages Jewish organizations to secure legacy gifts (bequests) from donors. The nonprofit world has embraced legacy giving in recent years, but Jewish organizations have been slow to catch on. The program aims to change that with immersive training and monetary incentives.
Robert and Luisa Goldman are the Life and Legacy co-chairs for Chabad. Working with the rabbi, they met and exceeded their goal of eighteen bequests, garnering a total of twenty-seven and earning Chabad a $7,500 grant from the foundation. Robert, a retired real estate lawyer who is enjoying a second career selling property in Venice, says legacy giving appeals to people who cannot make large donations during their lifetimes. "It's a chance for them to do something meaningful and it allows a little place like Chabad of Venice to have some lasting impact."
"We use ourselves as an example," Luisa says. "When our grandson was born three years ago, we added Chabad [to our will] as a residual beneficiary. We want the work we do while we're alive to continue after we're gone."
"They're not judgmental," Robert says of the Schmerlings. "They don't care about your past. They care about the future." And that's what the Goldmans, Abbie, and the twenty-six others who pledged to make a bequest to Chabad of Venice, care about too. "There's a hope, from our side, of real, serious Jewish continuity and growth."
They may have elicited an outpouring of Jewish engagement, but before the Schmerlings can be fully at home in Venice, Robert says, they'll need to improve in a few areas. "The rabbi's a terrible golfer. You can tell him I said that."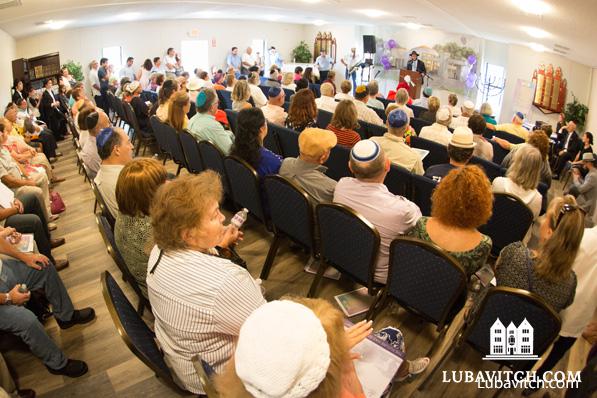 Life experience has given the seniors in Venice a deep appreciation for the Schmerlings' work, and they are committed to helping the couple build a Jewish future for the city.