You wouldn't think that Home Depot's aisles of plumbing supplies and construction materials would be an attractive Chanukah hang-out for Jewish families. In fact, Jewish comedian Modi quips that Home Depot is Latin for "Jews you have no business shopping in this store."
It turns out that Home Depot is in fact a model of inclusiveness and charity. Home Depot has been hosting kid friendly DIY workshops in their stores for over 20 years, aptly describing the experience on the trademark orange aprons the children wear as they're working as "Building Memories." In a bid to create engaging Jewish programming for children, and perhaps sharpen their building skills, Chabad centers in the US and Canada have teamed up with Home Depot to host menorah and dreidel building workshops in preparation for Chanukah. Over the years, thousands of Jewish families have participated in these popular DIY workshops which are facilitated by Home Depot staff.
"It's not about the finished product, it's about the process, the feeling of accomplishment, the laughter and camaraderie … it really is about building memories," shares Chanie Minkowitz, co-director of the Friendship Circle in Sharon, MA. She and her husband, Rabbi Naftoli Minkowitz, have been working with their local Home Depot for three years now, making it possible for them to include individuals with special needs from their local Friendship Circle in their Chanukah events. The hands-on experience in an iconic store within their own community, taken for granted by other children and their families, is a new opportunity for the Friendship Circle children. "I went to Home Depot and made a menorah with my friends Ben and Jake … it was awesome," says Aryeh, one of the participants.
Parents have also expressed appreciation for the rare opportunity to celebrate Jewish pride in public during the holiday season. Mushki Stern, co-director of youth programming at Chabad of Westmount, an upscale neighborhood in Montreal, QC arranged a Menorah workshop at her local Home Depot for the first time this year. Parents whose children have never been invited to participate in a Jewish themed activity in a big box store or shopping mall, particularly during the holiday season, were grateful. Rob Rapp brought his children to the workshop at Home Depot: "The kids loved building the menorahs, and the parents watched with nachas [pride]."
According to Stern, Home Depot accommodated the children and their families with great enthusiasm, dedicating generous work space in the center of the store. Each child got Home Depot's signature orange apron to wear during the project; upside down orange buckets served as sturdy workbenches for the young DIYers. "It's a great family event, cold brew Starbucks coffee for the adults, snacks and drinks for the children," says Stern. "In the end, each family left with a handmade menorah, and shopping bags filled with merchandise that they purchased after completing the project."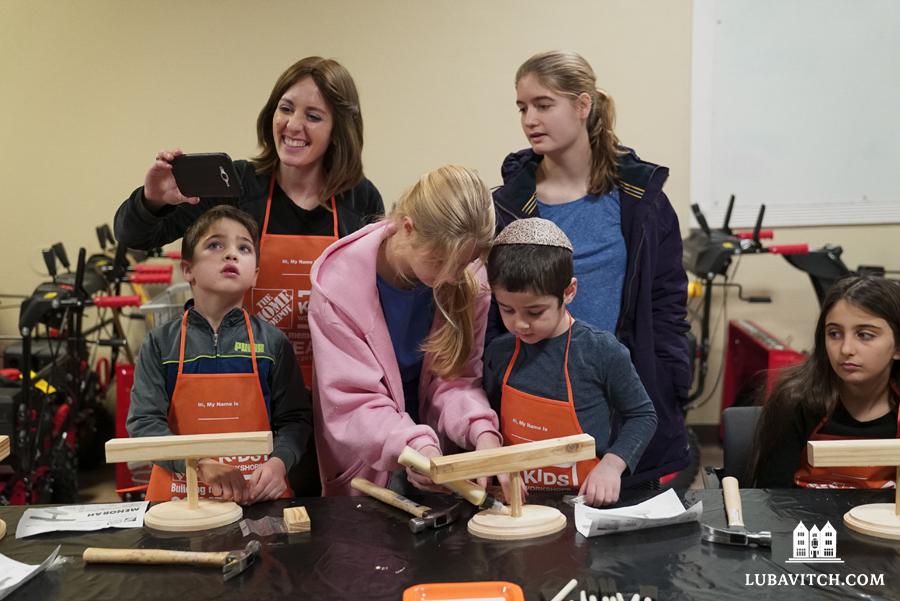 Participants at the Friendship Circle Workshop in Sharon, MA take a selfie. The menorah building workshop is a great place for families to create memories.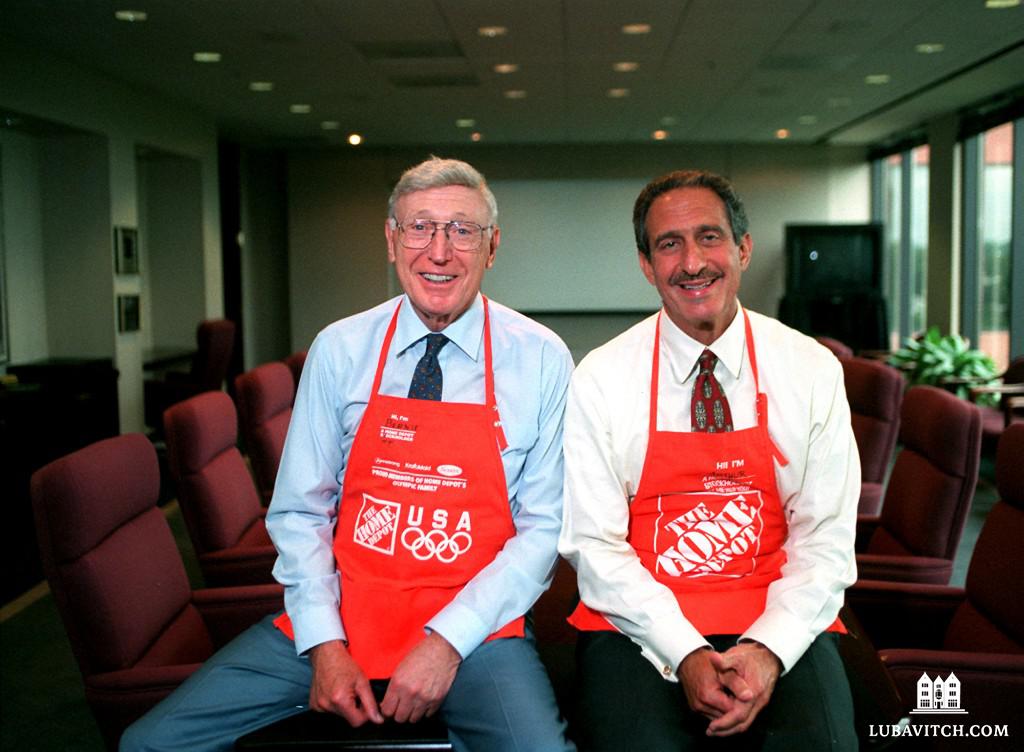 Jewish founders Bernie Marcus (left) and Arthur Blank have been "building memories" for 20-years through DIY children's workshops. The recent partnership with Chabad centers worldwide has added an element of joy and pride to the Chanukah holiday season. (Photo Source: MyAJC.com)
In an age of technoology, the Chanukah workshop is a truly hands-on experience. After hammering their project, participants at a Home Depot event paint their menorahs.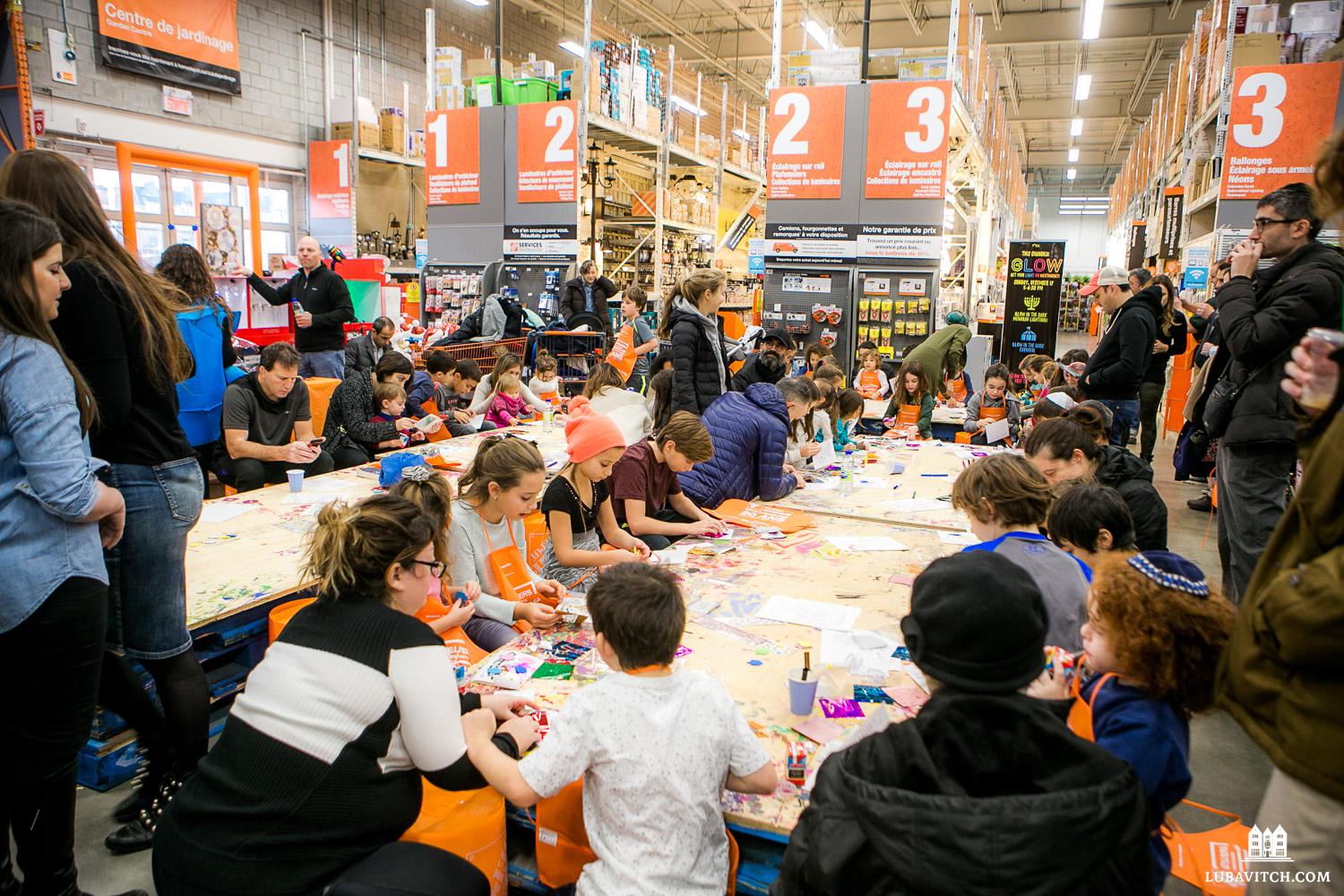 The workshop in Westmount, an upscale neighborhood of Montreal, QC, is a buzz of activity.