Chief Rabbi of Albania and Chabad representative to Thessaloniki and the Lower Balkans Rabbi Yoel Kaplan received a surprise award from Kosovo President Hashim Thaçi last week.
"I decorated Rabbi Yoel Kaplan with the title of Honorary Ambassador of the Republic of Kosovo for his contribution to the rapprochement of Kosovo and Israel and our peoples," the president wrote in a Facebook post accompanied by pictures of the event. On September 4th, Israel announced its official recognition of Kosovo, which declared independence from Serbia in 2008. This move opens the doors to diplomatic and trade relations between the two countries, and according to Israeli Prime Minister Benjamin Netanyahu, "Kosovo will be the first country with a Muslim majority to open an embassy in Jerusalem."
Honorary Ambassador is the highest civilian title in Kosovo and is awarded to those who contribute to the national interest of Kosovo and use their fame to help the recognition of the independence of Kosovo. Since 2013 nine people have received the award; six soccer players, a musician, a judoka, an academic. Rabbi Kaplan is the first clergyman. "Ambassador of Honor of Kosovo is a privilege and inspires me to further commit to doing even more for Kosovo," Rabbi Kaplan remarked, thanking the president.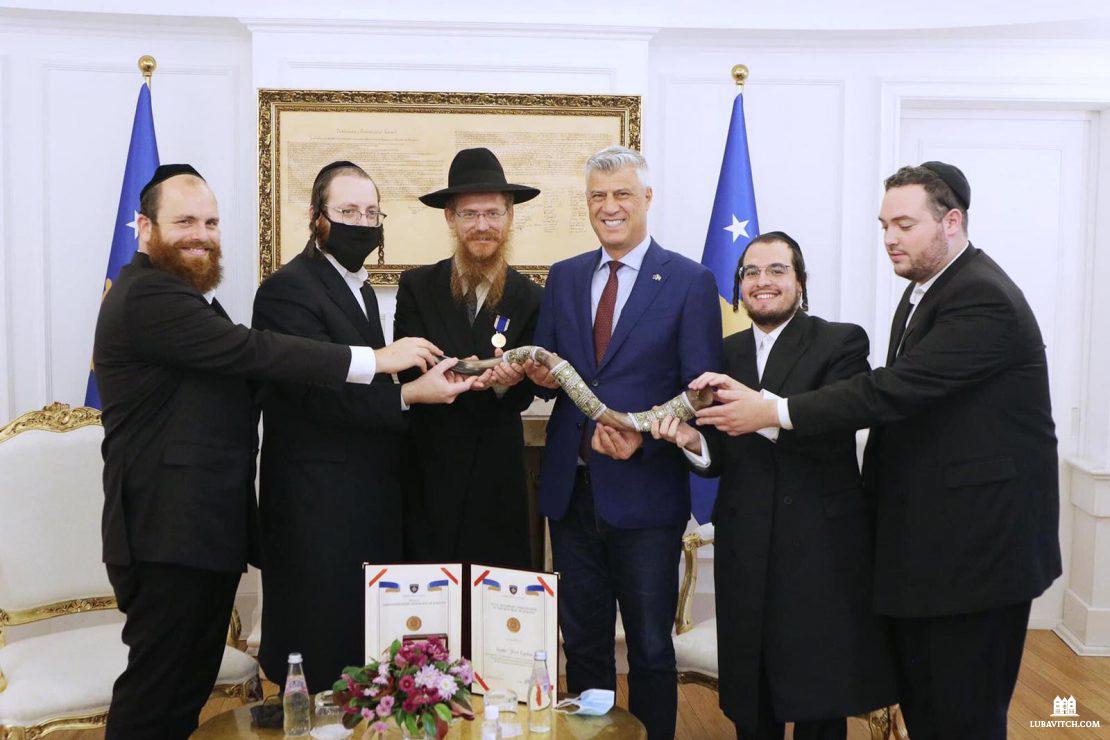 The award came as Rabbi Kaplan joined a delegation of Jewish American businessmen to Kosovo. The delegation of four Hasidic businessmen was led by Mr. Moshe Klein, a journalist who is active in building diplomatic relations between American Jews and foreign countries. They visited Prime Minister Avdullah Hoti and the president on Friday to discuss trade relations. President Thaci said it was a pleasure to meet with the rabbi and the delegates. "We talked about the history of Kosovo and the relations between Kosovo and Israel, which culminated in mutual recognition and preparations for the establishment of diplomatic relations, the opening of embassies, as well as the future of relations between the two countries but also between the two peoples in general." The delegation of businessmen presented a decorated Kudu shofar to the president, which he described as a 'horn of freedom' and a silver mezuzah case to the prime minister.
The businessmen also met with members of Kosovo's Jewish community which counts approximately a hundred people. Thirty Jewish locals joined the delegation and Rabbi Kaplan for Shabbat meals replete with traditional Jewish food and lively singing. Member of the delegation Mr. Mordy Getz, owner of New Eichlers Judaica store in Brooklyn New York brought mezuzahs and Judaica items that he distributed to Kosovan Jews.
During their stay in Kosovo, they visited a mosque where they were warmly welcomed by Imam Labinot Maliqi, Executive Director of the non-governmental organization Kosovo Center for Peace. The Imam worked extensively for peace and mutual recognition between Israel and Kosovo.
"It was a joy to strengthen the Jewish community in Kosovo while doing our part to pave the way for positive relations between Israel, Kosovo, and American Jews," Moshe Klein said.