Across the street from Guelph University, in Guelph, Ontario, is the Village of Arbour Trails, a retirement community. When Chabad representatives Rabbi Raphi and Mussi Steiner arrived in Guelph in December 2014, they wondered if there was a way to get the university's roughly 1,500 Jewish students to connect with their older neighbors. Then they heard about Cyber-Seniors.
The program began in 2009, when two teenage sisters noticed how much technology had improved their grandparents' lives, allowing them to keep in closer touch with their children and grandchildren. The sisters developed a training manual and recruited their friends to visit nursing homes, where they taught seniors how to use email, Facebook, and YouTube. Eventually, the community-service project grew into a non-profit organization.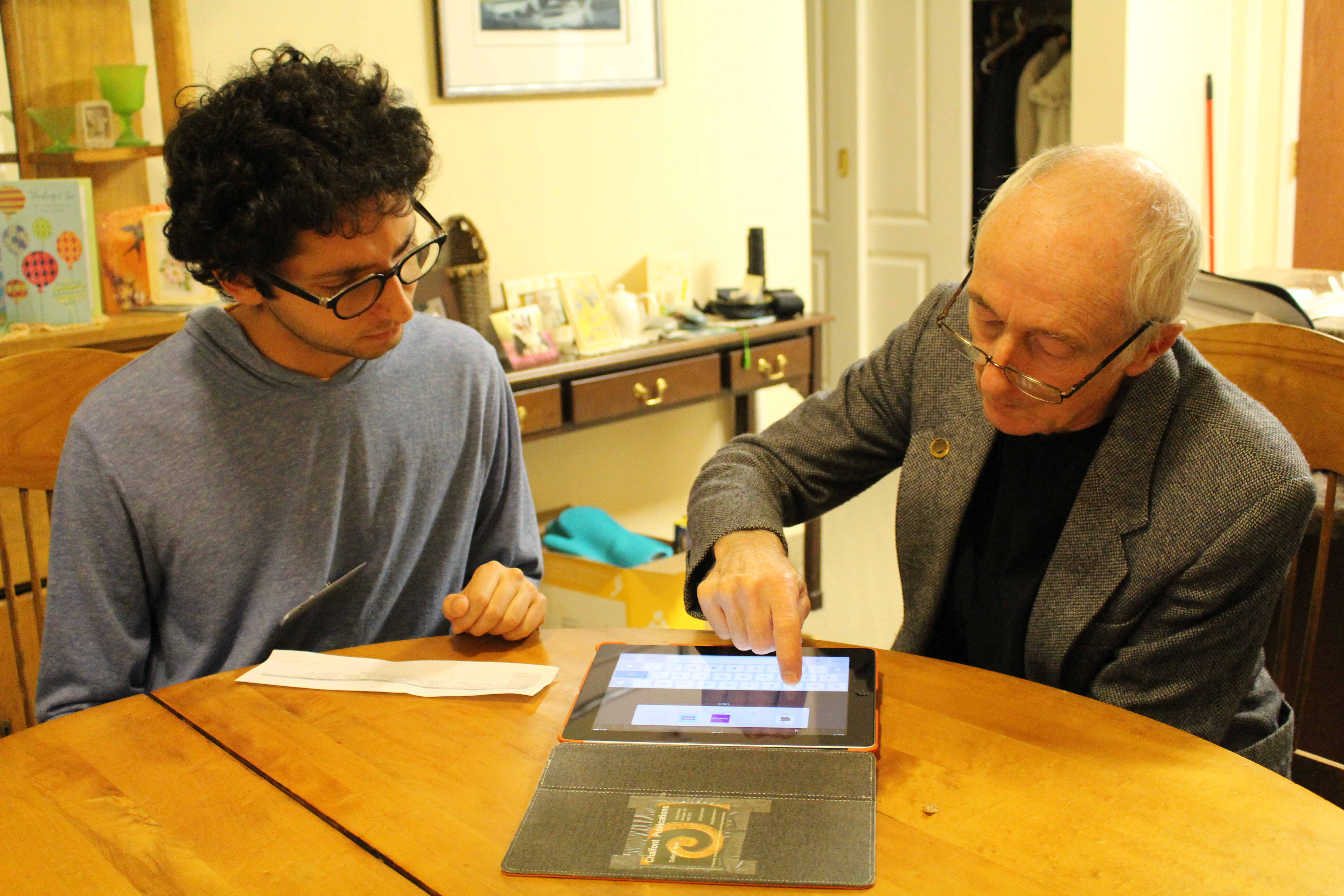 A resident of Village of Arbour Trails tries out an iPad with help from Jordan Winberg, 21.
The Steiners started their Cyber-Seniors program in September 2015. "We loved the idea," Rabbi Steiner says. "When they go to university, students are really shoved into a bubble with people 18 to 21 years old. Here's an opportunity where they get to reach out and see another demographic and actually give to them." Each student is paired with two seniors for bi-weekly, 45-minute sessions. Keeping the partners constant for a semester allows them to get to know each other well.
The program often appeals to Jewish students who might not be interested in a Shabbat dinner or a Torah class, Rabbi Steiner says. "It's a volunteer opportunity. It goes on their resumes." But usually, by the end of the semester, he says, they're not interested in tracking their hours anymore. "They're happy just to do it for the mitzvah."
Erin Fenwick, 22, joined the Steiners' Cyber-Seniors program when it began. She was studying marketing and social media and wanted a volunteer opportunity related to her field. She recalls teaching one woman, whose children live in Europe, how to view the pictures they sent her: "After a few sessions, she was able to navigate all the photo streams on her own. Her goal was just to stay connected to her family."
The idea is catching on with Chabad Houses in the United States, too. Earlier this year, Sarah Katzman, 13, was looking for a bat-mitzvah project and reached out to her local Chabad representative in Lake Success, New York, Mrs. Chumy Ezagui. They came up with the idea for Cyber-Seniors, including the name, without being aware of the larger organization, Mrs. Ezagui says.
Everyone involved with the programs notes how much the seniors enjoy spending time with the young people, whether they're learning about technology or not. "When we first walked in, we saw all the seniors look at us and smile," Ms. Katzman says. "They were really excited, and me and my friends, we were just really proud of them, too."
Ms. Fenwick says she has encouraged her own grandmother to adopt new technology as well. "We recently got my bubby an iPhone, and she's always texting her grandchildren now. When I call her, she says, 'No, Erin, you can just text me instead. It's way easier.'"
Read more about Cyber-Seniors in Lake Success and Guelph, Ontario: http://www.chabadlakesuccess.com/, http://www.jewishguelph.org/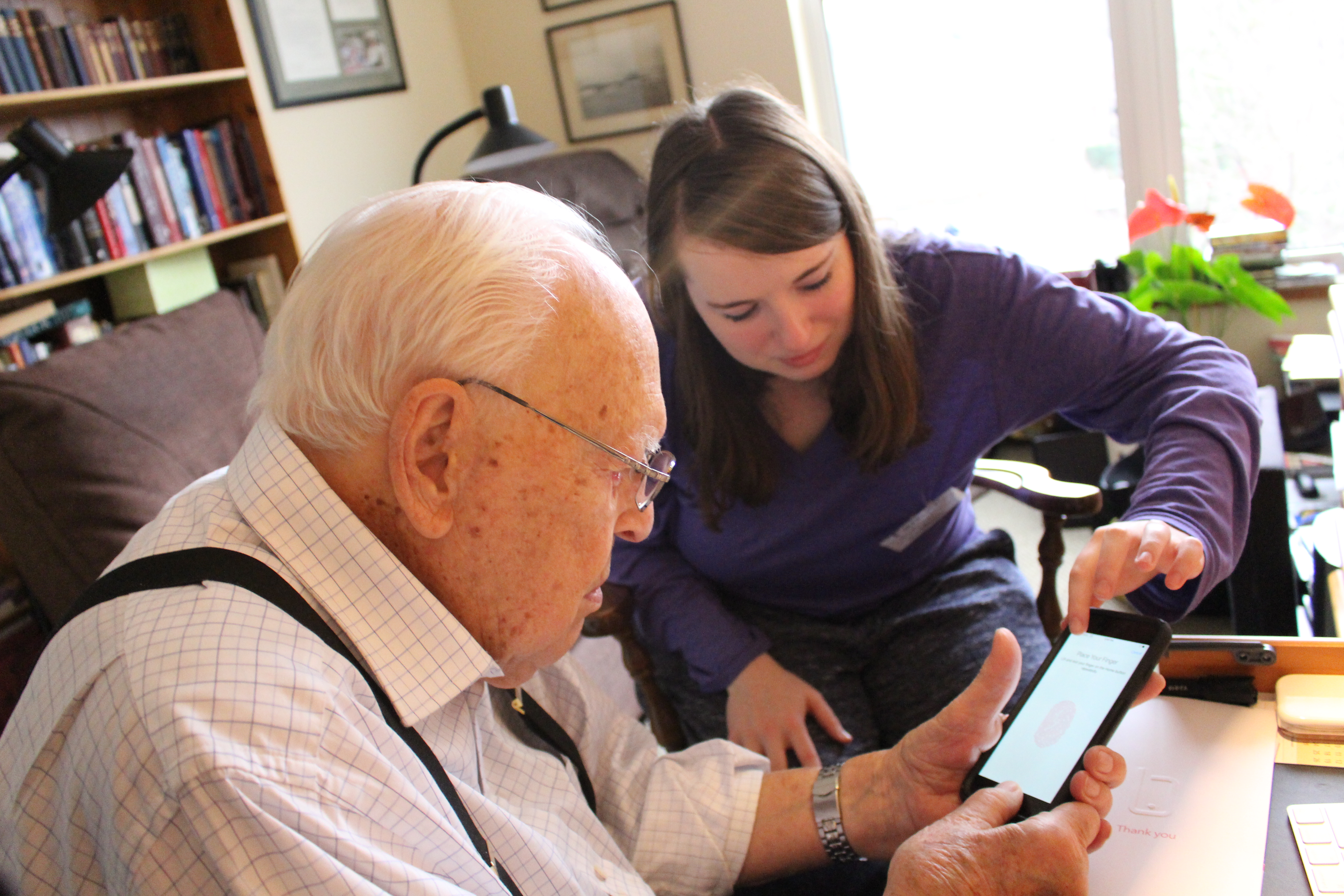 According to organizers, the Cyber-Seniors program benefits both students and seniors.