Fifteen years ago, Zev Iluz's phone rang. The Israeli expat had settled in Hanover, Germany, to escape the pressures of life in Israel. He wanted no reminders of what he had left behind. Rabbi (Binyamin) Benny Wolff was the last person in the world that Zev wanted to speak to. "When Rabbi Benny called me, I was already more German than Israeli. I was anti-religious. I really did not want to talk to him," Zev recalled.
He ignored the rabbi and focused on his business. Germany dominates the global trade show business, and Hanover is famous for its Messegelände Hanover, the largest fairground in the world. Zev's company provides booking services for visiting merchants. He was thrilled when new business started coming his way. Curious as to the sudden uptick, he asked new customers how they learned about him. The referrals, he learned to his surprise, were coming from the rabbi he had brushed off.
Still, it would be five years before Zev met the Chabad shluchim. "When I finally agreed to meet Rabbi Benny and his wife Shterni, they quashed every stigma I had about religious people. I met a warm, amazing family with no hidden agenda."
As Rabbi Benny and Shterni connected to individuals like Zev, they laid the foundation for community infrastructure. They introduced the city's Jews to a vibrant offering of Jewish engagement opportunities: a preschool, Hebrew school, adult education Torah classes, bar and bat mitzvah preparatory lessons, Shabbat and holiday events, a summer camp, and more.
Shortly after the Purim holiday, Rabbi Benny became ill with Covid-19. He contracted a sepsis infection in the hospital. The Jews of Hanover joined thousands around the world who prayed for a miracle. On Friday night, a week after Passover, as Shterni sat vigil at his side, Rabbi Benny Wolff, 43, father of eight, breathed his last. The city's Jewish community mourned.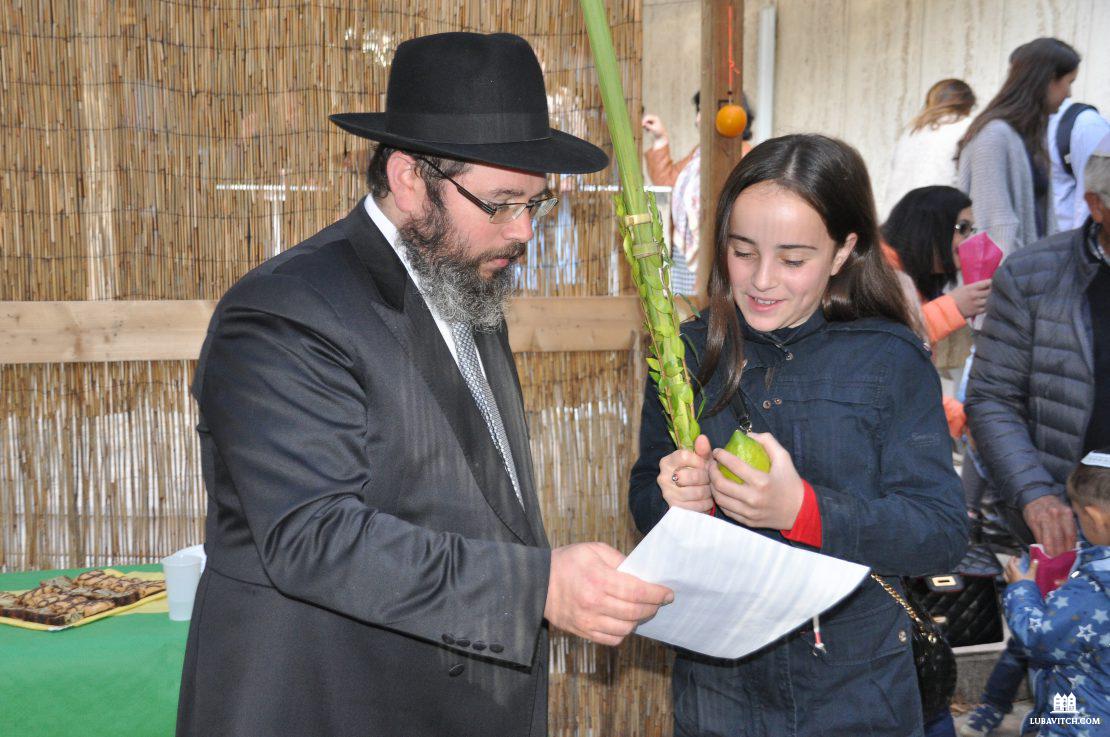 A Community of Beginners
Within hours of Benny's death, Shterni Wolff had decisions to make. Her husband would be buried in Hanover, and not, as family and friends expected, in his native Israel, making him, perhaps, the first rabbi to be buried on German soil since the Holocaust. And she and her children would remain in Hanover, continuing their shlichut. "We came here with a goal, and we won't leave as long as there is one Jewish soul here that we haven't reached," Shterni explained with steely determination.
As newlyweds, Shterni and her husband, both from Israel, took five years to help the shluchim in Odessa, Ukraine. "We directed the summer camp and other projects, but mostly we learned that in building a community, only the sky's the limit."
The young couple had learned to speak fluent Russian during their time in Odessa, and had become familiar with its customs and culture—an experience that would serve them well. In 2005, they arrived in Hanover, where a majority of the city's 8,000 Jews were Russian-speaking. (Germany's Jewish population of 15,000 swelled when the government changed its immigration laws to favor Jews and ethnic Germans following the fall of the Soviet Union.)
Thousands visit Hanover's Chabad House every year. For many Soviet émigrés and their children, it was a first encounter with Jewish life. They came cautiously, testing the waters, said Shterni. "Jews who had denied their Judaism for years have come here, careful not to speak within earshot of their children, because the children did not know they were Jews."
Rufina Trehub was nine years old, and her brother was three when Rabbi Benny and Shterni opened Camp Gan Israel, the first Jewish day camp in the city. Her parents had emigrated from Ukraine, settling in Hanover in 1998. "At the time, there were no Jewish services for the newly arrived Russian families," she said. But the camp became their portal to Jewish life. "From camp, we joined the Chabad Hebrew School and that led our family to the synagogue and celebrating the Jewish holidays," Rufina related. "The Wolffs created a sense of community and belonging for Hanover's Jews. They taught us to be comfortable with our [Jewish] identity."
Today, Rufina, 22, is a university student studying to be an English and German language teacher. In her spare time, she volunteers with Shterni, leading Chabad's Jewish Youth group in cooperation with the Jüdische Gemeinde. As a teen, Rufina herself was a member. "There weren't many Jews in public schools, so the youth group was a place where Jewish kids could get together and just understand each other." She recalled the dynamic relationship that Rabbi Benny forged with the teens. "We could ask any question. He was a friend."
Sarah Zaruvabeli was born in Hanover to parents who had immigrated from Ukraine and had almost no Jewish knowledge. "We knew that sometime around Easter, we eat matzo brei," Sarah said. "The Wolffs were the first people we met who lived Judaism, and I took it as a model for my own life." On the holiday of Shavuot, only weeks after Rabbi Benny's sudden passing, Sarah and her husband, Matan, celebrated the brit of their first born son, whom they named Binyamin for their beloved rabbi.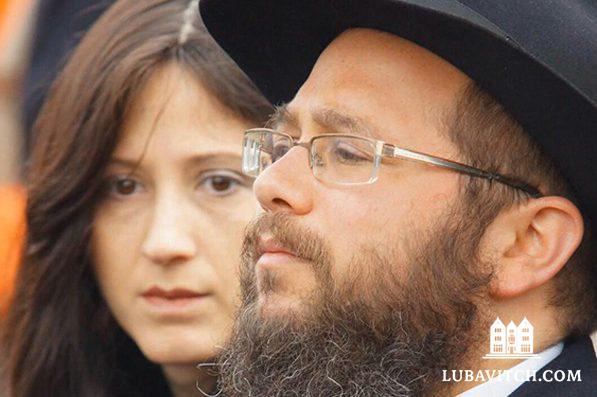 Just Passing Through
The Hanover Chabad House is also the address for the religious and practical needs of hundreds of Jewish visitors who come to the city each year for business. Joseph Frank of Brooklyn, New York, has been attending the Domotex Flooring Exhibition in Hanover for 18 years. "We used to dread going to Hanover before the Wolffs arrived," he said.
In recent years, the shluchim hired a chef to provide kosher meals for Jewish trade show visitors. Morning prayers are held at the Chabad House, followed by a breakfast buffet and lunch to go. The businesspeople return for the evening prayers and a restaurant-style dinner. "Now I look forward to the trip every year. It's no longer 'just business.' It's become a rewarding experience," said Frank, owner of the Kane Carpet Company. And business itself, he adds, has also become better. "Through Chabad, we have made dozens of international contacts. Some very special relationships and friendships have come through the Chabad House."
The Wolffs have also been reservoirs of comfort and support for Jewish patients at Hanover's International Neuroscience Institute (INI). A world leader in the treatment of rare neurological illnesses such as brain and spinal cord diseases, it attracts patients who come for treatment from around the world. Many Jewish patients and their families needing help during their difficult period in a strange country have leaned heavily on Rabbi Benny and Shterni.
Translating Pain Into Action
Shterni's decision to remain in Hanover has inspired and energized the community. "Rabbi Benny brought Yiddishkeit to our city," said Hanover resident Mark Simon. "We will ensure that his legacy continues."
During the seven-day shiva period after Rabbi Benny's passing, Shterni learned about a local 18-year-old who had just begun a friendship with the rabbi, and was feeling bereft. Learning that the young man had never had a bar mitzvah, she organized a celebration the next day while following coronavirus regulations. "Let's translate the pain into action," Shterni, true to form, told him.
Since Benny's passing, the pace of activity has picked up. Local Jews are coming to Chabad in greater numbers, installing mezuzahs on their doors, and participating in Shabbat and other events. Shterni has overseen the opening of the Binyamin Library, a lending library. "We received many donations of books, and now children are coming to borrow books," Shterni said.
The Hanover Chabad House has been the address for all things Jewish in the city. But with its well-attended preschool, synagogue, and adult educational Torah classes (in German and Russian), it has outgrown its space.
"Rabbi Benny's dream was to have a building to serve the community's needs. We will build that building and name it Beit Binyamin. It will stand as a lighthouse with his name on it.
"In Judaism," Shterni offered, "we believe in the soul's afterlife. Our work together continues. He, from on high, and I will continue the work below."