As a light drizzle fell Sunday evening, thousands gathered for a historic Menorah lighting in Berlin, Germany. "I just watched a light extinguish a dark history at the foot of the Brandenburg Gate," tweeted Richard Grenell, US Ambassador to Germany. He was one of over 25 ambassadors from countries around the world who attended the Chabad Menorah Lighting at the Brandenburg Gate. Many religious and business leaders and Government ministers also attended.
While the Chanukah light doesn't quite erase the country's dark past, the poignance of it's kindling on the very location where Hitler once held his venomous rallies was apparent. "Germany's President lighting a menorah, at the spot where just eighty years earlier, his predecessor spewed hate–the contrast doesn't get starker," shared Rabbi Yehuda Teichtal, Chief Rabbi of Berlin.
Rabbi Teichtal has been lighting a Menorah at this iconic location since 2003, but this is the first time the country's President participated. Germany is marking eighty years since the ignominious events of November 9 1938. Frenzied hordes, fueled by the Nazi party's hate-filled rhetoric pillaged Jewish homes, businesses and communal buildings in towns and villages throughout Germany and Austria. The streets were left littered with shattered glass, earning the date its moniker, Kristallnacht-the night of broken glass.
In conjunction with the eightieth anniversary President Frank-Walter Steinmeier joined Rabbi Teichtal as they were raised in a cherry-picker to kindle the first light on Germany's largest menorah. "It is a gift that we can reach out to join hands over the chasm of our history," he remarked to the crowd.
Around 3,000 attended with thousands more around the world watching via live coverage provided by German and international media. "This is a mega-awareness of the Chanukah message of light overpowering darkness," Rabbi Teichtal said.
Chabad of Berlin has placed 25 public menorahs around the city this year for the more than 100,000 Jewish residents to partake in the Chanukah festivities. The 20 other Chabad centers in cities around the country all have at least one public menorah, each with a sign declaring that "Chabad wishes you a Happy Chanukah," in keeping with the wishes of the Lubavitcher Rebbe to publicly advertise the Chanukah miracle.
For more information and to support Chabad of Berlin, visit www.ChabadBerlin.de.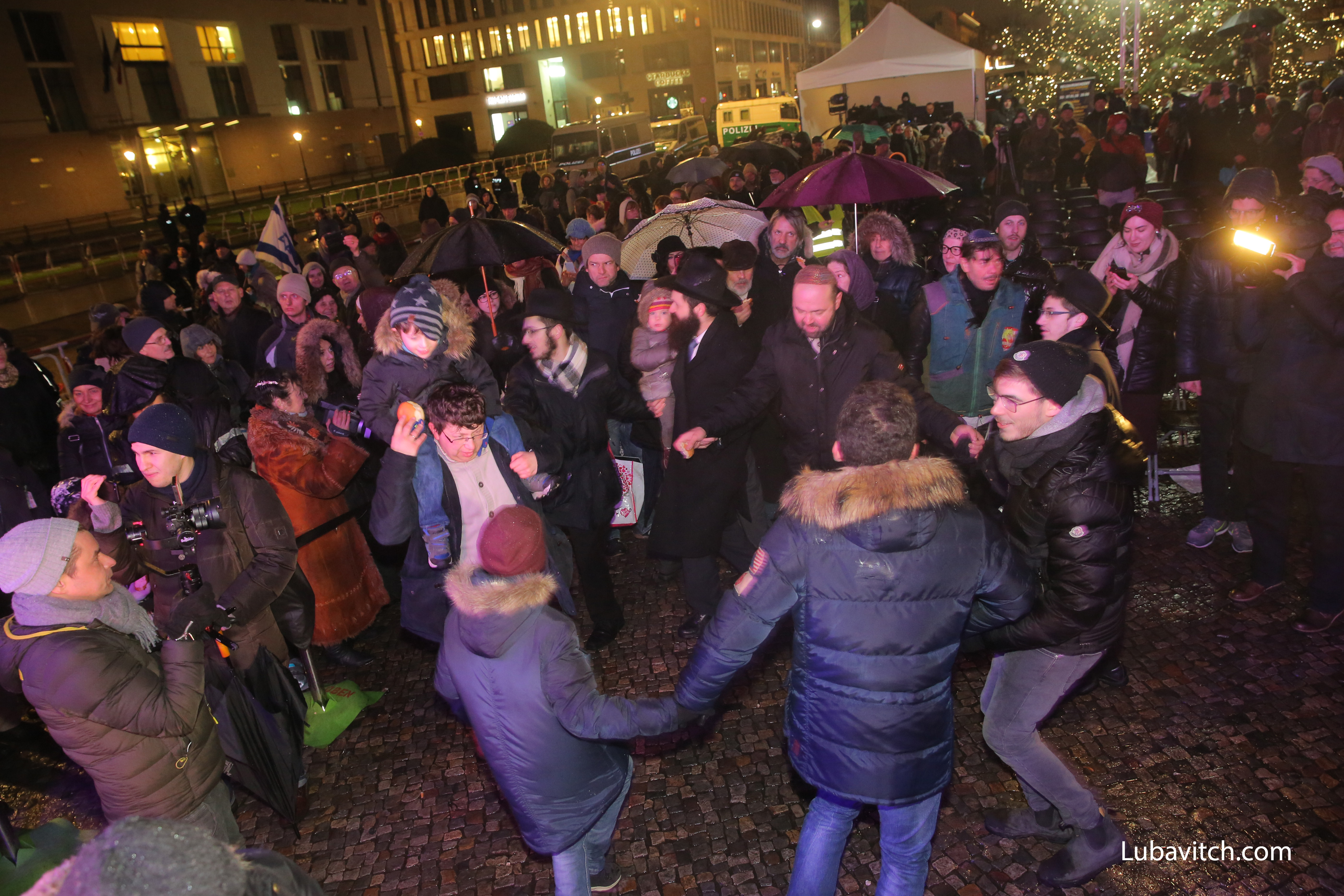 Members of the crowd break out in dancing at the menorah lighting at the Brandenburg Gate in Berlin