Eighty four years after Nazis destroyed the main synagogue in Karlsruhe,  and desecrated its Torah scrolls, city officials, local residents—both Jews and non-Jews—marched with a new Torah scroll to the site of the attack, singing Am Yisrael Chai—the people of Israel live! 
"We are proud to be Jewish and proud of how far we've come since the darkest days of the past," said the city's Chabad representative, Rabbi Mordechai Mendelsohn.
The Torah scroll was completed at a grand ceremony in the Karlsruhe Palace in the city center. Rabbi Eliezer Chitrik, Chabad representative to Nuremberg, Germany, inscribed the last letters with a feather quill. A joyous procession then marched across the green park to a memorial plaque where the Karlsruhe synagogue had stood until it was destroyed by the Nazis. German Attorney General Dr. Peter Frank and Karlsruhe Mayor Frank Mentrup, attended the event, noting its historic significance.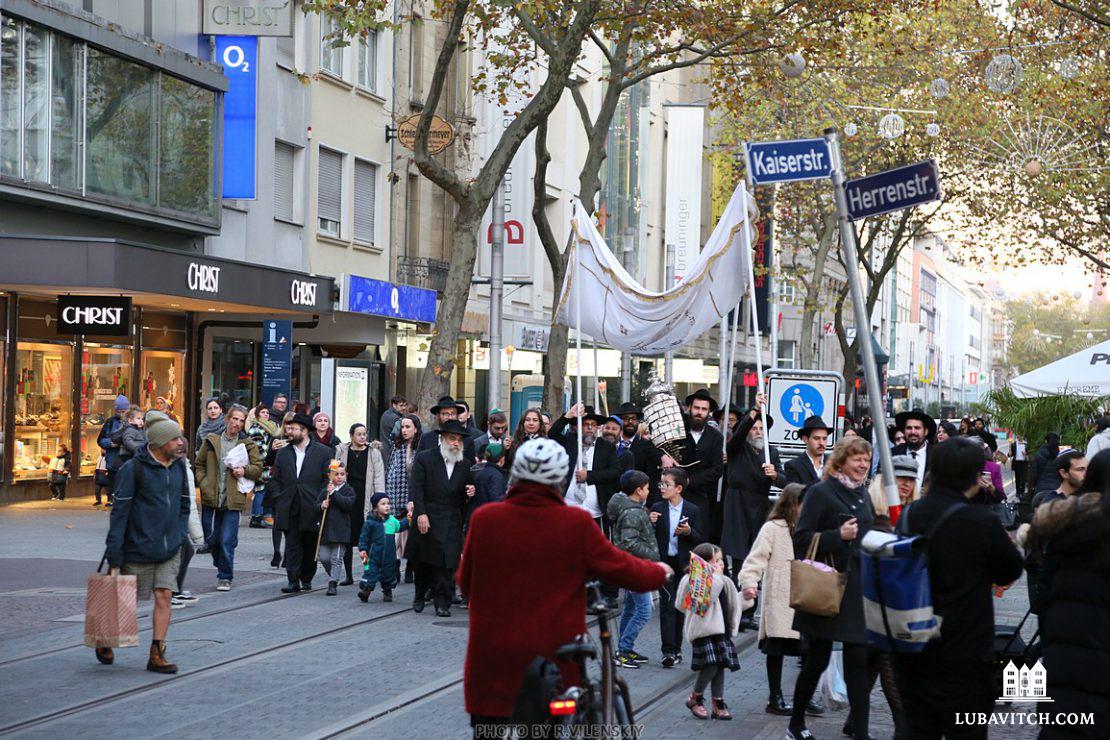 On November 9, 1938, known as Kristallnacht or "night of the broken glass"—a Nazi mob broke into the stately main synagogue of Karlsruhe and set the building ablaze. The mob attacked the city's Jewish homes and businesses with sledgehammers, setting them on fire, and dragging its Jewish men out of their homes and brutalizing them.
The new Torah scroll was commissioned in memory of a survivor of the holocaust—Rabbi Yechezkel Reichman. Reichman's grandparents perished at the hand of the Nazis. His daughter, Yehudit Mendelsohn and her husband have been serving Karlsruhe's Jewish community since 2003. 
Under the Mendelsohns' leadership, Jewish life in Karlsruhe has seen a remarkable revival. A new synagogue, a Jewish community center, a summer camp and a host of Jewish educational and social programming now serve its local Jewish population of about 2,000.
The Reichman family, Jewish community residents and visiting dignitaries danced to live music with the Torah in the streets. A crowd of curious onlookers gathered to watch as it was carried under a canopy to its permanent home, and installed at Chabad of Baden's synagogue. 
"It was a poignant moment," Rabbi Mendelson said. "Here we were, Jews and non-Jews, at the site where twenty-eight Torah scrolls were destroyed, celebrating a new Torah scroll. It's a new beginning for our community."