Seven rabbis and some football players pull up to a stadium. No joke. It's actually happening this Sunday at Super Bowl LII in Minneapolis, MN when the New England Patriots will be facing off with the Philadelphia Eagles. Though players and fans can rely on the indoor heating system at U.S. Bank Stadium, tailgate party goers may have to brave a predicted kickoff temperature of only 3 degrees fahrenheit to grab that hot dog.
Luckily for Jewish fans, that hot dog will be kosher.
Though not relishing the loss of his beloved home team to the Eagles at this year's NFC championship, Rabbi David Greene, director of Chabad Lubavitch of Southern MN-Rochester feels triumphant already: "Joining in the effort to provide Jewish needs for visitors is the greatest triumph as a Minnesotan."
Though they're not all rooting for the same team, the five Minneapolis Chabad rabbis will be teaming up to fire up those hot dog rollers on Sunday. They'll be serving hundreds of kosher hot dogs and deli sandwiches to Jewish fans from inside a rented RV. "Patriots and Eagles fans may find themselves in Vikings territory, but Chabad's kosher tailgate party will be their Jewish home away from home," shares Uptown Chabad's Rabbi Sholom Brook.
"It's going to be the best kosher tailgate party the Twin Cities has ever seen," posits Rabbi Yitzi Steiner, director of Chabad at the University of Minnesota. "Anyone who wants can come do a mitzva for their team." Unlike Brook, he's rooting for the Eagles.
Rabbi Shloime Green, outreach director of Chabad of southern Minnesota, is excited about providing kosher options to fans. "It's going to be the Super Bowl of kosher tailgates," he laughs, adding that kosher consumers can rely on Chabad's kosher tailgate party for all their Jewish needs, including kosher food, tefillin and even a Rabbi that's rooting for their team.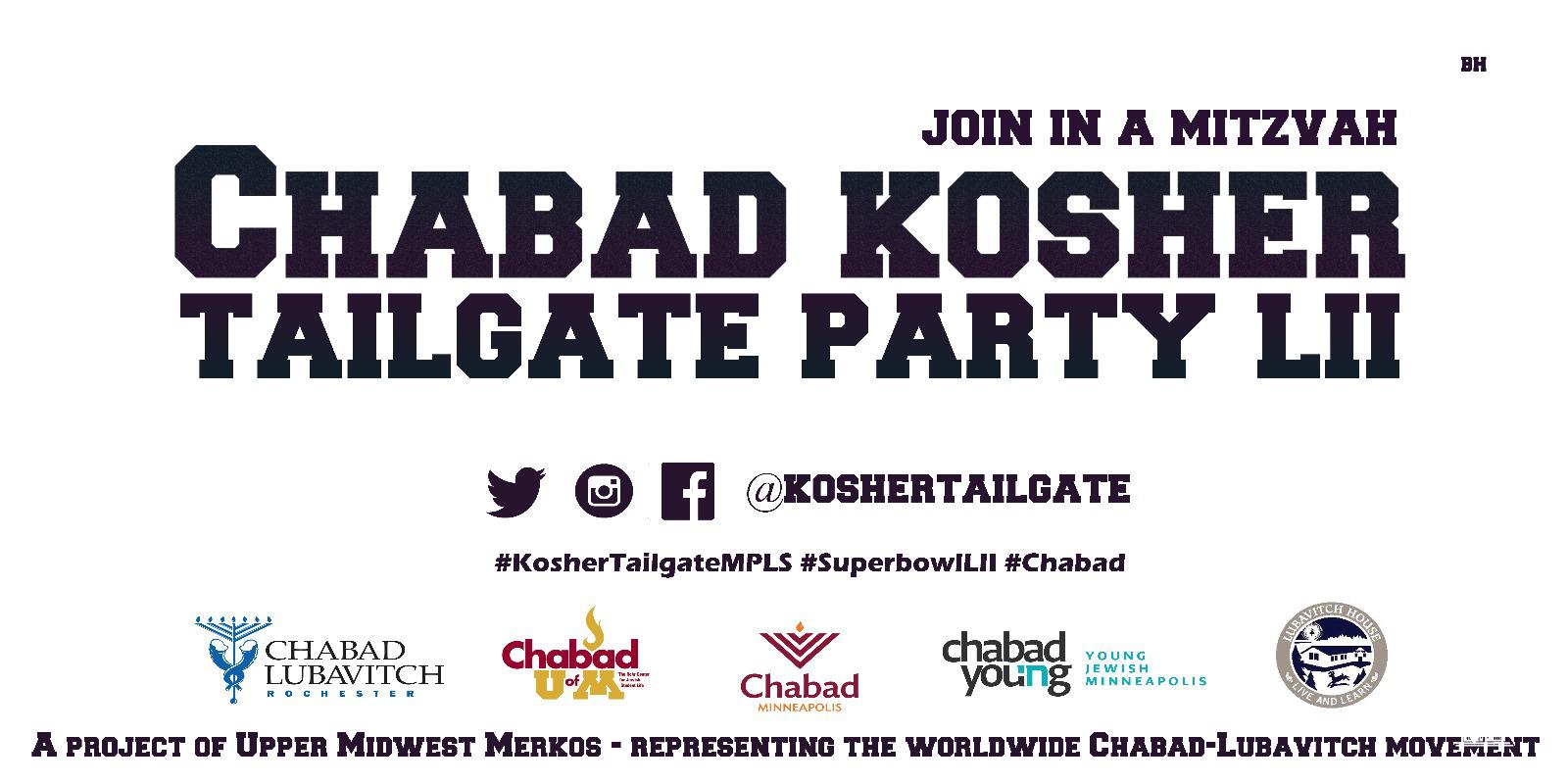 Due to security concerns the location of the kosher Tailgate will be announced via the social media handle (Twitter, FB, Instagram) "@koshertailgate" on Sunday.
The Chabad kosher Tailgate at Superbowl LII is co-hosted by Chabad of Minneapolis, Chabad U of M, Chabad of Uptown—Young Jewish Professionals of Minneapolis, Chabad of Southern MN, Rochester, and the Lubavitch House, and is a project of Upper Midwest Merkos—representing the worldwide Chabad-Lubavitch movement.
For more information regarding all the Chabad activities throughout Super Bowl weekend, please visit www.jewishminnesota.com.