Rabbi Shaul and Esther Wilhelm landed in Oslo in 2004 to serve Norway's 2,000 Jews. The young couple knew they'd be starting from scratch, developing programs and services to serve and build the local community. What they hadn't anticipated was how difficult it would be to raise the copious funds needed to grease the wheels of their project.
Contrary to common misconceptions, Chabad's 4,700 global representatives are independently funded. "We expected to cultivate a base of locals who appreciate our work, and then become supporters," says the rabbi some 13 years later. But Norway is a socialist country and philanthropy is not part of the local lexicon. So although there are some local supporters, Wilhelm travels abroad eight times a year to fundraise. "I didn't know it would be this challenging."
In 2009, help came in the form of a grant by The Frontier Fund of Machne Israel, the social-services division at Chabad-Lubavitch Headquarters. "Heaven-sent" is how Wilhelm describes the two-year grant. "It freed me up to dedicate more time and energy to our real objective—to reach out to more Jews in Norway. The programs we established using these funds are successful still today."
A long time observer of the work of Chabad, the anonymous donor says he created The Frontier Fund with Machne Israel to help ten Chabad representatives every year based on need and other variables. "My objective is to let the Chabad emissaries—who do so much for the Jewish people—know that they are appreciated, admired and loved."
Targeted to representatives who live in locales with limited local funding and for whom the grant represents a significant portion of their budget, "it is intended to help families in far-flung places survive and thrive," explains Machne Israel's Rabbi Shmaya Krinsky. Krinsky helps identify eligible recipients.
Rabbi Pinchas Zaklas, who has been serving the Jews of Zagreb, Croatia, since 2003, used the gift to grow and enlarge his preschool. "We almost closed a few times before receiving the money," he recalls. "To sustain a successful kindergarten here is very expensive." Croatian parents expect progressive education but can generally afford to pay only $40 a month in tuition. It costs Zaklas $250 per child per month. With this money, Zaklas is investing in attracting new students and advancing the school's academic, sports, and language programs for its current roster of twenty-four children.
Preschool might be for the younger set, but it's not only the tots who benefit. "The Lubavitcher Rebbe directed people to focus on the children and we find that they spark change in their families," Zaklas notes. "Some make kiddush at home on Friday nights, some families started to keep kosher."
More than 230 kids graduated Chabad's kindergarten here and Zaklas says that the effects of their early education are still evident. "This year, we made the first bar mitzvahs for two boys who went to our school. Teaching them was so much easier, they knew Hebrew, they could read their haftarah."
Zaklas still travels almost monthly to fundraise for his community's existence. There is no local support, he says, though tourists and businesspeople sometimes contribute. It is the money of the Fund that keeps him in the black.
"The Frontier Fund recognizes that for Judaism to survive, it must be supported wherever Jews are, even in the Wild West," Rabbi Chaim Bruk emphatically states. Chabad's representative to Montana, Bruk received the grant in 2013. The money, he says, "gave us the stability, the back-up support, to do our work here in Bozeman."
Most of the people who call Montana home are "looking for mountains, not synagogues," the rabbi says. "People move here with no intention of making the synagogue a big part of their lives. It takes time to develop." Bruk makes a point of referring to his donors not as supporters, but as partners. "I want people to recognize when they are writing a check that they aren't doing it for the rabbi. They're doing it for humanity, for Jewry, for themselves."
When the Bruks arrived eleven years ago, their annual budget was $120,000. It has more than tripled in the past decade, as their reach has spread across Big Sky Country. Now Bruk counts many vacationers from around the world among the loyal donors supporting Jewish life in Montana. "They come here and see that we don't live here for our own benefit; our work is not on behalf of Chabad but to benefit the entire Jewish community."
Wilhelm also receives support from travelers to Oslo who are inspired that he and his family are living there just to help fellow Jews. But it's the generosity of the anonymous donor that touches him strongly. "For someone to understand that there are representatives in small communities, disconnected from the larger Jewish world, and to say 'I want to help make a difference in your life,' that is very special."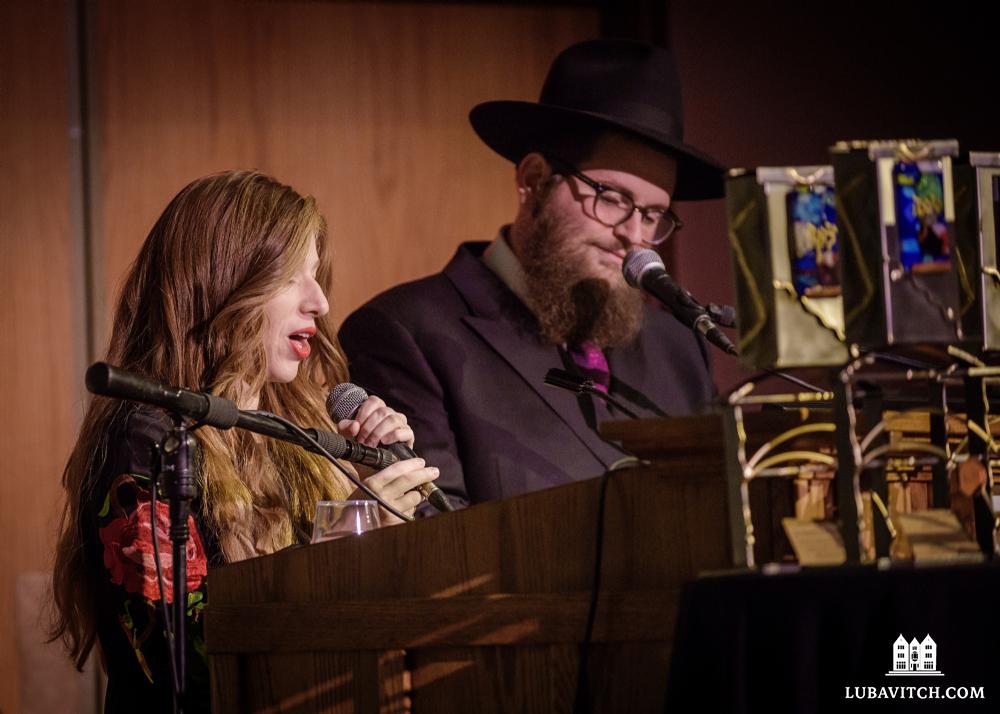 Rabbi Chaim and Chavi Bruk at the ten year gala for Chabad of Montana.