One afternoon in the summer of 1999, Zev Johnson wandered through the doors of a stately old mansion just outside the University of Texas's Austin campus. It was Friday and the freshman was looking for a place to spend Shabbat. The campus Hillel was closed for the season, but he'd heard that the Chabad House was open.
There to greet him were Rabbi Yosef and Rochel Levertov, Chabad representatives at UT since 1984. Rochel recalls the evening vividly. Zev was a little shy, she says. "There wasn't a big crowd, so he sat right next to us." He stayed until five in the morning talking to the rabbi. The same thing happened a couple of weeks later.
Zev was intrigued. "What resonated with me the deepest was the idea of being the Rebbe's emissary," he says. The self-sacrifice of people who give up comfortable lives to build Jewish communities in remote locations was "something I'd never seen before." Some time later, he reconsidered his plans. Instead of medical school, Zev decided to attend yeshivah.
He kept in touch with the Levertovs while he attended rabbinical school in Morristown, New Jersey, and flew back frequently to help out with the holidays. In 2006, Zev met and married Ariela Cohen of Potomac, Maryland, whose parents, like Zev, chose to become observant as adults. A year later, at the Levertovs' request, the Johnsons arrived at UT to replace the older couple, who were moving their activities to central Austin.
Part of a young generation of campus representatives, many of whom were once students themselves, Zev, 36, and Ariela, 33, are uniquely qualified to address the challenges of the students they serve. "It's a little bit of street cred," Zev says of his own past. "It helps break down barriers."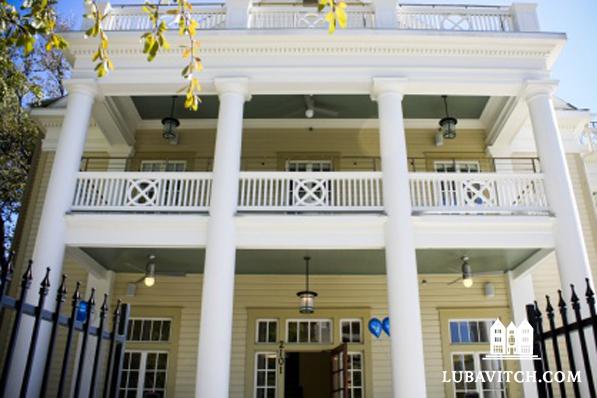 The Chabad House at UT Austin that led Rabbi Zev on his own search for Judaism
Freshmen Connect
On one of the largest university campuses in the country, with more than 50,000 students, 4,000 of them Jewish, UT can be an overwhelming place for young people leaving home for the first time. Memories of an introduction to psychology course with 400 students prompted Zev to create Freshman Connect, social programming aimed at helping Jewish first-years make friends and begin forming a community.
Every year, after the first couple of events (think drum circles and pizza-making), the Johnsons create a Freshmen Council, which plans the rest of the events and takes care of publicity. "Once they own the event, they're invested in having people come," Ariela says. "It's always more effective if their friends are inviting them."
Perhaps not surprisingly, empowering students is a theme that runs through much of the Johnsons' work. Freshman Grace Gilbert met the couple early on in her time at UT. "As a kid from out of state, it can be intimidating here," says the Miami native. "They create such a nice, welcoming environment." Grace enrolled in the Johnsons' Sinai Scholars course in the Fall, then helped recruit the next class for the Spring. It was the most successful recruitment ever.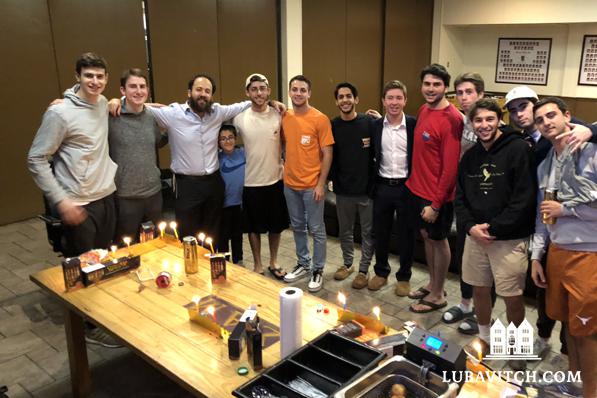 Rabbi Zev (third from left) lights the menorah with fraternity students
Then and Now
Chabad representatives came onto the American campus scene in the late sixties and early seventies. Rochel and Yosef Levertov were among the second wave of campus representatives, and reflect on the resistance that comes with any new project. Chabad wasn't a household name then, Yosef recalls, and after the cult scandals of the 1970s, students and parents were wary of religious groups.
But Yosef, who grew up in Brooklyn, and Rochel, who was born in Russia and raised in Israel, did not find the lack of shared experience with UT students to be an impediment. "They used to call my husband the rappin' rabbi," Rochel says, "because he would sit out on campus talking to students all day long. They would tell him, 'I'll talk to you here, but I won't come into the Chabad House.'"
Those, like Zev Johnson, who came to the Chabad House and returned frequently, often chose to make dramatic changes in their lives. "Hundreds of people became observant because of the Levertovs," Ariela Johnson says. "They don't sugarcoat things. They are who they are, and they give you real Judaism."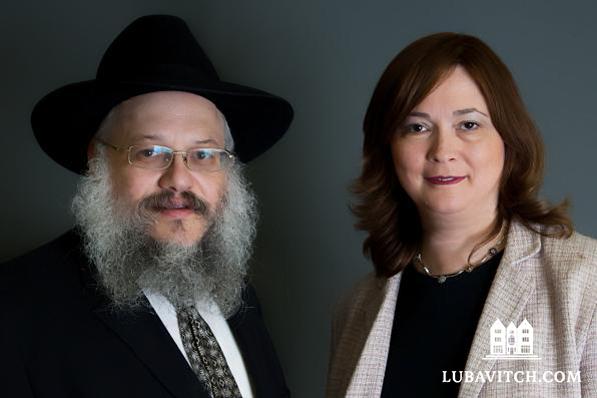 Rabbi Yosef and Rochel Levertov
Meet the Greeks
One way to make the campus feel smaller is to join a fraternity or sorority. UT is known for its robust Greek scene, with fourteen percent of students participating. Among more than sixty-five fraternity and sorority chapters on campus are three Jewish fraternities, Alpha Epsilon Pi (AEPi), Zeta Beta Tau (ZBT) and Sigma Alpha Mu (known as Sammy), and one Jewish sorority, Alpha Epsilon Phi (AEPhi). Campus Chabad representatives Zev and Ariela Johnson estimate their total membership at 600 and estimates that another 400 Jewish students are involved with other Greek houses.
Greek life offers the Johnsons tremendous opportunities to engage with students. From a practical perspective, having so many Jewish students gathered in one place creates an easy win for Zev, who makes the rounds to frat house lounges for shofar soundings, lulav and etrog blessings, and mass menorah lightings.
But there's more to it than that. "There's a deep bond between Chabad and the Greeks," explains Zev. Each of the Jewish Greek houses sponsors an annual Shabbat dinner at Chabad and pledges are required to help build Chabad's sukkah.
Alumnus Ethan Prescott, 25, attributes Greek affinity for the rabbi to his unusual history: "Rabbi Zev has a very similar background to a lot of people in the fraternity. He went to the same [high] school. People just feel a comfort level with him that you don't get elsewhere." Ethan, a ZBT alum, helped recruit and lead two Birthright Israel trips with the Johnsons. The couple's cooperation with the fraternities allows students to participate Jewishly without leaving their comfort zone, he says.
Where there are fraternities there will be parties, and UT holds a place of honor on most rankings of the nation's top party schools. The active social scene presents some challenges for the couple, who must keep abreast of the schedule or risk having their events sidelined. "If one big fraternity has a party Friday night, that heavily affects the Chabad House attendance," Ariela says. Shabbat dinners are often a pregame warmup for events later in the evening. Although, Zev adds, many students stick around longer than they intended.
Jewish students enjoy a Purim party at Chabad (Sarah Mulligan Photography)
Texas JTribe
Junior Raquel Baron started her college career in a sorority, but eventually decided it wasn't for her. "It's very much a ranking thing. Everyone knows which are the cool ones, which are the crazy party ones, which are the nice ones." Her sorority had a bad reputation, and required attendance at chapter meetings and fees took their toll. The dance major dropped out. Besides, she adds, "I'm not much of a party person."
Greek life is so prominent at UT that students who choose not to participate can feel excluded and isolated. Without a readymade group of friends, many struggle to find their place on a campus that feels more like a city. Ariela says the dynamic between "Greeks" and non-Greeks can be tricky to negotiate. "If most of the people at Chabad on Friday night are from the fraternities, it can be intimidating for someone who is not."
One solution is Texas JTribe, a student-run group that creates programming open to all, but with an eye on those who are not members of any kind of Jewish organization. The Johnsons recruit ten to twenty "engagement interns" each semester who do the heavy lifting, organizing and promoting events. Their mission, Zev says, is not so different from the Johnsons' own: "There are thousands of Jewish students on campus. Now how are we going to reach them?"
Raquel, JTribe's president this year, says the difference between JTribe and a fraternity or sorority is that you don't have to pay (JTribe receives funding from the Jewish Heritage Project and the Dallas and Houston Jewish Federations, among others) and there's no obligation to come again if you don't want to. "We just want to make a community and hang out together without putting pressure on people."
JTribe's signature program is Shabbat Across Campus. Students can sign up to receive a Shabbat kit, complete with candles, grape juice, challah, and dinner, cooked and packed by the interns. Participants are encouraged to invite their friends and host their own event. Though Greek students are welcome to sign up, the program is also a subtle message to non-Greeks that they can have a Jewish experience at UT without having to join a club.
Zev's own experience gives him insight into both sides of the Greek question. He did pledge to a fraternity, but ultimately, like Raquel, decided it wasn't for him. Which one? That's classified information. "Everyone thinks they know, but they don't know, and it kind of works to my advantage," he says, laughing.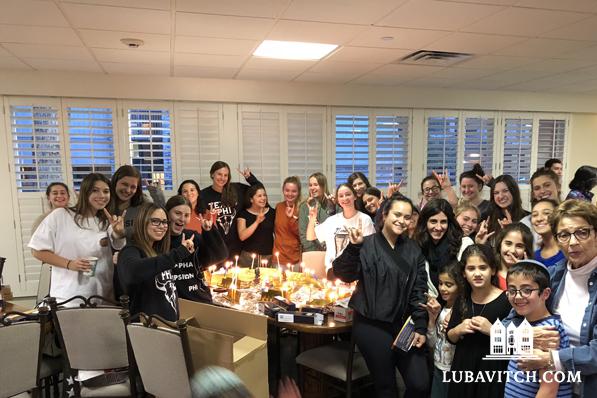 Ariela Johnson (fourth from right) lights the menorah with sorority students
One-to-One
Shifting attitudes and social media have made getting students into the Chabad House less of a challenge for the Johnsons than for their predecessors. A 2009 renovation of the building, which is an historic landmark dating back to circa 1915, helped too. "That was when we really saw things take off," Zev says. "Now, if we have seventy people for Shabbat, it's like, 'What did we do wrong?'" Average attendance is roughly twice that number; holidays and special events like Pink Shabbat, a breast cancer fundraiser, draw well over 200.
But social media has made it both easier and harder to forge personal connections with students since Zev's days as a student. "We have larger numbers of students involved—more than ever. The challenge now is how to make a personal connection with people."
To this end, Zev and Ariela make a point of spending time with students one-on-one, away from the pressures and group dynamics at large events. Summer Birthright trips and visits to students' homes during vacation are effective ways to build real relationships, they say. During the year, the couple spends a lot of time studying with and counseling students individually. "It's the most traditional, the most transformative way of learning," Zev says.
Third year law student Jonathan Weichselbaum, 26, grew up on Long Island and knew his share of rabbis before coming to UT. He studies with Zev regularly, and says his connection to Judaism has gotten stronger since he met the Johnsons. "I've talked to Zev about things that I wouldn't feel comfortable talking to any rabbi about. I can go to him because he gets it."
For more on Chabad at UT Austin, visit: https://www.jewishlonghorns.com/