It's a long way from Sweden's cold winters where Rabbi Berel Namdar grew up. He and his wife Tzivia, originally from Tennessee, are moving to Singer Island, Florida, where they will be opening Chabad of Singer Island and the Beaches, the 18th center in the Palm Beach area. The couple was recruited by Rabbis Yosef Biston and Avraham Korf, of Chabad's Florida headquarters, to serve the larger communities of Singer Island, Riviera Beach, Lake Park, Juno Beach and its environs.
The easternmost point of Florida, Singer Island is home to seven miles of breathtaking beaches and is the closest North America gets to the warm waters of the Gulf Stream. Berel describes it as the type of place that people visit and don't want to leave. The peninsula is populated by many second-home owners and attracts tourists, boaters, snorkelers, scuba divers, and visitors to famed MacArthur state park.
Singer Island's population is more than 20% Jewish, but there is no Jewish infrastructure. On a recent visit, says Tzivia, she and her husband met "welcoming Jewish individuals everywhere, but most of them didn't really know many other Jews in the area." Until now, the absence of Jewish activities has deterred some Jewish vacationers who would have liked to settle there permanently. "We're hoping to create that community and bring everyone together."
The Namdars and their two young children will be moving this fall. "We're here for the people," Berel says. "We aim to offer a space where they can celebrate their heritage, ask questions and find encouragement and inspiration."
Gothenburg, Sweden, is at the opposite coast with its long winter nights and endless summer days, Berel and Tzivia, inspired by the Rebbe's love for every Jew, are focused on the familiar: "Jewish people are all of the same soul." With Tzivia's southern hospitality, they'll be bringing "the same warmth of Judaism to Singer Island's Jews."
To help establish the first Jewish community at Singer Island and the Beaches, visit jewishsingerisland.com.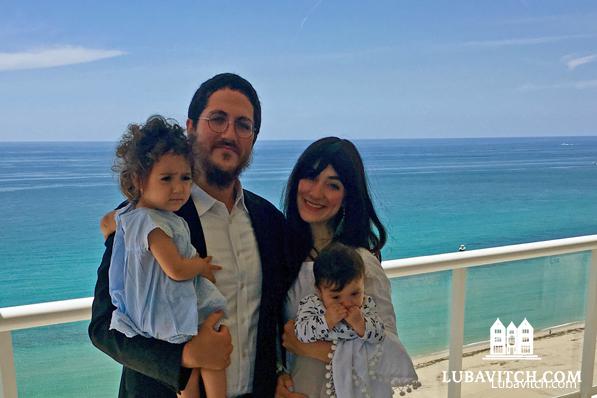 The Namdar family on a visit to Singer Island – Rabbi Berel, Tzivia, Mushka (2), Meni (newborn)