A Birthright trip to Israel for individuals with special needs? The logistical hurdles make it seem too daunting a responsibility to tackle. But one local Friendship Circle took up the gauntlet, and a dream materialized, giving a special demographic their long overdue birthright.
Ten days. All expenses paid. Who wouldn't want to go?
Birthright Israel has introduced the Holy Land to 600,000 people since 1999. Aiming to make an educational trip to Israel an integral part of the life of every young Jew, Birthright offers numerous niche tours for different interests and backgrounds. And abilities: the organization goes to great lengths to welcome individuals with disabilities on their excursions. To all its youthful participants, but especially the special needs community, Birthright provides more than a stamp in the passport and a souvenir in hand. It's a stepping stone to independent life.
"It didn't occur to me that Julian would ever be able to participate in a trip to Israel," said Cornelia Peckman. "So when we received an email from our local Friendship Circle inviting him, we were really surprised." Julian, 20, has autism. Though he comes from a traditional family, the complexities of an Israel trip pushed it far past his horizon. Until now.
"Driving to the airport, I wondered if I was a bad mother, letting my disabled kid go on a trip like this," mused the New Jersey mom of two. "But that was the only time I was nervous. When he got off the plane, the first sentence out of his mouth was, 'this was the best time I ever had in my life.'"
Between that initial drive and touchdown a week and a half later, Julian and twenty-one other young adults kayaked, hiked, dined, and studied their way through the land. On an itinerary virtually identical to mainstream Birthright trips, this population with special needs not only discovered their land, but also themselves.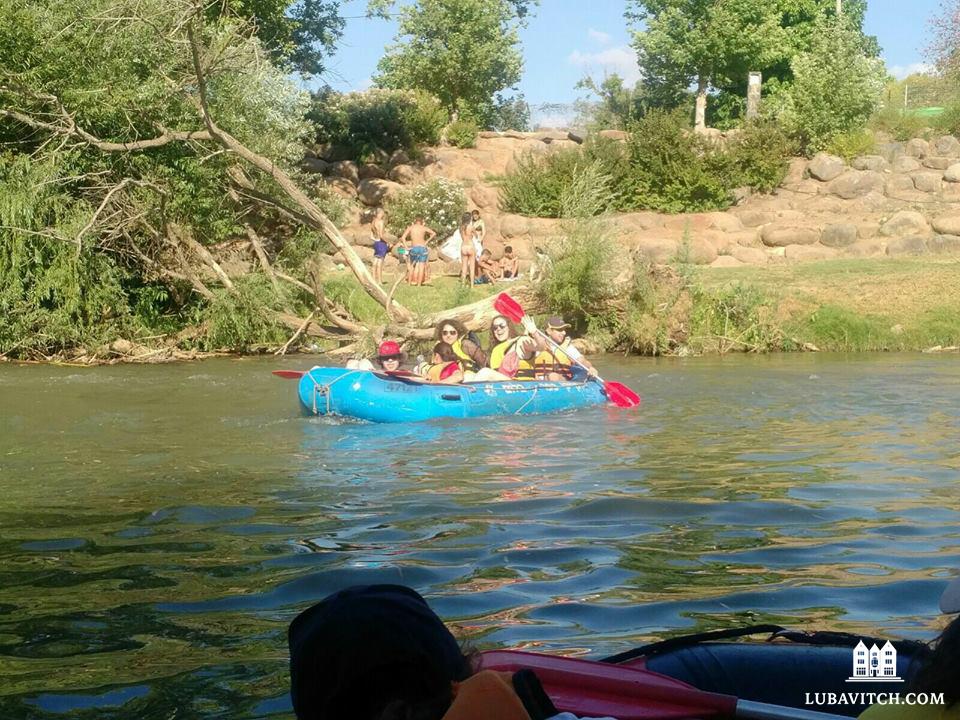 In his halting cadence, Julian reflected on the trip's highlights. Amidst the typical ("I liked the people I met" and "I learned about Israel") were more thoughtful reflections. "I was challenged to be responsible for myself," he commented about his "first chance to be on my own in a different country." His mother found this interesting. "Unfortunately, people with disabilities are protected too much sometimes," she said. "But they just want to be treated like adults."
Rabbi Zev Baram, Julian's group leader, has introduced hundreds of young adults with special needs to Israel. This is his ninth trip, but it doesn't get old. As executive director of Philadelphia's Friendship Circle, exposing these adults to Israel is one of his greatest pleasures. "Our trip focuses on inclusivity," he explained. "We give individuals with disabilities the same opportunities for travel and personal growth as their peers. We don't water it down: our goal is the complete Birthright experience."
Behind the scenes, of course, a lot goes into making this experience happen. Between the flight arrangements, days motoring on coach buses, and sleeping and food accommodations, there's a lot of room for error. Organizers go to great lengths to ensure that the time at the airport (stressful for anyone) doesn't cause participants great anxiety. Hotel rooms are booked on low floors and in groupings. At their own expense, Birthright provides direct flights for smaller groupings, and more staff to ensure these participants are comfortable. A doctor is in-house. "With our staff to participant ratio of 1:4, we can allow more time for transitions, assist with social interactions, and help with managing money," said Baram.
Nineteen-year-old Isaiah Coplon chose this particular trip not because he is disabled—he isn't—but because he relished the idea of touring the country slowly and without pressure. He recorded the entire trip on a small Olympus camera, producing short video clips after each day's adventure. It was from his vantage point behind the lens that Coplon realized he had taken the right trip. "It was more laid-back. We got to do things and enjoy them, instead of just rushing through and moving on. This was the right pace for me."
His vlog entries have garnered hundreds of views and made a lasting connection between his fellow travelers and himself. To the background of lively Hebrew music, the edited clips play the usual Israel must-sees: camel rides and kayak trips and Masada hikes. They also illustrate the relationships developed as the trip progressed. People open up to the camera and to each other on video. Socializing, believes Baram, is one of the most important side benefits of this journey. "Throwing strangers on a bus together for ten days creates real bonds. These are relationships that last," he said.
Back in Jersey, Julian is contemplative as he leafs through an album his mom compiled of his Israel adventure. "I'm a different person because of this trip," he reflected. "I understand myself more as a Jewish person. There are people who are sicker than I am and I want to help them."