Exhausted from a long day's work helping Harvey survivors begin to clean up their wrecked homes, some 150 college students from campuses across the country met at Aishel House Chabad center in Houston Sunday evening. Getting to know each other, exchanging notes on their volunteer activities and kicking back after hours of "hard labor," the students want to send a message of love and support for Houston's residents.
As the city begins to emerge from the flood waters, residents face a daunting clean-up. Some will find more damage and loss than they had expected and the experience is bound to take an emotional toll on even the hardiest. Softening the blow are the hands that are reaching out from across the country in a dramatic volunteer effort that many say has been bringing out the best in people.
Esty Zaklikofsky is the Chabad representative to Bellaire, one of the hardest hit areas of Houston. Speaking on Facebook this past Friday in a Shabbat message from her flooded house, the young mother had this to say: "This past week has been so surreal, challenging, and overwhelming. I almost can't remember what life was like before Harvey hit. Despite all the terror and exhaustion, one thing is crystal clear: there is no leadership crisis. Every single person in this city has picked themselves up by their bootstraps and reached out to help people of all backgrounds. We've witnessed how many people have been coming together for the relief efforts. My Muslim neighbors a few doors down were here a few minutes after the flood cutting out my sheet rock. We're coming together as a community in incredible ways."
The Jewish community is pulling its weight. Sunday saw a relief effort mobilized by Chabad on Campus made up of hundreds of college students from seven universities, as far as Boulder, Colorado, and Kansas, Missouri, helping residents with a painstaking recovery. Coordinated in conjunction with Chabad of Rice University, the students were dispatched to community homes to help people clean up. According to Rabbi Shmuly Slonim, as soon as word went out, groups from other campus Chabad centers volunteered. "Word spread quickly and everyone wanted to join." Students traveled as much as 16 hours to get to Houston, where they delivered food supplies and participated in clean-up.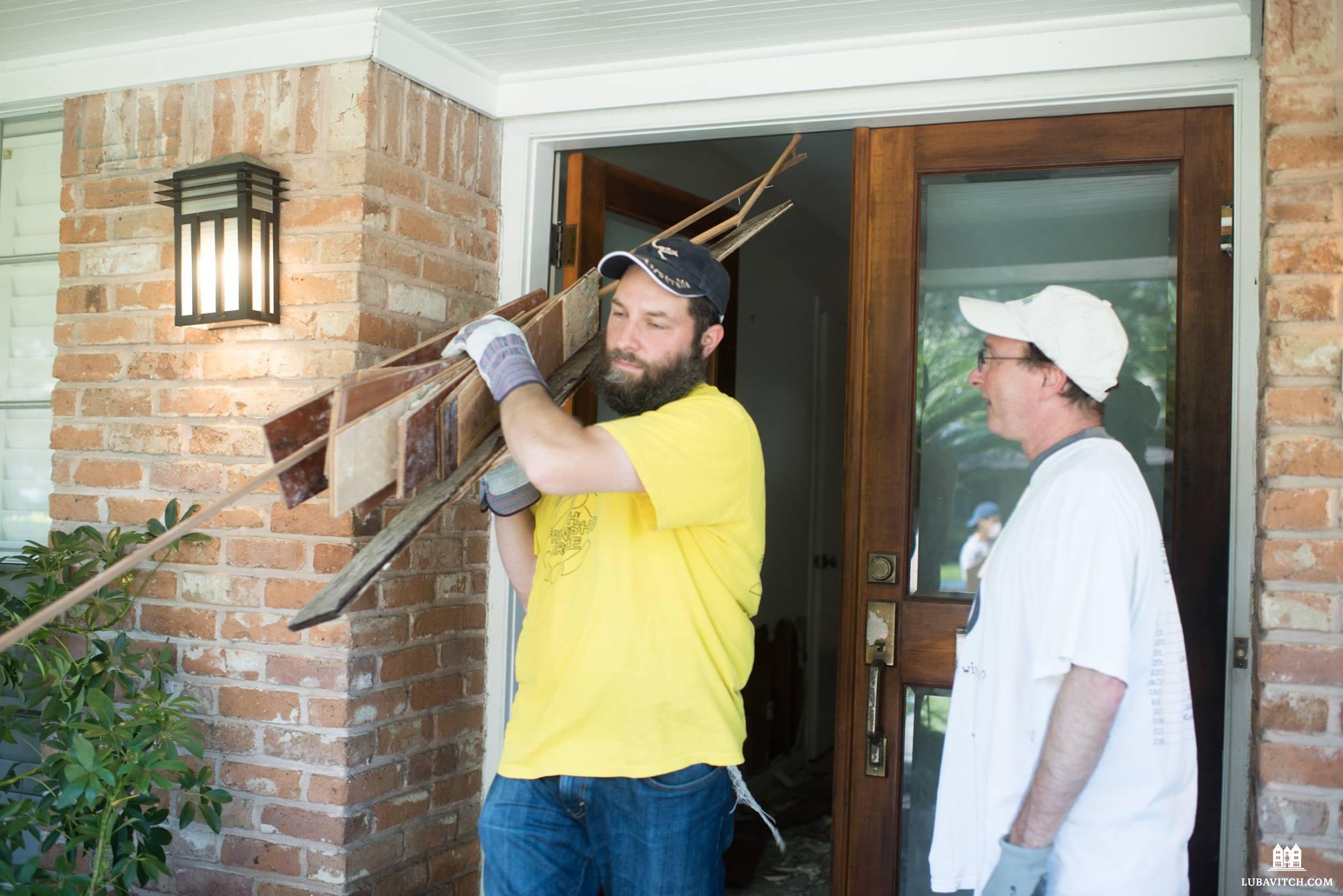 "There's no better use of my time today then to go out and help people in this city," said Seth Kimmel, a junior studying mechanical engineering at Rice University, Sunday. Seth recently got involved with Chabad on his campus. A transfer student, Seth was new to the city but determined to roll up his sleeves. "Everyone here has to play their part."
Chabad of Rice connected Seth and his friends to community members in Houston who could use the help, "but wouldn't be comfortable asking." The efforts snowballed. Students have gone visiting homes, packing up anything that is salvageable and throwing out damaged and waterlogged furniture. "We're here to get rid of the mess, save what we can, try to prevent mold in the houses."
More than the work they actually contribute, Seth observes, is the message this sends to Harvey survivors. "When someone needs help we don't care how difficult it is to get there, we'll be there. So if some students put in more time traveling than they will have on the ground, the message they are sending is that 'we stand with Houston, we stand with Chabad at Rice.' And any of us would do the same for them."
First Responders
It will be some time before survivors can process events of the past week. But for people whose lives were in peril, like Nancy Reingold, the gratitude will be there to mitigate the difficult aftermath. Nancy was used to floods. The torrential downpours following Hurricane Harvey would come and go quickly, the Houston resident thought. As the water level rose in her house, she grabbed some food and went upstairs to wait out the hurricane. But the water level kept rising.
Alone, she grew concerned. This was beginning to look different from the other floods she's weathered. "This is life-threatening," she realized. She called her closest relative: her son in London.
He called a friend who called another friend. Menuchi Cagan, a former London resident who now lives in Houston, was out of town when she received the call. But recognizing the danger, she quickly forwarded a plea for help to the Chabad Harvey Relief Whatsapp group. Within hours Nancy was rescued by Tomer Benshushan and his friend Moshiko, both former IDF soldiers who are part of the Chabad community in Houston.
On record as the worst disaster in Texas history, Hurricane Harvey, the tropical cyclone that made landfall on August 25, dumped more than a trillion gallons of rain in the greater Houston area, putting an entire major city under water with a death toll now at 50. More than 200,000 people have sought emergency FEMA assistance; 32,000 have been evacuated to shelters around the state. The National Guard –all 14,000 troops have been activated to handle rescue missions–not nearly enough to help the staggering number of people in distress.
Rabbi Chaim Lazaroff has been coordinating Chabad activities on the ground in Houston, where the state's 11 Chabad centers have now all turned their resources and efforts toward providing rescue and relief to survivors. "We have an 'army' of over 500 volunteers clocking 1000's of hours, to try to reach everyone who needed to be saved from rising waters," he says. The efforts are comprehensive. After numerous life-saving rescue missions, Chabad has been helping place families in shelters and providing evacuees with warm kosher meals.
"The entire city went into 'how can we help?' mode," says Basya Benshushan, Tomer's wife. Through his work as an engineer, Tomer's friend Moshiko had access to a Vietnamese military vehicle that was parked 45 minutes away at George Bush International Airport. But the rainfall was so heavy they couldn't see the roads. Risking their lives, they plodded through, "relying on Waze, intuition, and G-d." people trapped in precarious situations.
They reached the waterlogged army truck. Moshiko used his mechanical expertise and after three hours of intense work, they managed to jumpstart the engine and get the truck up and running so they could start rescuing stranded people. Basya coordinated their rescue efforts from her flooded home. "I kept getting calls from mothers and grandchildren. We tried to get help for everyone who reached out to us." With the coastguard maxed out, there were people who had been treading water in their homes for days, waiting for help.
At one rescue site, Tomer didn't have the equipment needed to transport an 85-year-old dialysis patient who was stuck with his wife and two dogs. "Within hours of posting on Facebook, a medic was there," says Basya. "Thank G-d, they safely made it to shelter." During those days of intense life-saving missions, the two friends rescued over 100 people in the Meyerland and Bellaire areas.
Dr. Jorge Raichman, a local Jewish doctor, was stuck in his car for 20 hours without food. Victor Grinshtein and Daniel Cotlar, who belong to Chabad of Houston, rowed through floodwaters for several hours before reaching him.
Multiply that by 500 volunteers coordinated by Chabad, plus all the others including state, city, religious and social organizations, and there's no overstating the scope of this effort. When danger and damage such as unleashed by Harvey take so many by surprise, survival often hinges on the goodness of people like the Benshushans and Moshiko.
International Network
Once the immediate danger of the flood subsided and the storm's peak passed, Chabad moved fast, providing aid for some of the tens of thousands displaced persons. "Many of our community members were stranded in shelters or hotels," says Rabbi Mendy Feigenson of Sugarland. "We had to evacuate our Chabad house."
Chabad Headquarters worked with local emissaries to address the affected areas' needs in an organized efficient, and comprehensive manner. "We are lucky to have a vast network of leaders who are on site in so many of these areas" says Rabbi Mendy Sharfstein, who led the central crisis management team from his office in New York where a relief website was launched and social media accounts were dedicated to the relief activities. "It's been amazing to see how quickly each Chabad emissary stepped up to the plate."
Using Chabad's social media platforms, calls for volunteers went out, a supply bank was put together, and host families were identified. Those in need could fill out forms to have volunteers help them repair their homes from the hurricane's damage or find a temporary place to sleep. Offers of help from all over the country came in, some in monetary forms and others through volunteering.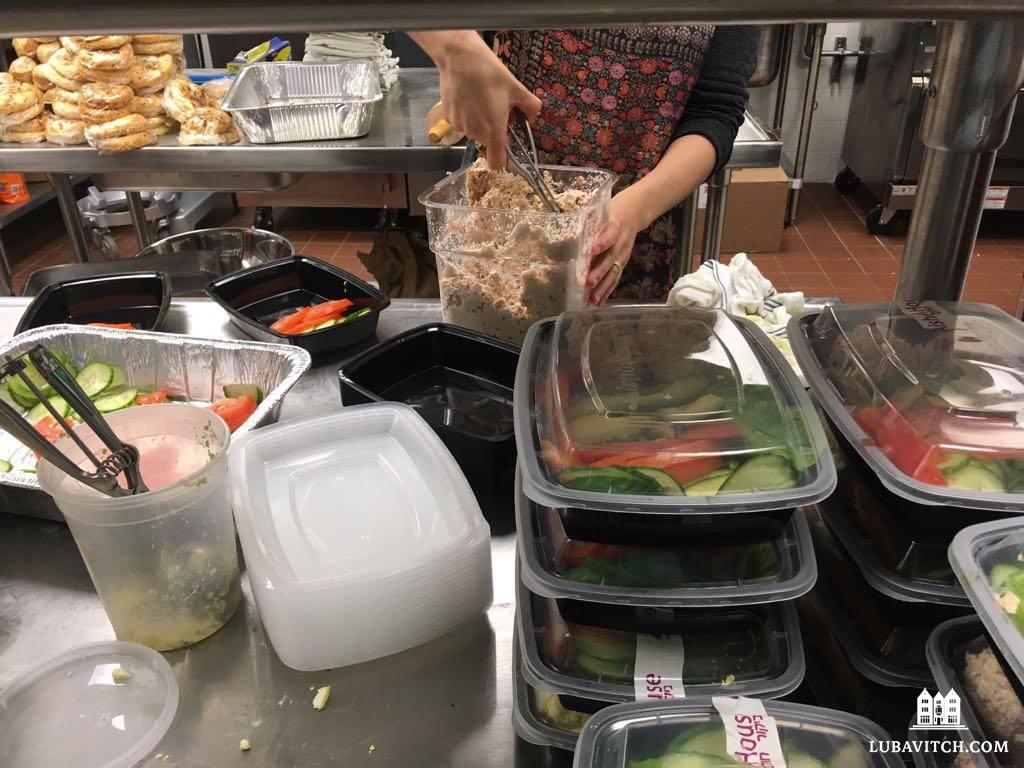 Post-disaster, food is hard to come by, especially kosher food. Aishel House, an organization that provides meal accommodations to Jewish patients and their families at Texas Medical Center, was enlisted to help provide kosher food for evacuees. Their commercial kitchen and professional staff prepared meals for over 1000 hungry, desperate people. "I can't tell you how much we appreciated the delivery," writes Rachel Goodman on Facebook.
At the Lazaroff Chabad Center, community members arrived to help prepare meals. When they ran low on kosher ingredients, Rabbi Dovid Goldtsein of Houston, arranged for a fresh supply which arrived Thursday evening.
"The center of the Jewish community got hit hard," says Rabbi Yossi Zaklikofsky of Bellaire, Texas, whose own house was flooded wall-to-wall. His family moved to their second floor to wait out the storm. "The Meyerland area always gets the brunt of bad weather, but the severity of this storm was totally unprecedented and reached Bellaire as well."
With 11 Chabad branches in the Greater Metro Area of Houston, each coordinated a different aspect of the relief effort: treasurer, community liaison, media spokesperson, supplies, public information and other sectors. Says Rabbi Yossi Zaklikofsky who coordinated media coverage: "We knew we could have the biggest impact if we banded together." With the help from Chabad on Campus, the relief efforts got another shot in the arm.
Leah Sherman from Memphis Tennessee is grateful to be where she can "tangibly contribute to the recovery after such a massive disaster." A senior studying bioengineering, she has been acting as the group leader and liaison between the Chabad campus rabbi and rebbetzin and the students.
The student volunteers will also dedicate Monday, Labor Day, to the cleanup, before returning to their respective colleges in time for the first day of classes.
"It warms my heart that we have such a nationwide strong Jewish community nationwide, that students are willing to give up their time to help people they've never met." Students are coming this way to help people they'll never see again. It's true kindness. "Definitely bringing out the best of a lot of people, near and far."
With the worst danger behind them, everyone now, says Basya, "is in massive rebuild mode." Basya used her marketing skills to create a video for Harvey relief. Her husband has put together a team of 6 construction workers from his business to help citizens recover homes from the destruction.
"Destruction, loss, and sadness are all around us," finishes Basya, her voice choked up with tears, "People lost everything. At the same time, though, there is an incredible amount of giving. It feels like a miracle."
To find out more about the relief efforts and to donate, Click Here