New Shluchim bring Jewish community to Pittsburgh suburb
In late June of this year Rabbi Yossi and Leah Feller, new Chabad emissaries to Cranberry Township in Pennsylvania, met Kevin Bartko. Kevin's wife, Linda Greenberg was terminally ill, and though the Fellers never met Linda, their meeting with Kevin led to her receiving a Jewish burial last week.
Yossi and Leah were canvassing the neighborhood looking to meet Jewish individuals as they embarked on a quest to build a Jewish community in the fast growing municipality just a half hour north of Pittsburgh. With COVID restricting them from throwing an open house or welcome event they made their way by visiting Jewish families, one by one. Each Friday they delivered Shabbat packages with fresh baked challah and Shabbat candles to their growing list of Jewish friends.
At the home of Linda Greenberg, they met Kevin who assured them that he would light the candles with Linda that evening. A friendship bloomed, and when Linda passed away a few days before Yom Kippur, Kevin reached out to his new Rabbi. In the midst of preparations for Cranberry's first-ever Yom Kippur service, Yossi and Leah arranged for Linda to be brought to a traditional Jewish burial, something Kevin may not have known how to access prior to their June meeting. "This made it very clear to us why we are here," said Yossi. "Jews living in Cranberry and the greater Butler County area (population 180,000) deserve the benefits of a Jewish community infrastructure."
For Rosh Hashanah and Yom Kippur the Fellers hosted some twenty-five people in an outdoor tent. During the holiday of Sukkot, they visited homes and public locations in a mobile Sukkah on the back of a pickup-truck. The response to the sight of an orthodox rabbi and rebbetzin establishing a Jewish community there has been almost unanimous across the county. "People are surprised that there are enough Jews around to create a community, many of them don't know other Jews around and are excited at the prospect," Leah says.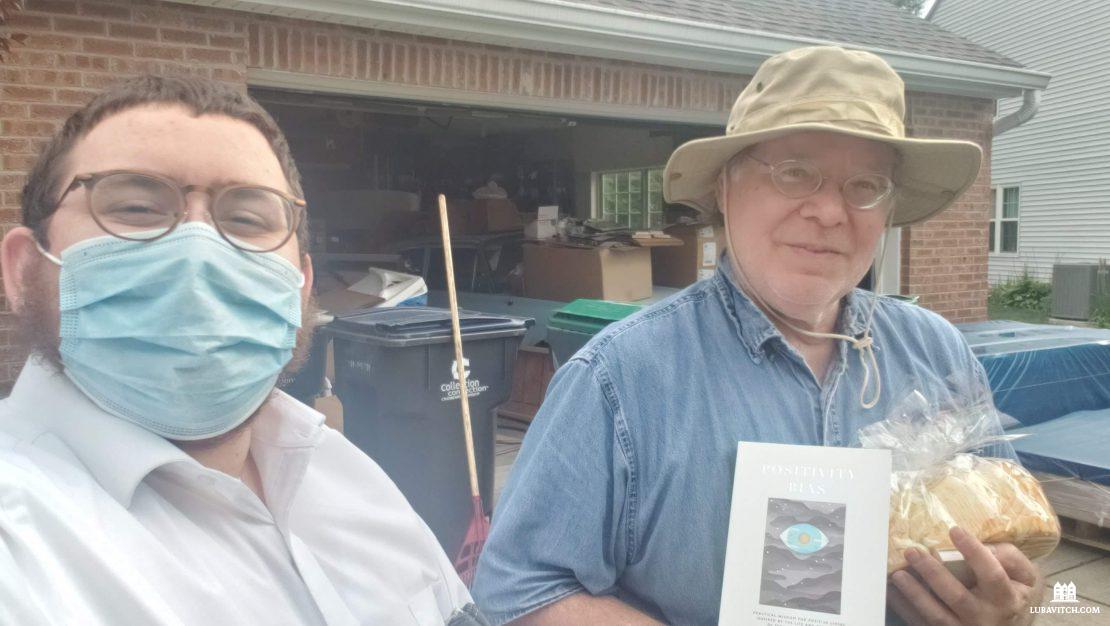 Dr. George Goodman heard of Chabad from a friend, and was thrilled to read a Pittsburgh Jewish Chronicle article announcing the arrival of Chabad in his neighborhood. Meeting him, and people like Kevin helps the Fellers assess the needs of their new community and plan programming to suit. "I am grateful that I will soon have a place where I can be a part of regular prayer services and intake a steady diet of Torah study and discussion," Dr. Goodman said. "I am hoping to be in the presence of other Jews who share my values and beliefs."
A few young parents voiced interest in Jewish education, so a Cranberry Hebrew School is in the works. The format, whether virtual, or in-person, will depend on COVID regulations and parents' requests, Leah says.
Yossi and Leah are both fourth generation Chabad emissaries–Yossi's grandparents, Rabbi Moshe Feller and his late wife Rebbetzin Mindy, established Chabad of Minneapolis out of the home of Moshe's father, Rabbi Yosef Arye, for whom Yossi is named. Leah's great-grandparents, Rabbi Sholom and Chaya Posner established Chabad of Western Pennsylvania. The same Jewish Chronicle article that connected Dr. Goodman to the Fellers, mentioned Feller's grandparents and prompted resident Jonathan Budd, who grew up in Minneapolis where his father directed the JCC to reach out to Yossi. "It turns out my grandfather introduced Jonathan to his wife. Now Jonathan is excited to have the descendants of the man who is responsible for him marrying Jewish, establishing a new Jewish community in his own backyard," Yossi says.
In fact, the Fellers appointment is part of a push to expand the activities of Chabad of Western Pennsylvania that Leah's great-grandparents initiated. Rabbi Yisroel Rosenfeld, Chabad's director, recently appointed three other couples, including the Kivmans who established Chabad of Erie, Pennsylvania.
Social-distancing regulations mean they are starting off small, but the young emissaries see a promising future in Cranberry Township and Butler County. As one attendee at High Holiday services put it, "I love the authentic Jewish experience at Chabad and feel like I'm a founding member on the precipice of building something great for the future of our community."